Between filming Lighting 101 & Lighting 201, we got our hands on a set of Tiffen ND filters that were actually on par in terms of quality, if not better at every single price point. Later when we got in touch with the people at Tiffen they mentioned that their filters were the Hollywood DP (Director of Photography) filter of choice, receiving the Scientific and Technical Achievement Academy Award in 2014.
When searching for ND filters, optical quality should be the first characteristic on your list to consider. Remember that we're using NDs to cut down the amount of light in a scene so that you can get to your sync speed since certain issues, such as a reduction of power anywhere between 4-7 stops of light, can arise when using high-speed sync on a full feature flash. We are going to give you our 5 recommendations for ND filters at various price points, breaking down exactly why we prefer one over the other, starting from entry level to professional ND filters.
A standard 77mm 4-stop ND filter starting at around $50 bucks is pretty hard to compete with. Although there is a slight green tint to the glass, expected with it being on the inexpensive side, the images produced are professional quality and can be easily modified in post to correct for the tint. Keep this in mind going forward as you make your decision on which ND to purchase because the color of the filter & optical quality are the two factors that will influence your price point.
You can buy these fit to a specific thread size and use adapter rings if you need to, or you can buy them at the 100 mm by 100 mm variant. It is 1.2 to 1.5 (4-5 stops) depending on the filter thread size and will cost you anywhere between $100 to $140. With perfectly clear quality and lucid water white glass, this is a great tool for your kit if you are starting out professionally.
Now, on a 5 stop ND filter, an infrared reduction doesn't make a huge difference, but when it comes to a 10 stop filter, that's when you will see a significant change in IR. Whenever you're extending the shutter speed and you're drawing in a lot of daylight, you start getting infrared influence over the image quality, and the image will start to turn red. IR is going to reduce the red hues and maintain the purest form of color in the scene. Overall, the water white series prove to be a great balance between price and performance. Hollywood DP's use this and the option above to reproduce colors almost identically to what they see in a scene.
4. Long Exposure Filters – Tiffen XLE Series: $50 – $225
These filters are designed for extremely long exposures that are come at a 10 stop range. Featuring Tiffen's Academy Award winning infrared reduction technology. For the most part when you're using flash and shooting portraits, 10 stops is a bit much and therefore it only serves value for landscape based photographers. Depending on the version you get, the XLE will cost you anywhere from $50-$225 offering different variants and performance at every level.
Although it's silver, the Tiffen Digital HT comes in first as it surpasses its competition in terms of color reproduction and detail & sharpness. It features a double-coated titanium multi-coat that ensures the durability of the filter over time, proving to be more scratch resistant. Don't compromise optical quality by letting price point deter you.
Find more of our recommendations for lighting gear, modifiers, and accessories in our Lighting 101 & Lighting 201 courses in the SLR Lounge Store. Sign up for SLR Lounge Premium membership to stream both workshops now!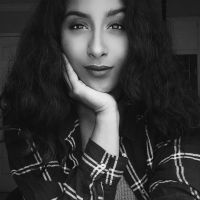 Shivani Reddy
Shivani wants to live in a world where laughter is the cure to pretty much everything. Since she can't claim "Serial Bingewatcher" as an occupation, she'll settle for wedding/portrait photographer at Lin and Jirsa & marketing coordinator here at SLR Lounge. For those rare moments when you won't find a camera in her hand, she will be dancing, eating a donut, or most likely watching Seinfeld. Follow her on Instagram:
@shivalry_inc