By now, we all know that Google is much more than just a search engine. Every month, it seems like they're coming out with new products that make our lives easier in some way or another. From everyday tools like Gmail and Google Maps to the obscure business and education apps, they've truly become essential to our daily lives. Best of all, almost everything under Google is free. In this article we break down the must-use Google Tools for photographers.
1) Google Analytics
Google Analytics is THE most important tool you can use when you're operating a website. Knowing where your traffic is coming from (search vs. paid ads vs. social bookmarking sites, etc) can help you assess your marketing strategies. Is that thousand dollar ad on that major website worth it, or should you focus more on viral marketing efforts like Facebook and Twitter? Also, knowing how many hits you're getting and what content is most popular can help you determine what type of content to focus your writing on. Do my readers like my posts on recommended photography equipment, or are my efforts better spent posting slideshows for my clients? These are just a few examples of the wealth of information that Google Analytics provides you with. The information allows you to set metrics and goals. It allows you to analyze the health of your overall content as well as the individual pages. It's incredible that all of this is free and not every photographer is using it.
2) Google Keyword Tool
The Keyword Tool by Google breaks down the number of local searches and global searches for any given word or phrase. This is useful for your photography studio because it gives you valuable SEO guidance when deciding on your site URL(s), your blog titles, and the keywords in your content. For example, if you find that people are searching your county more than your city, you may want to consider using your county in your blog titles or emphasizing it more in your content.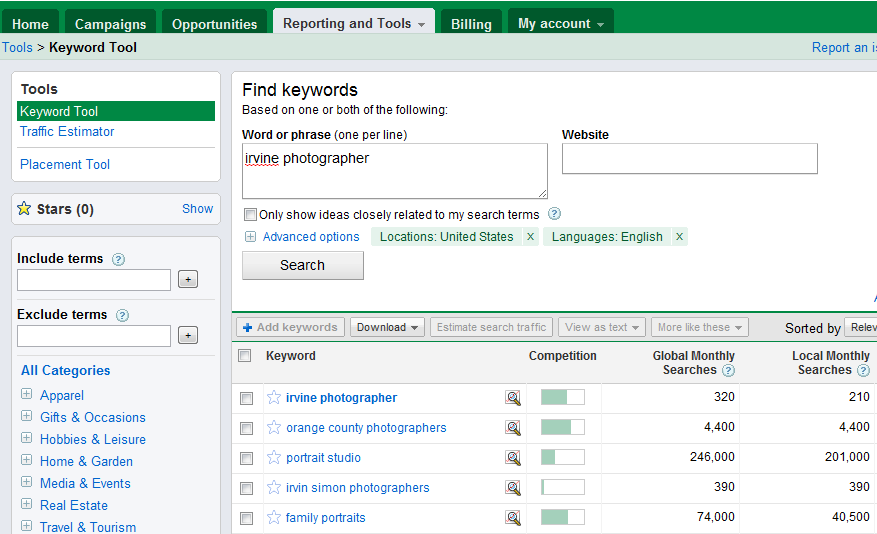 3) Google Alerts
Brand management is as critical for photography studios as it is for any other service-based industry. Using Google Alerts, you can eaves drop on any conversation happening on the web about your studio, from mentions on forums to shout-outs on blogs. You specify the query or queries you'd like Google to monitor. So you can type in your studio name, your full name, your competitors names, or any other term or word that you'd like to keep tabs on. As Google crawls the internet and discovers changes that include your terms or phrases, you get an email that specifies the URL that your term or phrase is found on. You can decide if you want to be informed of new results once a week, once a day, or as soon as they're found.
4) Google Reader
RSS Feeds through Google reader is a great source for inspiration, learning, and keeping up-to-date on the latest news. Keep up on the latest blog posts of all of your favorite photographers or set up feeds for your favorite photography tutorials and news sites. The best part is that you can see all of this fresh content immediately after it's published and without leaving a single page. For more info, check out our post on using RSS Feeds for Photography Inspiration.
5) Google Calendar
Google Calendar might seem like too much of a nobrainer to include in this article, as it's become as critical as Gmail or Google Maps in many of our lives, but it's worth a mention because of its powerful functionality that you may or may not have discovered. If you use Shootq for your client management, for example, you can sync up your calendars so that your appointments and shoots are integrated into your calendar (click here for instructions). Also, don't forget the ability to share your calendar with your second shooters, assistants, and partners. And you'll never miss a meeting with email or text message alerts for your appointments. If you're just using it as a basic calendar, you may want to consider opening up your possibilities.
Thanks for reading, and we'd love to hear your experiences with these tools and other Google Resources in the comments below.