Through trial and error I have learned a lot in my five years of capturing drone imagery. So, whenever I am asked for tips, there are usually three things that come to mind. I believe that following these tips will help any drone pilot take their drone photography and cinematography to the next level.
I will say up front that I primarily fly with DJI drones, but the general ideas and concepts can be applied to other drone models as well.
Dirk will be one of several speakers at WPPI (Wedding & Portrait Photography Intl.) 2020 in Las Vegas, Nevada. This five-day conference (Feb. 23-27, 2020) is the perfect place for wedding, event, and portrait photographers and videographers to come together, be inspired, and discover the latest trends in wedding & portrait photography. You can find more information on Dirk's presentations at the end of this article. 
Here are three tips for capturing better drone photos and videos:
1. Plan Ahead by Scouting Your Locations
Many times drone pilots will just show up at a location and not realize that being prepared is how many of your favorite photographers get their epic images. One of my favorite tips I like to give drone pilots is to use the amazing resources of the internet to first scout a location you want to fly at. You can use the search feature inside a photo app like Instagram to see what imagery has been captured there previously and you can use apps like Google Earth to find easy to navigate satellite imagery that delivers a bird's eye view. This can help you not only determine what might be worth capturing before you get there but also where you might be able to take off and land your drone, as well as what obstacles you need to be mindful of (and even where to park your car, as in this example here).
Another way to be prepared for your location is to check the weather in the area to make sure you are flying in the best possible conditions. One of my favorite apps is UAV Forecast, which gives you a clear breakdown of local wind speeds, the chance of rain, cloud cover, visibility, and local temperature. The sunrise and sunset feature—along with the hourly forecast feature—can help you determine the best time to shoot since light and weather can make or break an image.
2. You Need a Subject
I've been featuring incredible imagery from the #fromwhereidrone Instagram hashtag on @fromwhereidrone for over four years now and I can say that I have sifted through hundreds of thousands of images. One of the main things that I find that can make or break an image is there not being an interesting and recognizable subject. Having a great subject is one of the main keys to capturing great aerial imagery.
This is important for several reasons, the first being that a great subject clearly gives the viewer something to focus on. Next, it provides the viewer with an important sense of scale. Once the drone goes up a few hundred feet, the earth quickly compresses and things can become quite abstract. Finally, a subject allows you to tell a story. For example, if you have a lone boat surrounded by nothing but water, it can convey feelings of isolation, which might make the boat feel like it is lost out at sea with nothing around. In reality, it could be surrounded by the hustle and bustle of a busy harbor, but you can't tell because all of how the image is cropped.
3. Take Advantage of the Advanced Shooting Modes
Here's a quick look at two advanced shooting modes you should incorporate into your drone photography and videography:
A. Photography: Auto Exposure Bracketing (AEB)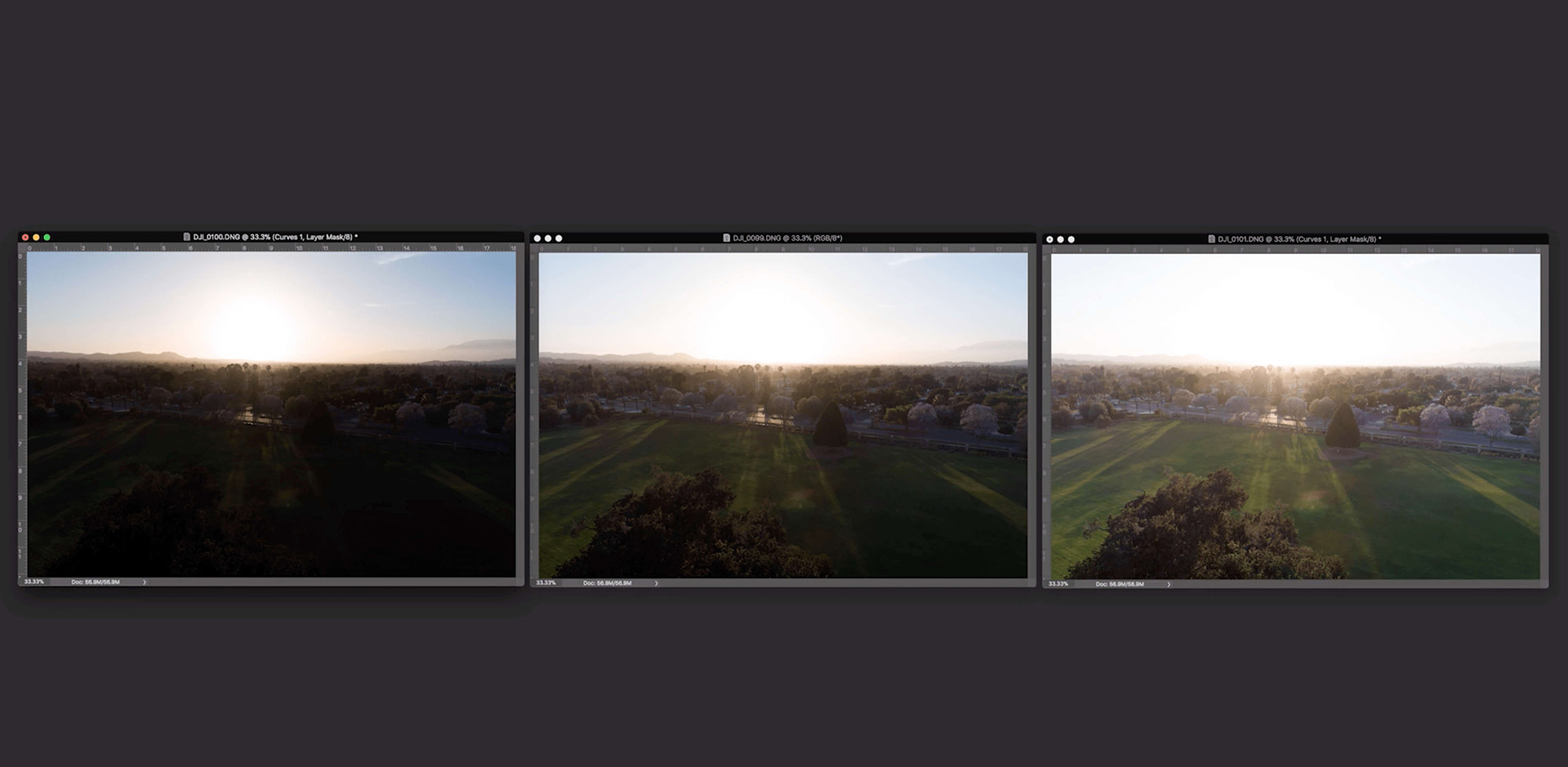 I like to capture my photos in the RAW format using Auto Exposure Bracketing (AEB), which means that you can take multiple photos (I usually pick three) with different exposures, back-to-back. Then, in post, you can combine them together to get a much more dynamic image and latitude in your edit.
For example, if you find that you have images where your subjects are exposed correctly but your sky is blown out, then you could fix this issue by shooting in AEB mode because the camera will take a shot that exposes for just the highlights, such as the blue sky. Once you get back to your computer, you can use a program like Adobe Lightroom or Adobe Photoshop to merge all the photos together, which creates a nice HDR image.
B. Video: Picture Profile
If you fly a DJI drone or something comparable, then chances are the default video recording picture color profile is set to "Normal," which is fine for most shooting (that is just for fun). But once you feel it is time to take your aerial video work to the next level and make it more cinematic, then you are going to want to use a picture profile you can really edit and enhance, such as "D-Cinelike" (the one I use) or "D-Log." Basically, these profiles are a way for your to capture a flatter image because it desaturates the image and lowers the contrast while giving it more details in the highlights and the shadows. This helps prevent the image from losing details due to areas containing sections that are completely white and blown out or black and crushed. Each of these settings can then be perfectly tuned in a post-editing program like Adobe Premiere or Apple Final Cut Pro X.
Conclusion
These are just a couple of things I have learned over the years from flying for both fun and professionally. It's my hope that these tips provide a helpful starting point for you to elevate your drone imagery.
Come Join Dirk at WPPI 2020!
Taking Flight: Getting Started with Drone Photography & Cinematography
"Capturing aerial imagery with a drone is easier and more accessible than ever before but knowing where to start can be difficult. In this beginner's class, licensed drone pilot Dirk Dallas will walk you through his preferences for which drones to fly, the FAA's drone rules as well as his favorite exercises for flying more confidently. He'll also discuss drone and camera settings, essential drone accessories as well as tips and techniques for creating amazing aerial photos and videos."
When: February 24th, 2020 at 2:30 – 4:00PM
Where: Platform Classes | Drones
Dirk Dallas
Dirk Dallas, also known online as @dirka, is the founder and curator of From Where I Drone, a website dedicated to inspiring and teaching drone pilots how to create better aerial photos and videos.