Samyang and Tokina have been garnering significantly more attention these days as they release new fast primes. Although the Samyang lenses are for EF mount and an adapter for mirrorless capability is needed, all of the manual focus lens's listed below are or will be released with E-mounts.
 Tokina
FiRIN mirrorless lens series (released with e-mount):
 Samyang
"Premium" lens series (e-mount release coming):
 TOKINA: FíRIN 20mm F2 FE MF
As opposed to the Samyang release, the Tokina 20mm F2 is specifically released for Sony E-mount full-frame cameras. According to Yasu Suga, president of Kenko Tokina:
The lens is manual focus with manual aperture control but transmits distance and aperture information to the lens allowing the camera to utilize the 5-axis Image Stabilization, Manual Focus Assist, and other features that require electronic lens communication
In order to take both photographers and videographers into consideration, the lens comes with a wide focus ring, which makes for easy manual focusing. Along with a wide grip, the ring can be "clicked" for photography, and "de-clicked" for video, providing a smoother operation of the ring when needed.
The lens will be debuting a the Photokina trade show in Cologne, Germany, next week. Pricing, availability, and distribution information will be released there as well. For more spec's click, here.
 Samyang 85mm f/1.2 & 14mm f/2.4
Samyang, the South Korean optics manufacturer, has launched 9 lenses this year already, with numerous variants of those 9 lenses in terms of different mounts. Although their new 85mm and 14mm lenses are released exclusively as a Canon EF, other mounts are expected to be released. Because of this, mirrorless camera users should not brush this release off as something that isn't for them.
Like the Tokina 20mm, both Samyang lenses are manual focus, capable of providing high resolution for both 50-megapixel still images and 8k video capture, according to the company.
85mm f1.2:
The 85mm f1.2 is their brightest full-frame optic to date, supporting 10-elements, a seven-group optical formula with one aspheric and two high refractive elements, and a nine-bladed aperture. The lens also uses Samyang's Ultra-Multi-Coating to control flare and ghosting. The lens is made with an 86mm threaded head and focuses as close as 2.6 feet for a 0.13x magnification ratio, and weighs about 2.3 pounds.
14mm F2.4:
A bit more complex in terms of glass, the 14mm f2.4 contains 18 elements, 14 of which are group optical formula. The lens also features two aspheric, one hybrid aspheric, two extra-low dispersion, and one high-refractive element.
Just like its 85mm brother, the 14mm f2.4 also has a nine-bladed aperture, using Samyang's Ultra-Multi-Coating to control flare and ghosting. Focusing distance is as close as 11 inches for a 0.08x magnification ratio, weighs about 1.7 pounds, has a length of 4.3 inches, but doesn't accept filters, unfortunately. Although prices have not yet been shared, both lenses will be ready to ship later this year.
Which of these three lenses, the Tokina 20mm F2 FE MF, Samyang 85mm f/1.2 &14mm f/2.4 would make the best fit for mirrorless cameras? Do you think that Samyang knows photographers will use an adapter for mirrorless bodies so they just went for Canon first because it's one of the most popular brands? Please let us know what you think in the comments below.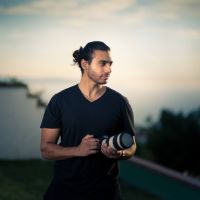 Bilal Akhtar
Bilal Akhtar is a 27-year-old LA native, who, when not taking photos, is using music, photography, and storytelling to create elemental art: www.instagram.com/theelementalarts To see his work, visit his commercial and wedding portfolios: | https://bilal.myportfolio.com | www.momentsbybilal.com | www.instagram.com/momentsbybilal www.facebook.com/momentsbybilal