Two months ago we broke news that fashion photographer Nigel Barker, in conjunction with Adorama, would be producing a show this fall called Top Photographer. Marrying elements of America's Next Top Model with the search for creative talent, Top Photographer would be something we haven't quite seen in our field. Typically, the focus is on the subject of the camera, rather than the mind behind it, so it's no surprise that this, coupled with a prize package of gear and more valued at $50k from Canon and a gallery showing in NYC to an audience curated from Barker's black book, got applications in droves. But there were only 5 spots, and they've now been selected.
To participate, entrants were required to submit an authentic image taken within the last five years, and from that pool a chosen 1,000 entrants were asked to submit a 30-second video addressing a question from Nigel. The competition was not limited to fashion photographers, or indeed any single genre, so the entrants and entries were as wide as the imagination, and here are the chosen contestants:
Scott Borrerro
A commercial photographer and social media 'influencer' based out of San Francisco, CA. The 29-year old photographer, whose current clientele includes Nike, Canon, Jeep, Ram, the Holiday Inn, Lexus, and more – first attended California State University, Long Beach for marketing.  After leaving Cal State, he enrolled at the Academy of Art SF where he studied photography for two years. During his time at AAU Scott landed a 6-month unpaid internship for a fashion startup which eventually had him take on the role as their head of Photography. He held that position for two years until April of 2014, when Scott went freelance. Since then Scott has been working and traveling(to Spain New Zealand, Indonesia and Norway among other places) practically nonstop.

Andrew Kearns
Andrew has been doing photography for a living for two years now, but loves what he does and would say he doesn't work a day in his life. As he vlogs, takes photos, & makes videos he finds himself traveling more often than not. He has grown to enjoy documenting and sharing his experiences with others first and foremost and is always looking towards what's next.

Jamiya Wilson
Jamiya Wilson is a portrait photographer residing in New York City. While attending film school, he found himself enamored with photography and it has since become an inescapable passion. For over a decade, he has created compelling imagery with simplicity being the driving force behind his style.
Born in Jackson, MS, Jamiya was always inspired by visuals from animation to cinema. Eventually he obtained his B.S. in Film from Full Sail University, before furthering his studies in photography, obtaining his MFA from The Academy of Art University in San Francisco.
Renown for his photographs of women, his use of skillful composition and a mastery of light has made him a sought-after image maker. Jamiya works primarily in the United States frequenting studios and locations between New York and Los Angeles.

Chris PalErMo
Chris Palermo is a freelance photographer and videographer from Norwalk, CT. While much of his work is in newspaper and TV news, his true photographic interests lie in travel photography. His insatiable curiosity drives him to explore the world and document all of its fine details and transient moments.

Roxana Rodriguez
California-based photographer, Roxy Rodriguez, has a versatile array of photos in her portfolio. This young artist specializes in creative and professional portraiture, as well as commercial and advertising photography. Through her work, Roxy captures the true beauty and essence of any subject. She is able to convey a beautiful story through her photographs because her process is equal amounts work and play. Whether it is natural light or studio lighting, Roxy directs the camera in her favor to create a seamless image. She is highly influenced by music, fashion, and the different people she meets everyday. When Roxy is not behind a camera, you can catch her out on the dance floor or on a nature hike with friends! Her main goal is to create work that brings the same amount of joy to her audience as it does to her.
You can find out more and keep more up to date with the competition over on the official site, and of course you can always find out more here on SLRL. The show will be presented via Adorama TV, and promises to give insight into the challenges and rewards of making it in this chosen profession of ours.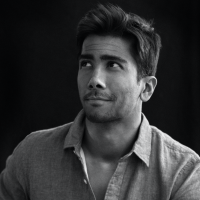 Kishore Sawh
A photographer and writer based in Miami, he can often be found at dog parks, and airports in London and Toronto. He is also a tremendous fan of flossing and the happiest guy around when the company's good.