The concept behind this image was pretty simple, to show off the weather sealing of the new Sigma 150-600mm F5-6.3 Dg OS HSM Sport Lens along with that of the Sigma SD1 Merrill.
First, when doing these types of photos, flash duration plays a major role in how good the water will look. A typical studio light can have a long flash duration which will cause motion blur, and I feel that wouldn't work for this type of shot. There are two ways to get around this; the first is by using flashes with a fast flash duration like the Lencarta Superfast 300w/s, Einstein's or speedlights at a lower power.
The other option is to use a leaf shutter lens to cut the flash duration shot at the expense of power. For this shot, I did both as one of my lights was of the slower flash duration.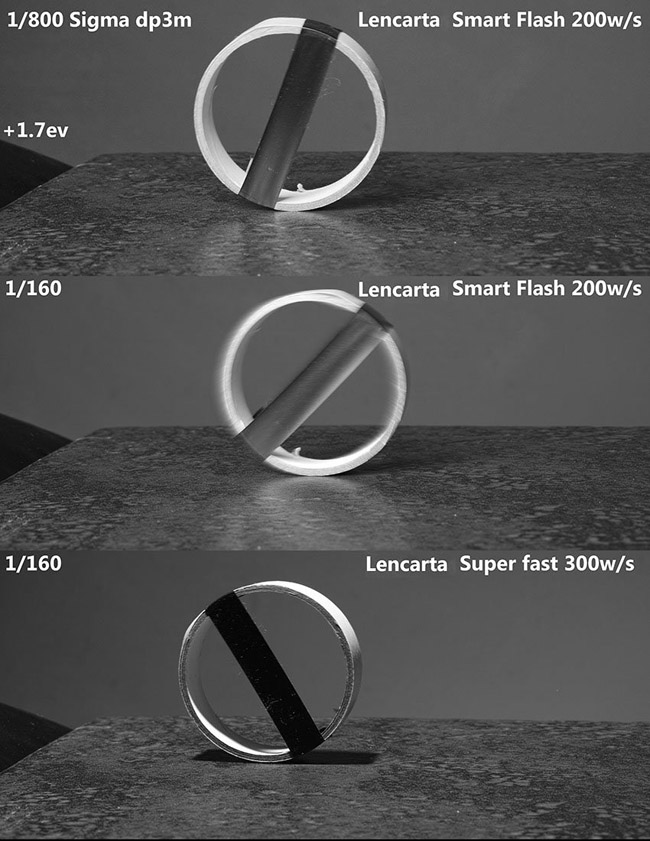 I was mixing fast and slow lights so I used my Sigma Dp3 Merrill to take advantage of the leaf shutter. You can see this in the small test above. (If you would like to read more about the Sigma DP3 Merrill or why I use it, have a look here).
Making The Image
I started with mounting the subject onto a light stand as it's much easier to remove in post than a tripod. Next, I set up my camera and began framing the image.
Once I had the composition that I liked, it was time to lock down the tripod and build up my lighting. There are many ways you could do this, but this is how I created the look I wanted:
1) I used the 300w/s Lencarta super fast as my main light, equipped with a standard reflector and a grid. I bounced the light from it onto a large white surface (which was a white paper background over an Ikea clothing rack). The idea of this was to create a nice gradient on the lens element instead of showing the hard edges of a softbox or other modifier.
2) This was my slower flash; a Lencarta smart flash 200w/s, but being use as a rim. It was modified by a 60x90cm softbox which I feathered to get the look I wanted.
3) The last light was a Sigma 530 DG super speed light at lower power and zoomed to bounce from the other 60x90cm softbox (the strobe connected to that was off) and white diffusing material between both softboxes to create a gradient of light for the top of the subject to pick up.
4) The last part of this lighting setup was an A3 sheet of paper which was laminated to bounce a little light into the bottom of the subject.
Creating the Splashes
After I had my composition and lighting down, it was time to get to the fun part – creating the splashes!
Doing this took a little practice to get it right. I had no way of remote triggering as I was using the Sigma DP3 Merrill so I relied on the good old 10 second timer.
As you can see from the above shot, I filled a small plastic cup with water and tossed it over the subject. I took many shots of this over many parts of the camera at different angles to build up a collection of splashes to blend together at the end.
It's also a good idea to try to keep the cup and yourself out of the frame as it will make masking much easier. Pulling a 'splash face' is an optional extra.
Post Production
The first thing you want to do is look at your collection of splash images and make a selection of ones you think will work well together before you start to load them into your image editor. I use Photoshop CC. For this, I went to "File, Script, Load Files Into Stack" and opened the files I wanted. This creates a new image for me with all my splash shots as new layers.
Once I had the images loaded, I picked out the best looking splash image and set it to the bottom layer. Then I built up the rest of the images one by one using the layer blend mode, "lighten" which will only display pixels that which are lighter than the layer below. In this case, it was the water. I used a mask on each layer to paint out the sections I didn't need.
Here is an example of two layers being blended this way:
When building up the image and masking, it's a good idea to take into account details that you want to show or not show; for example, brand names, logos, switches or things like 'Made in Japan' as this lens has and showing in the 100% crops below.
Once you blend the layers, mask out parts you don't need and spend a bit of time removing the support using a mixture of clone and healing tools (in this case, the light stand).
The Final Image
If you would like to know more about creating splash images Alex Koloskov has a free course and a ton of other resources over at Photigy.com.
As for the camera and lens, both are working perfectly. I love the image quality that I can get from this combo. Here are a few sample images:

**Note**  It would be a really good idea to cover your electronic equipment before doing this type of shot. You could also have something in place to gather the water before it hits the floor.  I've done this type of photography a few times and know how wet it can get, but I also knew my floors needed a wash that day as well :).
About the Guest Contributor
Paul Monaghan is a self-taught photographer from Scotland and owner of a small photographic studio just outside of Glasgow, Scotland. Over the years photography has not only helped him document the life of his four kids, it's also lead him to work on some amazing projects, make friends all over the world and gives him the tools he needs to bring Ideas in his head to life. Visit his website here.
Alice Houstons
Photography has been a part of Alice Houston's life for over a decade now. Here at SLR Lounge, she prides herself on being a wealth of knowledge in the latest photography news and tech. Always searching and a self-described "Digital Nomad," she loves learning about those unique stories that inspire photographers around the world!