Welcome to our Minute Photography series, where we explain photography and lighting tips & tricks, myths, and techniques. For more education and details on similar concepts, be sure to check out our Photography 101 Workshop.
In just 60 seconds, we are going to explain why the camera seems to add ten pounds to people in photographs.
Click to Subscribe!
"The camera adds ten pounds."
This common phrase actually describes the effects of lens distortion caused by wide to semi-wide angle lenses, which can make people in pictures appear heavier than they really are. Wide angle lenses can not only widen out the body, but they can also completely distort a subject's features.
To illustrate this point, we photographed Brandon on a Canon 5D Mark IV with a Canon 24-70mm zoom lens. Notice how Brandon's facial features change as we adjust our focal length and cycle from 24mm to 35mm, 50mm, and 70mm.
As we increased the focal length, we also increased our distance from Brandon so that his face would occupy roughly the same amount of space within the frame for each headshot.
If you want to see just how dramatic of a difference there is, compare the image at 24mm to the image taken with a 70mm focal length.
That's quite a difference! So, how do we keep the camera from adding those mystical ten pounds?
TIP #1: KEEP YOUR SUBJECTS AWAY FROM THE EDGES
Lens distortion is heaviest at the edges of the frame, so we recommend centering your subjects when shooting them somewhat close up with a wide angle lens.
TIP #2: A FOCAL LENGTH OF 85MM OR GREATER WILL AVOID DISTORTION
For taking close-up portraits, we recommend using a focal length of 85mm or greater in order to avoid distortion. The 85mm focal length, in particular, is known as a true portrait lens, and it offers great compression and background bokeh at wider apertures.
TIP #3: WIDE ANGLE DISTORTION CAN BE USED TO YOUR BENEFIT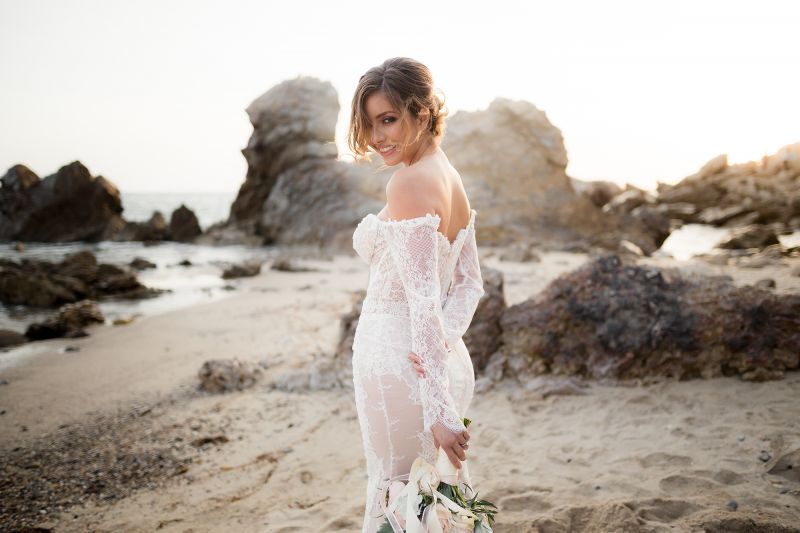 In the example above, we used the distortion to our advantage while capturing a bridal portrait. The wider angle distorted the bride's figure and appeared to lengthen her legs and enhance the curvy shape of her hips.
Join Premium
Stay tuned for more simple & effective photography tips & tricks in our Minute Photography series! And for more of the best education in photography, check out SLR Lounge Premium.