Despite the fact that there are always two of us when we photograph, we aren't always capable of making use of our favorite option for securing our off camera flashes: another human + our personally preferred softbox (Westcott Rapid Box – 26" Octa Softbox). And being that we're pretty adventurous and a bit nutty, we generally find our selves in situations where we need a unique mounting option for our off camera lighting.
Enter Tether Tools and their RapidMounts. Their tag line for their mounts is "Lighting and Capturing Will Never Be the Same Again." Perfect. Sounds just like us.
But first things first. There are two things we always consider before obtaining gear whether it's for a photography gear review, gear replacement, or whatever: 1) Why do we need it/Will it make a wedding day flow easier or make our game more complicate; 2) Is the company "good people"; Do they seem like they like what they do; Do they treat people right; and Do they have a good reputation?
After stopping by the Tether Tools booth at WPPI 2016, a whole bunch of ideas began percolating, and we also really liked them. They're a rad crew. So check and check!

We actually had the opportunity to meet up with Tether Tools again at their offices, conveniently located near us about a 5 minute-drive from the Phoenix airport,  and they provided us with their RapidMounts line + a Rock Solid Master Clamp, and their RapidMount Cold Shoe Elbow Mount, which make using the mounts that much easier.
Here was our review plan at the time: toss it all in one of our bags and pull the mounts out when we needed them. That's what we did, and we found that we did need them, and often laughed about what we used prior, which was usually some random dude standing nearby. We quickly made use of the RapidMount EasyGrips, RapidMount MaxClamp, & RapidMount SuperFlex Arm.
Each of the mounts performed perfectly, which in our minds means set-up and take-down was quick and easy.
One notable occasion we used the EasyGrips was on an engagement adventure when we were a bit crammed, shooting in a vintage soda shop. Andy had the soft box, but we needed to bounce a light and there was no room for a stand. EasyGrips + the "Please Be Seated" sign did the trick.
We used the MaxClamp on for a portrait session that was a rad adventure with a current wedding client, her mother, and her 30-year-old horse, all part of an epic Mother's Day photo sesh. We needed to be high up but close, and needed the light secured so that the horse wouldn't kick whatever was securing our SB-910, so a stand and/or a human were not an option here.
We used the SuperFlex Arm when we needed to get shots of our set up for a wedding venue open house. We didn't have light stands, had a fairly weird angle, and the only option was the ceiling because a human or a stand just weren't options.
We gave the mounts 5 stars for features because there are loads of options here. For example, the EasyGrips comes in 3 sizes. And they all come with Rapid Mount Cold Shoes.

The SuperFlex Arm integrates with Tether Tools' Cold Shoe Elbow Mount (or any cold shoe mount you already have) as well as the Master Clamp.
Tether Tools definitely had their thinking-caps on when thinking of  features and making certain what needed to be integrated was just that (i.e., capable of being integrated).
The design of the mounts is spot on. 5 stars, easy. With the exception of the MaxClamp, all the mounts are black and low profile, and we don't mind that the MaxClamp isn't black because it's likely you'll either be using that outside or attached to some kind of beam where any metallic color will do.
The mounts look nice, feel solid, and the line of mounts is extremely diverse. Also, they have rubber on the actual parts that mount (or clamp) so you won't scratch whatever surface to which you're mounting.
Here're the specifications on the EasyGrips: they attach to any flat or round surface, from 0 to 4 inches; they're made of a durable aluminum alloy; and they have a maximum safe load of 6 pounds. For adjustments you get 360-degree pan adjustments, +/- 90-degree tilt adjustments, and +/- 20-degree angular adjustments. And we should mention that the EasyGrips are just so dang light, yet still rock solid; you just can't go wrong with tossing a few of them in with the rest of your gear. Andy will even have one hanging out of his pocket at times.
For the MaxClamp you're looking at the following: expansion up to 8 inches, non-marring padded feet, steel and aluminum construction that support up to 55 pounds, and the Tether Tools Lifetime Warranty.
Finally, the SuperFlex Arm has a diameter of 1.7 inches, a length of 22 inches, and a max capacity of 1.3 pounds. It also features a 3/8-inch female tapped hex stud and a 5/8-inch baby stud with 1/4-20-inch male thread attachments, and the Tether Tools Lifetime Warranty.

We tend to be rough on our gear. We've dropped stuff, kicked stuff, almost driven over stuff, and have had to fix stuff with tape on the spot! So we've had these mounts with us for the  better part of two or three months (kept them constantly with us, stuffed in one of our bags), and with no sign of wear and tear, no scratches on the finish, no loose parts, and no other concerns that we have found, we're pretty stoked on them. 5 stars. No brainer.

This is always the sticking point, right? How much does it cost?
So here's the breakdown from tethertools.com of what we mention in this review:
Rock Solid Master Clamp $35.95
RapidMount Cold Shoe $8.99
RapidMount Cold Shoe Elbow Mount $24.95
RapidMount EasyGrips $36.95-$48.95
RapidMount MaxClamp $89.90
RapidMount SuperFlex Arm $52.90
Could you find cheaper mounting options? Sure. Probably. In fact, you could even make something similar yourself if you wanted to. We're sure you could rig up all kinds of stuff. But here's the deal: we don't have time to rig up our own mounts, clamps, etc., and we're gong to trust the experts when it comes to securing our gear, which isn't cheap. The Tether Tools team are definitely experts. Given that line of thought, we think the mounts are competitively priced and a good value considering what you get: well-thought-out and well-tested mounts that are versatile and a great addition to any photographer's kit. 5 stars.

When all is said is done, these mounts will always be in our kit. We may not always need them, but we proved to ourselves that they have their place, and use.
Overall rating? 5 stars. You won't be disappointed. We aren't, and while we aren't picky, we are choosey. Despite being prime lens, off-camera flash wedding photographers, we try not to be gear heavy. We don't like complicated. Tether Tools is right there with us in that respect. Their RapidMounts make things easier. The designs and quality are legit, the myraid of options is cool, and at a range of $36.95 – $89.90, there's really a mount for every budget.
Here's that list of what we mentioned in the article again:
Rock Solid Master Clamp $35.95
RapidMount Cold Shoe $8.99
RapidMount Cold Shoe Elbow Mount $24.95
RapidMount EasyGrips $36.95-$48.95
RapidMount MaxClamp $89.90
RapidMount SuperFlex Arm $52.90
Have you used any Tether Tools gear? Premium Members can save 10%; check out the Partner Page for more details!
We'd love for you to weigh in on your experiences or thoughts about what we reviewed here, so leave a comment below! And, as always, feel free to show us some of the shots you've grabbed using what you already have from Tether Tools and/or continue the conversation over on Facebook on our every-growing SLR Lounge Photography Community page.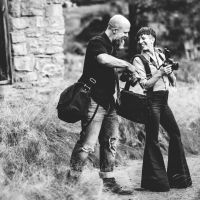 Amii & Andy Kauth
Amii & Andy are a wife and husband team of rad portrait and wedding photographers (Sunshine & Reign Photography) who absolutely love life and are generally just stoked! Yeah! When they aren't photographing or writing and teaching about photography, you'll find them off on a seriously legit adventure with their little ones, lifting weights in their garage, training jiu-jitsu, refining their archery skills, or surfing every chance they get. And on the rare chance they escape off on a "date night"? Yep! They'll find a wedding to crash (true fact). Website:
Sunshine & Reign Photography
Instagram:
@sunshineandreign