Sony Imaging has just made its first three major announcements for 2019, and they are indeed impressive. We were able to watch the press release which streamed live from San Diego, CA, which provided some additional information on Sony's overall market outlook. In short, outlook: positive!
First and foremost, let's talk about what is going to be the most exciting news for current Sony A9 owners, or any action sports, portrait/wedding, and yes WILDLIFE photographers, who are thinking about going mirrorless with the A9.
Sony A9 Firmware Update | New Features
Available in March 2019, this firmware update (5.0) will provide major improvements to its AF and overall user experience. Here are the highlights from the press release, and what they likely mean in real-world use:
Real-Time Tracking Mode AF
"AI-based object recognition which processes color, distance, pattern and spatial information to ensure that all subjects can be captured with extreme accuracy."
On the Sony A9, continuous AF in particular is about to get a lot better,  thanks to the new ability to use eye and pattern/texture recognition in addition to its original AF tracking algorithm.
Also of note is the fact that, apparently, you can now control which subject should be tracked just by using the touchscreen. This means no more needing to dig into a menu to set which face should be prioritized! This sounds amazing for wedding, portrait, and action sports photography.

Real-Time  Eye AF
"This exciting new capability employs AI-based object recognition to detect and process eye location data in real time, resulting in improved accuracy, speed and tracking performance of Eye AF."
Sony's Eye AF feature has already been praised widely as the best eye AF around, and it's clearly about to get a lot better, not just for new cameras in 2019 but also for the existing 2018 lineup, including the A9, the A7RIII, and A7III.
It is important to note that this comprehensive improvement to autofocus is going to work in ALL autofocus modes, and while recording video as well! Also, it is not going to just be better at Eye AF, but at tracking any and every type of subject, indeed. In the demo video below, the AF system does a downright jaw-dropping job of tracking a helmeted "rocket man" literally flying through the air, as well as using Eye AF on a skateboarder whose face and eyes are visible:
Animal Eye AF
For all you wildlife photographers out there, Sony has finished its rumored animal eye AF feature, which will offer wildlife photographers (and pet photographers)  a whole new realm of possibility when it comes to tracking a subject in tough conditions. Note: This will arrive in the A9's 6.0 firmware, available in the summer 2019.
This will clearly be great for canine and feline subjects; both wild and tame; we'll have to test it for avian subjects too when we can get our hands on it!
Many More Features Coming to All The Current Full-Frame Bodies
As mentioned, the A9, A7RIII and A7III will all receive these new AF features, along with many others. The A7RIII and A7III firmware will be 3.0, available in April 2019.
Of particular note will be numerous additions to menu and button control customizability, plus the return of the built-in interval timer for timelapse recording. The grand total, for the A9 at least, will be more than 20 updated features from the 5.0 and 6.0 updates!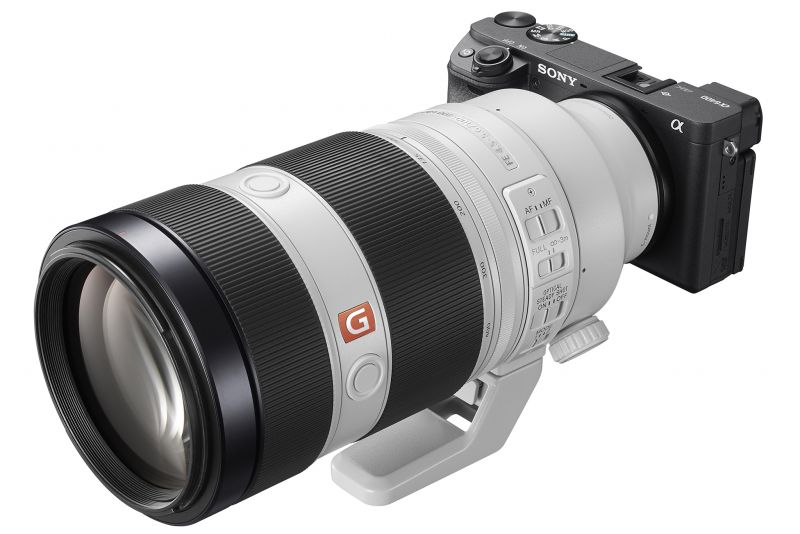 Sony A6400
The A6400 is Sony's new mid-level APS-C camera, aimed at a wide range of photographers from action sports and wildlife photographers to vloggers, or of course any casual photographer looking for an affordable alternative to full-frame. The body will be available in February 2019, for just $900, or $1000 with a kit lens.
Considering its price, spec sheet, (notably missing IBIS,  but not much else) It seems the camera is indeed aimed at A6000 owners who decided not to upgrade to an A6500 or even an A6300 due to the amazing value of the original A6000.
The A6400's spec sheet is as follows:
425 AF points, covering almost the entire image area (84%)
0.02 second AF acquisition speed (Not sure with which lenses, but wow!)
Real-Time AF tracking
Real-Time Eye AF
Real-Time Animal Eye AF
Smoother, Stable AF for movies
11 FPS with  full AF functionality (8 FPS in fully silent shutter mode)
ISO 100-32,000, 24 megapixel sensor
4K video (full sensor width)
HLG 8-bit video picture profile offers a simple HDR video workflow option
Built-in intervalometer for timelapse photography (Yay, it's finally back!)
180 degree (vertical flip) LCD screen
48 Native E-mount lenses (Counting both FF and APS-C lenses)
Two New Mobile Apps, Update To Desktop App
Lastly, Sony has announced a revamp of its mobile and desktop applications:
Sony Electronics Inc. today announced the release of new Imaging Edge™ mobile applications plus several updates to the 'Remote,' 'Viewer' and 'Edit' desktop applications that will bring exciting new features to all Sony imaging customers ranging from casual hobbyists to working professionals.
New Imaging Edge Mobile Applications
The newly introduced mobile application named Imaging Edge Mobile is the successor to Sony's PlayMemories Mobile™ app and will offer instant transfer of images from camera to a connected mobile devices while shooting. Images can be transferred when utilizing the new "Auto background transfer to Smartphone" functionality, allowing users to easily share content direct from their phone to social media platforms.  The mobile application also supports 4K movie transfer and remote control functionality.
For professional photographers, Sony will be releasing a new mobile application 'Transfer & Tagging add-on' that will support instant delivery workflow by allowing users to transfer content to their mobile devices via the camera's FTP background transfer functionality, without  distraction from their shooting.  It also enables voice input for text captioning to help streamline communication and overall workflow between photographers and other team members.  There is also an online function that will allow you to sync a Caption Glossary between multiple devices. 
Sony's new Imaging Edge mobile application and 'Transfer & Tagging add-on' will be available in March 2019.
Enhancements of 'Remote' 'Viewer' 'Edit' Desktop Applications
The desktop version of Sony's Imaging Edge application will be updated as well, with workflow support of time-lapse movie creation, making it an ideal match for Sony's newest interchangeable lens cameras with built-in interval recording.  Other new features to maximize usability have been added as well, such as comparison display and collection functions, as well as a new and improved user interface. 
The latest Version 1.4 of Desktop Applications 'Remote' 'Viewer' 'Edit' will be available later this month.
For more information on the new application updates, please visit the Imaging Edge website at imagingedge.sony.net.
Sony's Stance In the Camera Market
At the very beginning of today's press release, Sony mentioned how well they did in 2018, since it was obviously a very wild year with so many other entries into the full-frame mirrorless camera market.
Sony's share of the full-frame market, globally, grew(?) to 31% in 2018.
Of all the (non-phone?) digital cameras sold, 54% are mirrorless.
Sony is the #1 brand in the USA for full-frame cameras.
Sony themselves are up 97%, year-to-year.
Overall, this is a promising start to 2019, almost as if Sony is starting the new year with not just one new APS-C camera body, but three "new" full-frame mirrorless bodies, if the autofocus improvements prove to be significant enough!
We'll be publishing additional reviews of both the Sony A7RIII and A7III as soon as possible, as well as a review of the A6400 whenever we can get our hands on one!