Snapseed has been a go-to for editing photos on mobile devices since its inception as an iPad app in 2011 when it was a Nik product, before the Google buyout. It's seen much evolution in the past six years and its most recent update has added a few new features, but the most notable is the addition of a powerful editing tool – curves. Prior to this update, adjustments were slider-only and while quite functional, couldn't do everything that curves can.
I took it for a quick test spin on my iPhone 7 to see it in action. When you open up the curves module, an overlay showing the histogram and curve is placed over the photo. There are presets to choose from or you can create custom curves by tapping where you'd like to add a control point and dragging with your finger to adjust the curve.
There are three icons on the bottom of the screen in the curves module. The left lets you toggle between RGB, red, green, blue, and luminescence curves. The center turns the curves overlay off and on and the right opens the selection of presets. I used the "Flat" preset, which gave the photo the matte treatment people were wild about a couple of years ago.
Whether or not you feel the "after" is an improvement, this should give you an idea of what curves can do. If you are familiar with curves in other applications, you'll be able to jump right into using them in Snapseed.
Though significantly overshadowed by the addition of curves, there were a few other improvements in the update. Grain has received an algorithmic improvement in Black & White, there is improved control over text wrapping, and the facial recognition in the "Face" module now has a "Try Harder" button if it can't recognize a face on the first go. It still doesn't recognize dog faces, however. That's ok, he didn't need any skin smoothing anyway.
Snapseed is available for iOS in the App Store and Android via Google Play.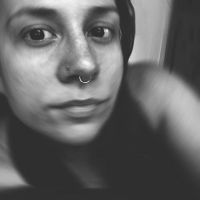 Holly Roa
Seattle based photographer with a side of videography, specializing in work involving animals, but basically a Jill of all trades. Instagram:
@HJRphotos