My third-grade teacher once told me, "Sometimes, you've gotta get your hands dirty to get the job done." That, ladies and gentlemen, is how she got me to move manure in our homeroom garden. Ick. As a photographer, I'm always on the go and sometimes getting that perfect shot also means getting messy; through it all, however, it is of the utmost importance that my gear is kept as safe and as clean as possible.
Thankfully, ThinkTank and SKB have a hybrid case fit for when I've gotta get dirty but want my gear to stay clean: the SKB iSeries 3i-2011-7 Rolling Case with Backpack.
Two Cases In One: The Best Of Both Worlds
If SKB Hard Cases and ThinkTank Bags had a baby together, this is what it would look like. With this rolling case, you get the robust SKB watertight, dustproof outer shell, which holds a removable backpack with ThinkTank quality comfort and design, featuring padded shoulder straps, laptop load-pocket, clear mesh pocket organizers, and water repellent exterior. This bag is airline carry-on approved, and its pull handle and durable wheels are built ready to be lugged around for any travel adventure.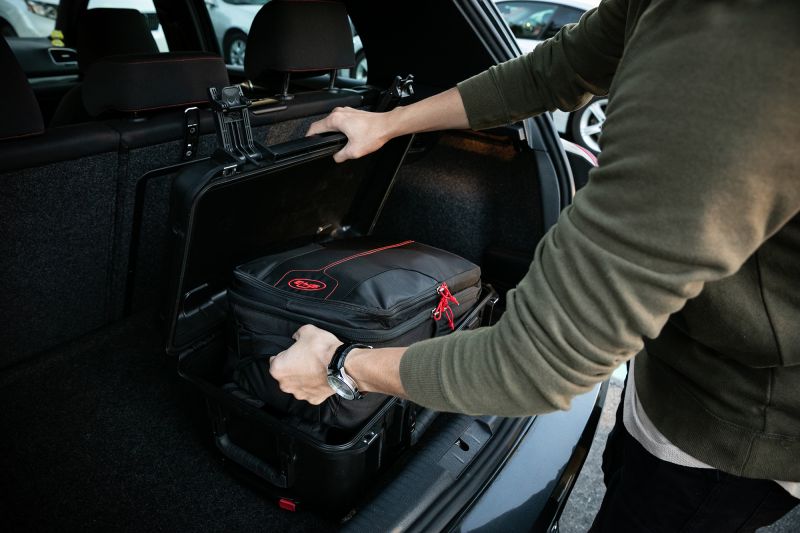 I use the hybrid feature all the time. When I have time to kill, I'll leave the hard case and take the backpack into a café to clean my gear, charge my batteries, and/or work on my laptop. When I return home after a long day of shooting, I simply grab the backpack and leave the dirty hard case in my car. When I need to organize my gear before a big shoot, I can take the backpack around the house while I put things away or pack the things I need.
Functionality
As is, the bag has a decent amount of space and can carry a fair amount of gear. I have been using the bag to carry my secondary camera body, three prime lenses (35mm, 50mm, 100mm), a telephoto lens (70-200mm), a Godox AD200, a constant LED panel, light modifiers, batteries, memory cards, and my laptop.
Design & Build
The backpack has a tactical and masculine aesthetic, as it is boxy and all black. To be honest, it's not the best-looking backpack in the market, but the tradeoff for style is its functionality. The exterior of the backpack is a waterproof mesh and the interior protects my gear with softly wrapped foam dividers, which I can easily customize to my liking. The transparent zippered clear mesh lid helps me stay organized, and the deep laptop sleeve easily fits my 15-inch laptop.
In the months that I've used this case, I have taken it from mountains to beaches and everything in-between. I'll try not to be too biased, but I love this case. The SKB outer shell can take everything from the beating of mother nature to the bumpiness of traveling.
Areas Of Improvement
When I first used this bag, I wanted the case and backpack to be a bit bigger so that I could fit more stuff. There have been many instances of me playing Tetris with the backpack so that I could get the hard case to properly close. I know I should be able to trust the case to protect everything, but once the case is jampacked, I feel apprehensive sitting or standing on the hard case because the case has some give to it and I think something inside might break. However, this case is a hybrid backpack and its airplane carry-on approved, so if it were any bigger, it wouldn't make sense. Overlooking the size, I do wish the hard case felt more robust.
Conclusion & Recommendation
Overall, I love the versatility and functionality of this rolling case backpack hybrid—I find myself using it all the time. If you're traveling and need your camera essentials to be protected and by your side at all times, then this hybrid is perfect for you.
If you're looking for a smaller, more fashionable bag, check out my hands-on review of the ThinkTank Signature 10 and Signature 13 camera bags. 
Josh Chun
Josh grew up in the San Gabriel Valley area, and graduated from the University of California, Irvine. With a double major in Education Science and Sociology, he wanted to pursue further education to become a Sociology Professor. On the way, he fell in love with photography and cinematography, and decided to pursue that instead. Currently, he is a full-time photographer and a second shooter at Lin&Jirsa. Follow his
Instagram
here.