Sigma is now the first third-party lens maker to have a telephoto lens for full-frame mirrorless cameras! Behold, the Sigma 100-400mm f/5-6.3 DG DN OS Contemporary. So far, it's only available for Sony's E-mount and the Leica/Panasonic/Sigma L-mount, however, I hope Sigma is secretly working on developing full-frame mirrorless lenses for Nikon Z and Canon RF as well.
In the meantime, I was able to review this new milestone of a lens on both the Sony A7R IV and the Sony A9 II, plus, using the TechArt adapter I was able to mount it on the Nikon Z7 and the brand-new Nikon Z5!
In short, I'm very excited to see more third-party support for full-frame mirrorless systems, and this new Sigma 100-400 mirrorless lens is pretty good. However, this is one of Sigma's "Contemporary" lenses, not a Sigma "Sports" or "Art" lens. So, it might not be as incredible as the current name-brand competition such as Sony's own 100-400mm f/4.5-5.6 GM, or Canon's new 100-500mm f/4.5-7.1.
Then again, I just compared a $950 lens (the Sigma) against flagship lenses that cost $2,500 and $2,700. (The Sony GM and the Canon L, respectively) When you look at it that way, you can't help but wonder if the Sigma is right for you. At under $1,000, it really does deserve your consideration even if your budget could go more than twice as high. That should give you a hint about how good the Sigma is.
In this review, I'll talk about who should buy the Sigma 100-400mm DN, and why. Plus, I'll also talk about both the pros, (HINT: it's sharp, physically durable, and yet almost as small as a "kit" 70-300mm zoom!) …and the cons. (HINT: It's not perfect in terms of overall image quality, and there are a few ergonomic quirks that might be a little frustrating, but that's it.) So, read on!
Sigma 100-400mm f/5-6.3 DG DN OS Contemporary | Specifications
FOCAL LENGTH & ANGLE OF VIEW: 100-400mm (24.4° to 6.2°)
LENS MOUNT(S): Sony E, Leica L
APERTURE & RANGE: f/5-6.3 to f/22-29
STABILIZATION: Yes, Sigma OS (Does not work in conjunction with in-body stabilization)
AUTOFOCUS: Yes, near-silent stepper motor
MANUAL FOCUS: Yes, electronically controlled, no focus/hyperfocal markings (only on digital display)
OPTICAL CONSTRUCTION: 22 elements in 16 groups, one "F" Low Dispersion, four Special Low Dispersion elements
MECHANICAL CONSTRUCTION: Metal, no weather sealing (besides mount gasket)
MAGNIFICATION & MINIMUM FOCUS DISTANCE: 0.24x, 3.6 ft (1.1m)
FILTER THREADS & HOOD:  67mm filter threads, reversible bayonet hood
Tripod Collar: Not included, optional accessory (Sigma TS-111, $130)
SIZE: 3.39 x 7.76 in. (86 x 197.2 mm)
WEIGHT: 2.5 lb (1135 g)
PRICE: $949 (B&H)
Tripod Collar: Sigma TS-111 ($130, B&H)
Sigma 100-400mm DN Review | Who Should Buy It?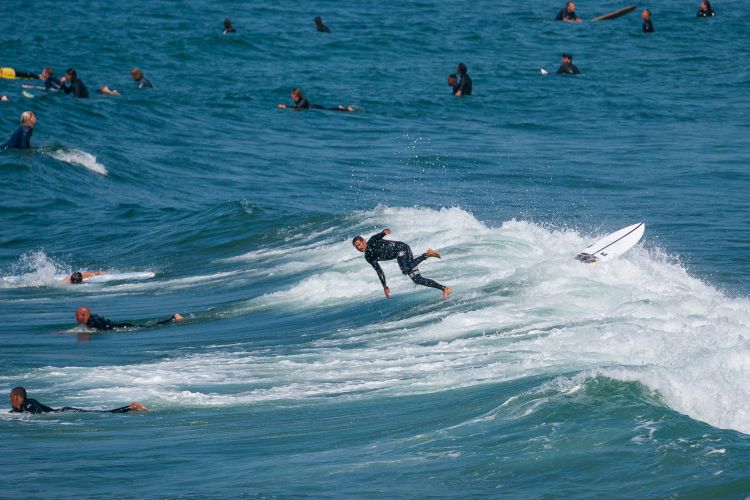 I don't really need to break this section down into individual groups of photographers like I usually do. Whether you photograph action sports, any type of racing, wildlife, or whatever else is often captured with such a telephoto zoom range, then you should consider the Sigma 100-400mm.
The only instance in which it might not be such a good investment is if you work in extremely low light all the time, such as for wedding photography where a 70-200mm f/2.8 is absolutely a much better choice.
Then again, many wildlife photographers (who want to go longer than 200mm) find themselves shooting at sunrise or sunset, and f/5-6.3 are pretty dark apertures to try and photograph any moving subject, even from a tripod. You could go with the alternative, that is a Sigma 70-200mm f/2.8 Sports, (a virtually flawless lens) …and enjoy the benefits of f/2.8 in extremely low light, while adding a 2X teleconverter that could allow you to get to 400mm and "only" be at f/5.6, instead of the Sigma 100-400mm's f/6.3 (at 400mm).
So, here's the bottom line: If you are a Sony (or Leica L, or Panasonic L, or Sigma FP (L) shooter, and you do a lot of telephoto photography in decent light, and only a little bit of photography in dimmer lighting conditions, then for $950 you absolutely should consider the Sigma 100-400 DN.
Sigma 100-400mm DN Review | Pros
I should just jump right to the "Value" Pro, since I'd like you to continue to remember that this is a $950 lens and some of the competition costs more than twice as much. Since I'm reminding you about that now, let's dive into the image quality first, and other pros about the Sigma 100-400mm:
Image Quality
Basically, the most impressive thing about the Sigma 100-400 is that it's quite sharp throughout its whole zoom range, despite being slightly lighter (though not much smaller) than its DSLR predecessor, the $800 Sigma 100-400mm DG HSM OS Contemporary.
However, good sharpness mostly only extends to the main subject areas of an image frame; if you pixel-peep the extreme corners, you'll see a slight falloff in sharpness at every focal length.
Sharpness
I'll let the sharpness samples speak for their boring selves–long story short, it's a very sharp lens, even wide-open, at every focal length. It's not perfect, and as with pretty much all zoom lenses that reach such long focal lengths, it's just a hair softer at 400mm than at, say, 100-300mm. But it's still incredibly sharp, even at 45-60 megapixels.
[Related: Sony A7R IV Review: More Megapixels, Better Autofocus, Anything Else?]
[Related: Nikon Z7 Review: The Ultimate Landscape & Adventure Photography Camera?]
Bokeh
The background blur of all telephoto lenses is usually nice and smooth, although in some challenging conditions you'll see the differences between more affordable and compact lenses and the bigger "flagship" optics. Challenging conditions such as, say, sticks and twigs in both the foreground and background, or, harsh mid-day sunlight on a background…
With the Sigma 100-400mm DN, despite its diminutive size and relatively affordable price, bokeh is quite soft and pleasing. When testing some of the most challenging types of subjects, (see above!) the Sigma is still capable of delivering beautifully rendered blur no matter what.
As with all lenses that aren't totally "overkill" in terms of enormous glass elements, bokeh "dots" do have some faint stretching around the edges of the frame, but it is minimal.
Colors & Contrast
As with all modern lenses, at a glance you can tell that colors and contrast are beautiful, both in nice soft light, and in harsh contrasty sunlight.
There are some subtle quirks that this lens has to deal with in terms of how the vignetting and its built-in correction profile adversely affects the tone and color of heavily-processed images, however, so I'll talk about that in the Cons section.
Vignetting & Distortion
Vignetting is one area of image quality where I'm going to have to plead the fifth until we get to the Cons section. Suffice it to say, vignetting is present, and so is distortion. You probably won't notice it if you're not nit-picky, but you will indeed notice it if you do a lot of demanding, precision work, and especially if you over-edit your images in terms of contrast/curves…
Sunstars & Flare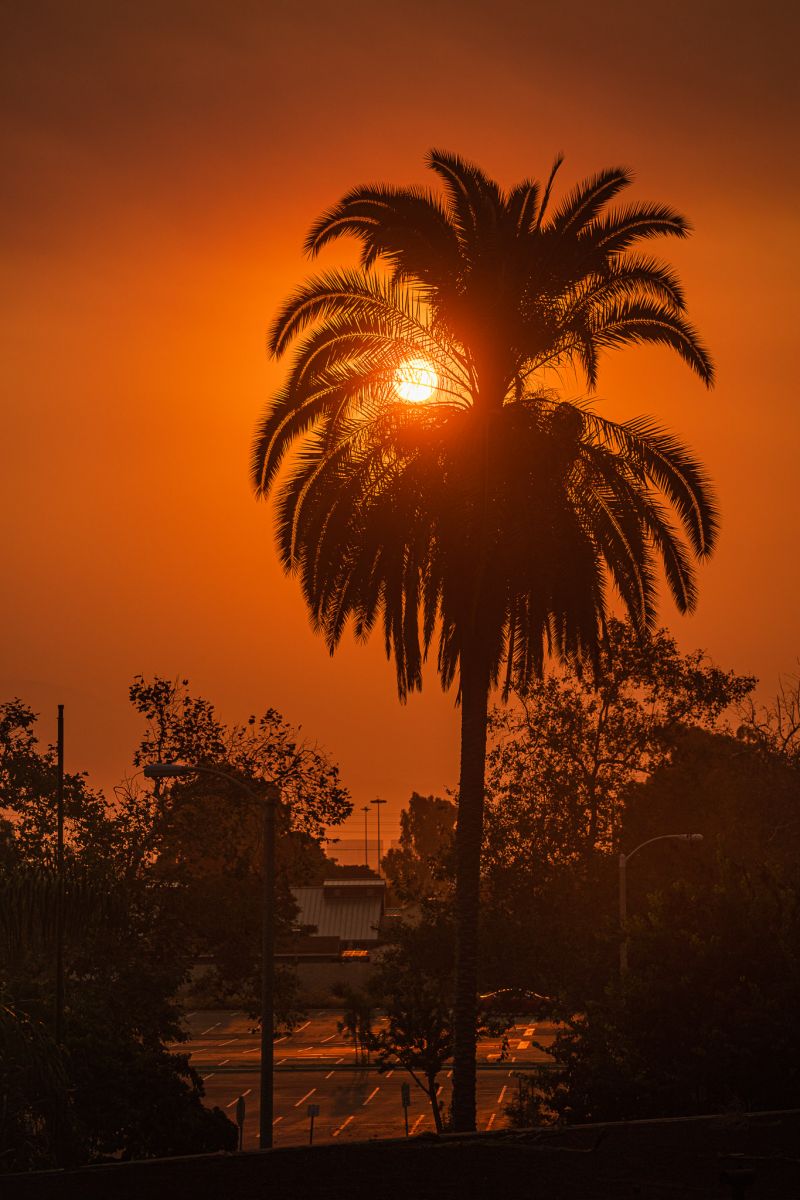 There is almost no flare to speak of, unless you just blast the Sigma 100-400mm DN's front element with sunlight, without the very helpful lens hood. Sigma's glass and coatings are almost as good as the name-brand optics these days. When photographing direct light sources that are very bright, such as the sun, you may see faint ghosting. (See below, under Color Fringing…)
Sunstars are not very exciting; you get the usual well-defined but dull-pointed stars. If you're a cityscape photographer and you want incredible sunstars at telephoto focal lengths on your full-frame Sony, then do yourself a huge favor and consider going in the completely opposite direction from such modern, cutting-edge optics as this Sigma: instead, check out the olde film era lenses, on an E-mount adapter. The old (manual focus) optics from Nikon, Canon, Pentax, (and yes, Minolta, and Olympus!) all deliver dreamy pin-pointed sunstars, and you can find incredibly sharp, affordable prime lenses from 135mm and 200mm to 300mm and even 400mm.
Color Fringing, Aberration, Coma & Astigmatism
These are some of the most obscure aspects of image quality, and they are either easily corrected by a lens profile, (in the case of chromatic aberration) …or impossible, in the case of coma & astigmatism.
The Sigma 100-400mm f/5-6.3 DG DN OS C has a bit of color fringing throughout the entire image frame, when tested on either a 61-megapixel Sony A7R IV or the 24-megapixel A9 II, but it vanishes when you turn on Adobe's default chromatic aberration correction.
Coma & Astigmatism are present, but if you're planning on using this lens on a star tracker for deep sky astrophotography, you'll probably be more turned off by the f/6.3 aperture and the vignetting than any minor aberrations…
Macro & Close-Up Photography
The Sigma 100-400mm can focus decently close, at 3.6 ft or 1.1 m, which doesn't give you a stunning reproduction ratio, (0.24x), but it's still quite close-up for most of the types of subjects you might want to use this lens for. It wouldn't replace a dedicated macro lens, of course, if you're a nature photographer who loves macro and only shoots wildlife, etc once in a while. However, if you photograph mostly wildlife and only ever do close-up nature details once in a while, you'll be happy with the Sigma. Even at 400mm and f/6.3, the lens' optics don't get soft when focusing extremely close, either!
Autofocus Performance
When it comes to super-telephoto lenses, autofocus is everything. If a lens can't snap into focus on a wildlife subject at dawn or dusk, or track an athlete across a field, then nothing else matters!
Sigma's autofocus has improved an incredible amount over the last decade. Their final few "EX" lenses, plus many of their earliest "Art" lenses, had good autofocus, but it wasn't as good as the name brands in terms of consistency and reliability. Now, with Sony mirrorless camera bodies and their on-sensor hybrid autofocus, it seems like there's very little difference in terms of autofocus reliability. Sure, a Sony GM lens will be a little bit more snappy, and a little bit more reliable, but there is no longer a night-and-day difference, let alone a deal-breaking flaw with AF reliability.
The Sigma 100-400mm is exactly that: You don't have to worry about troublesome front-focus or back-focus issues, like in the DSLR days. The Sigma mirrorless "DN" lens just delivers nearly as good consistency as a Sony GM lens. Even when using the TechArt adapter on the Nikon Z7, in bright sun the Sigma 100-400 DN tracks a subject quite nicely, at least most of the time. (Stay tuned for our review of the TechArt adapter itself!)
Design & Ergonomics
Okay, when you first pick up this lens, the first thing you notice is that there's a rubber ring around the barrel, right where a tripod collar should be. To be hoenst, I was shocked to realize that THE TRIPOD COLLAR IS AN OPTIONAL ACCESSORY! (Pictured below)
Indeed, this is not your grandpa/grandma's cheap plastic 70-300mm kit lens, this is a hefty piece of glass and metal. You should NOT be mounting this kit to a tripod via a plate that is on the camera body itself, period. If you do a lot of tripod work, you really should buy the Sigma TS-111 tripod collar.($130, B&H)
If you have the Sigma 105mm f/1.4, by the way, that lens does come with the same tripod collar! Unfortunately, the tripod collars for virtually all the other telephoto Sigma lenses, from the70-200 2.8 Sports to the 150-600mm Contemporary and the 150-600mm Sports, all have built-in tripod collars that can't be swapped out.
Having said that, I should mention that if you're considering the slightly more affordable Sigma 100-400mm DG HSM, a DSLR lens, here's some bad news- that lens doesn't have the option for a tripod collar at all, despite being just as front-heavy as this new DN version.
Aside from the need to buy an aftermarket tripod collar, the lens handles very nicely. The balance is great when hand-holding, or on a monopod or gimbal, (the wildlife & tripod kind, not the videographer kind) …and the zoom and focus rings are nice and smooth. Personally, I still dislike lenses that have "reversed" the zoom an focus rings position, but that's something that you can easily commit to muscle memory.
The various switches on the side of the lens, from the zoom lock to the AF/MF and OS switches, are all perfect, not too hard to switch, but won't accidentally get bumped. As one last perk, Sigma has included the customizable AFL button which you can program to do various things on all of the latest Sony camera bodies.
The zoom action does extend the barrel, but that's totally normal for such lenses, and it feels rock-solid and still balances well even at 400mm. Bottom line: If you're going to hand-hold this lens, you'll love it, if you're going to do a lot of work on a tripod or monopod, you absolutely must get the tripod foot, otherwise you could risk damaging the tripod socket on your camera body.
Durability & Weather Sealing
When you first pick it up, I must admit that you do immediately understand that this is a solidly-built lens. It's not your average cheap plastic kit zoom!
It's not weather-sealed, though; it's a "Contemporary" lens, not a "Sports" lens. This means that although it can certainly take a beating, it won't be as "indestructible" as, say, a Sony GM lens, or a Canon L lens. (Or, say, the Sigma 150-600mm f/5-6.3 Sports, a $1,850 lens)
Durability all comes down to one thing, though: will the lens stand the test of time long enough to be worth the price? Considering that the Sigma costs $950, and the Sony GM version costs 150% more, it's safe to say that the Sigma's durability is a good value. Speaking of which, let's talk about value next!
Value
How many times can I say that this lens is "only" $950? Basically, there are two ways to look at this value proposition: First, you might compare this Sigma 100-400 against the Sony GM version, which is a $2,500 lens. Considering the differences in build quality and performance, although the Sony is better, the Sigma is still clearly a better value.
Alternately, maybe you're comparing the Sigma 100-400mm DN against the two other recent 100-400mm zooms that can be easily adapted to the Sony E-mount; the Sigma 100-400mm f/5-6.3 DG OHS HSM Contemporary, (yes, it's a different optic, made for DSLRs) …or the Tamron 100-400mm f/4.5-6.3 Di VC USD, both of which are ~$800 lenses.
In this second instance, the value in the newer Sigma 100-400 is a little harder to see, especially when you remember that adding the tripod shoe is another $130, making it a ~$1080. Spoiler alert- the older Sigma 100-400 is also a pretty sharp, well-built lens, and so is the Tamron.
But, you see, here's the thing. The older Sigma 100-400 doesn't even have the option to mount a tripod collar, and the Tamron 100-400 doesn't come with one included, either; once again it's another $130 accessory.
Therefore, at the end of the day, this newest mirrorless Sigma 100-400mm is probably your best overall value, and if you don't already own one of the previous 100-400mm's, then you should just  get this one!
Sigma 100-400mm DN Review | Cons
The drawbacks of this lens are very few, and we've mostly discussed them already. (The missing tripod collar,  the  slight quirks to the image quality…) These drawbacks might not even affect most people, so in this section, we're going to talk about how to actually tell if any of these things matter to you or not.
Missing Tripod Collar (Aftermarket Accessory)
Considering how front-heavy the Sigma 100-400mm DN is, I'm pretty surprised that Sigma did not include their TS-111 tripod collar. It really needs it! In fact, the 100-400 is far more front-heavy than the Sigma 105mm f/1.4 Art, which does include the (exact same) accessory tripod collar.
You could try mounting your camera on a tripod using a forward-aiming tripod plate that tries to balance out the setup a little bit, but based on my observations of the flex stress this puts on the bottom of the camera body itself, I DO NOT ADVISE THIS, unless you use one of those special long-lens support plates that actually reaches up to touch and support the lens.
Reversed Zoom & Focus Ring Position
More and more lenses these days are swapping the zoom and focus ring positions to what I think is the less optimal configuration. This used to be necessary back in the day when focus rings had to be physically coupled to the optical elements in the lens that do the actual focusing, because the sharpest optical formulas seem to be the ones that have all the zooming parts in front of the focusing parts. This has been a trend for over 10 years.
However, today we have fully electronic focusing rings, so all they are doing is sending a signal to the focus motors. So, for example, Sony's 100-400mm f/4-5.6 GM has the zoom ring in the "perfect" position, right where you'd like it to be for hand-holding, and the focus ring is at the very front. Even though the moving glass parts inside the lens might be in the opposite configuration, Sony went the extra distance (figuratively and literally) to put the two rings in more convenient locations.
Having said that, I'll be totally honest, it's not that hard to just get in the habit of using a lens like the Sigma; it only takes a week or two of usage for your hands to memorize the reversed positions. It's not optimal, but neither is it going to really stop you from getting the shot, unless you literally just took the lens out of the box and started photographing very important, active subjects right away.
Image Quality – Vignetting & Color Vignetting
As a landscape and wildlife photographer, this is probably the biggest issue that I found myself needing to be cautious about- With such a relatively portable lens, at such relatively slow apertures, the evenness of the vignetting, in terms of both brightness and color tone, is just a bit off.
Unfortunately, one of the rising trends we've seen with almost all mirrorless lenses these days is the use of embedded, un-removable correction profiles that are automatically applied in virtually all raw processing applications, and in many, cannot even be turned back off.
In some cases, this isn't a problem, it's actually a huge convenience! However, in this case, the vignetting correction isn't perfect, meaning you can still see vignetting, especially at 200mm thru 400mm.
For most uses, this won't be a problem if your subjects and scenes don't have lots of perfectly smooth tones. However, if you photograph a lot of perfectly smooth-toned subjects, and especially if you like to crank up the editing of your images, particularly the Contrast and Dehaze sliders, you'll start to see oddly uneven tones across the image.
You can try to manually correct this inadequate vignetting profile using Lightroom's additional adjustment sliders, but unfortunately, another problem pops up, one that is again becoming all too common on mirrorless lenses and cameras: the actual color of the corrected areas may look colder than the un-corrected center of the image, so you'll wind up with faintly cool/blue looking image corners, or a faintly warmer central circle in the image.
The only way to work around this is to just not over-edit your photos. Unfortunately, if you're editing images with lots of haze and need to take the Dehaze slider past, say, +15 or +20, you'll run the risk of seeing a very faint color shift. Honestly, though? This seems to be an issue with almost all mirrorless lenses; in fact, see if you can notice a faint bit of it in the Sony 100-400mm GM example, below…
Sigma 100-400mm DN Review | Compared To The Competition
With a lot to love, and only a few relatively obscure complaints, you can't go wrong investing in the Sigma 100-400mm f/5-6.3 DG DN OS Contemporary. Still, there are alternatives out there, so we should compare them.
First and foremost, there are the two other third-party 100-400mm lenses I already mentioned- the slightly older Sigma 100-400mm and Tamron 100-400mm, which were designed for DSLRs. Both lenses are optically great, you'll be hard-pressed to detect a difference in image quality except in "laboratory condition testing". They're also both quite well-made, and if you take good care of them they'll last just as long as this new Sigma mirrorless lens.
However, as I mentioned, the older Sigma 100-400 doesn't accept accessory tripod collars at all, which to me is a total show-stopper, and the Tamron, although it costs only $800, has the same $130 price tag on its own aftermarket tripod collar. (Tamron A035TM, $129, B&H)
Thus, long story short, if you don't already own one of these lenses, and you currently shoot Sony mirrorless or Panasonic/Sigma/Leica mirrorless, …just get this new Sigma!
There are a few other lenses besides 100-400mm's, though, which you definitely should consider if you love doing telephoto work. There's the Sigma 150-600mm f/5-6.3 DG OS HSM Contemporary, which is sometimes priced as low as $1,100 with the Sigma MC-11 adapter, and the Sports version is sometimes priced at $1,850. Both are incredible performers, with the "C" version being a bit more buget-friendly and the "S" version being a bit more, well, flagship-grade.
Tamron has their own 150-600mm f/5-6.3 Di VC USD G2, (again, all of these lenses are for DSLRs, and will require an adapter) …and it's a bit heavier and pricier than the Sigma 150-600mm Contemporary, at ~$1,400 and ~2kg.
Or, of course, if you're able to shop in the $2,000 price range, and are looking to go further than 400mm, don't forget Sony's FE 200-600mm f/5.6-6.3 G OSS; an internally zooming lens that is probably the most robust of the bunch, and an incredible performer despite not being "GM" status.
Basically, it's up to you whether you're happy with 400mm, or you'd like to go to 600mm. Then, there are two significantly different budget ranges for the two types of lenses you're interested in. All of these lenses are well-made and great performers, of course, but the Sigma mirrorless 100-400 is, in many ways, the most attractive of the bunch.
Speaking of portable, what if you want something truly diminutive, but still without compromising on image quality? Sony's own FE 70-300mm f/4.5-5.6 G  OSS lens isn't cheap, at $1,173, (or, usually, $1,273) …but it's not your average "kit" 70-300mm lens, it delivers professional image quality in a very portable package that is a good 25% shorter than the Sigma 100-400mm.
All in all, there are a lot of great options out there, but this mirrorless version of Sigma 100-400mm offers an incredible balance of zoom range in a portable package, great image quality, and overall durability.
Sigma 100-400mm DN Review | Conclusion
Even if you consider this to be a $1,180 lens once you add the $130 tripod collar, it's still one of the best values in the realm of full-frame mirrorless. It's a huge leap, but if you can, in fact, save up a whopping $2,500, you'll definitely notice a difference in the build quality, ergonomics, and overall performance from the Sony FE 100-400mm GM.  But, that's a ~150% higher price tag compared to a lens that already costs about $1K.
Thus, in conclusion, I have to highly recommend the Sigma mirrorless 100-400mm f/5-6.3 DG DN OS Contemporary. Almost all the other options out there are DSLR lenses which require an adapter, and while the native mount options are great, they're very different from what the Sigma offers in terms of overall value versus performance.
Check Pricing & Availability
The Sigma 100-400mm f/5-6.3 DG DN OS Contemporary can be found for $949 for the lens only, with the accessory tripod foot, the Sigma TS-111, being $130. (They are not currently offered together as a discounted bundle, but we'll update this review if that changes!)
Sigma 100-400mm f/5-6.3 DG DN OS Contemporary $949, B&H)
Sigma TS-111 ($130, B&H)
Pros
Impressive image quality
High-quality build
Fast, reliable autofocus
Portable size (for the zoom range)
Incredible overall value
Cons
Tripod collar/foot is an additional expense
Zoom & focus rings switched position
Vignetting correction not perfect, requires additional help & causes faint color shift
Final Verdict
Sigma has beaten the competition in being the first third-party lens maker to offer a native, mirrorless-optimized full-frame super-telephoto zoom for Sony's E-mount, and at just $950 it is a very attractive alternative to its name-brand competitor.