I have mad respect for newborn/baby photographers. I tried to take pictures of a newborn once, and those oh-so-cute babies cry and flop about and poop. They scare me (and yes, I've had one myself…but it's different when it's yours. I was sleep deprived and delirious half the time).
I look at websites of photographers who specialize in adorable baby portraits and I marvel at the creativity of the photography, with babies in nets peacefully sleeping, looking content and happy…so opposite from my experience. I have to assume that they had some magic to lull a baby to be a sleeping, picture perfect model.
[REWIND: 5 Pre-Shoot Newborn Photography Tips ]
One of these newborn studios is Venture Photography, who specializes in family portraits and babies. In honor of National Storytelling Week in the U.K., they've created a series of portraits that recreate some very famous children's books. Can you recognize what this book is?
If you guessed Harry Potter, you're correct. Here are some of the other ones: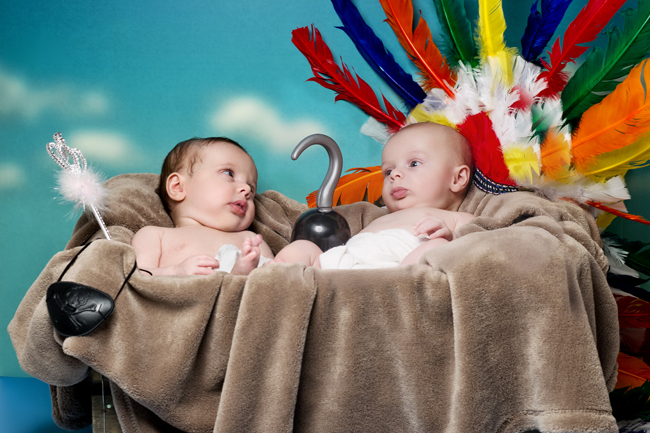 I've since watched our Newborn Photography Workshop DVD's and realized that yes, there are tips and tricks to help pre-shoot to help it be a happy and productive photo session. I feel better about newborn shoots, but I think I'll stick with weddings.
[via @Design Taxi]
CREDITS: All photographs by Venture Photography have been used with permission for SLR Lounge. Do not copy, modify or re-post this article or images without express permission from SLR Lounge and the artist.
Hanssie
Hanssie is a Southern California-based writer and sometimes portrait and wedding photographer. In her free time, she homeschools, works out, rescues dogs and works in marketing for SLR Lounge. She also blogs about her adventures and about fitness when she's not sick of writing so much. Check out her work and her blog at
www.hanssie.com
. Follow her on
Instagram