One of the driving forces for me to improve and evolve my photography is looking deeply into the work of the photographers I admire, and realizing there is so much further I could go with my own. Generally speaking, fashion photography, beauty, and boudoir are the styles I gravitate to, and I go through an absolute torrent of work in these fields on a weekly basis. One of the more negative sides to these being the fields, is that they often involve a significant amount of production value, and that's costly. Refer to the work of Mario Testino, for example.
This is, of course, part of the draw – to see how all these large and minute parts of a production contribute to something that ends in a product greater than the sum of its parts. The downside is that it requires a lot to have that value, and to achieve that look, and that is prohibitive for most people, most of the time. From actual gear to man power, it's costly, and can require a lot of organization. On that note, I'm always interested to see how high-end looks can be achieved with small scale productions, and the minimum of gear/labor. Michael from Smoking Strobes has released a rather useful video on what he calls 'Flash Painting.' Of the process Michael says,
You pose your model simply on the floor or leaning at a wall and you fire your speedlight a couple of times from various positions while your camera shutter stays open for a couple of seconds. This technique is called flash painting. It's seldom used for glamour photos, but for my taste the results are looking pretty hot.
Packing only a camera body (Canon 5D Mark III), Speedlight Mitros, a Rogue Grid and an old sock, he takes some impressive images with his model in a dark room. That's it. No extra hands required, no massive studio or gorgeous location. It's also brilliant in that it doesn't necessarily require horrendous Photoshop compositing.
Now, to be fair, what he produces is not particularly to my taste, but that's his artistic license, and more importantly, he does well to illuminate what can be done. Some of the images he has shot using this method have ended up in Good Light Magazine, so it would seem the technique allows for some high quality shooting.
For more great stuff from Michael do check out Smoking Strobes.
Source: SmokingStrobes, Images are screen captures from linked video by Smoking Strobes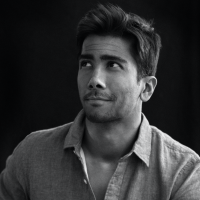 Kishore Sawh
A photographer and writer based in Miami, he can often be found at dog parks, and airports in London and Toronto. He is also a tremendous fan of flossing and the happiest guy around when the company's good.