The Nikon Z50 is one of the most interesting options in the realm of interchangeable lens cameras. Why? Because it's a DX camera that joins the full-frame Nikon Z mount, which although still comparatively new, is already shaping up to be a very impressive mirrorless system. And yet, it's a relatively affordable, compact camera, not an expensive full-frame flagship. (Don't let that fool you, though; it's a solid camera that feels anything but "entry-level"!)
The Nikon Z50 isn't a beginner camera, nor is it a top-end flagship. Indeed, it falls perfectly into that category of cameras that Nikon seems to do better than anyone else- the mid-range of cameras that pack in as many features and value as possible.
While the mount and system itself still have, shall we say, "room to grow", the Z50 already offers a lot of bang-for-your-buck which many different types of photographers will appreciate.
Our review of the Z50 is based on a few months of in-depth use, from casual daily point-and-shoot use and family outings, to big vacations, serious landscape work, and a bit of wildlife and other types of general photography.
Bottom Line: we really loved the camera, and are confident that many other photographers will too.
Specifications
Sensor Format & Type: APS-C, (1.5x crop, 23.5×15.7mm) CMOS
Megapixels: 21 (5568×3712) | AA filter: Yes | Pixel-Shift: No
ISO Range: 100-51,200
Autofocus: On-sensor hybrid AF, face & eye-detection, 209 AF points
Physical Construction: weather-sealed durable construction, rubberized grip
Battery: EN-EL25, ranges from 320 shots worst-case scenario, but up to 1000-2,000 shots for timelapse/action
Connectivity: Wifi, Bluetooth, USB 2.0 charging, (while camera is off) & microphone port.
Weight: 450g (0.99 lb)
Dimensions: 127x94x60 cm (5×3.7×2.36 in)
Price: $849 body-only, $998 w/ 16-50mm kit lens, $1199 w/ 16-50mm & 50-250mm kit lenses
Where To Buy: Adorama | B&H | Amazon
Nikon Z50 Review | Who Should Buy It?
Viva la #CES2020!
Nikon Z50, Nikkor 16-50mm f/3.5-6.3 | 1/200 sec, f/9, ISO 100
Okay, so, who is the Nikon Z50 made for? It's $1000 with the kit lens, so it's an investment you'd want to make wisely. In short, the Z50 is for serious photographers, or those who are becoming pretty serious, but who want a lightweight, portable, and still capable, advanced camera system.
Unlike many other entry-level cameras, the Z50 doesn't compromise much on controls and customizability. Compared to other "entry-level" cameras, let alone an iPhone or other camera phone, you'll enjoy dedicated command dials for shutter speed and aperture, and an abundance of other customizable controls.
Depending on which kit lens you get with the camera, or which existing Nikon DX lenses you have for the FTZ adapter, the Z50 could be a great lightweight option for a lot of different types of photography.
[Related Reading: Nikon Z6 Review – Does Sony Have Serious Competition?]
Alamogordo, New Mexico
Nikon Z50, Nikon 16-50mm f/3.5-6.3 | 1/640 sec, f/8,  ISO 100
Roswell, New Mexico
Nikon Z50, Nikon 16-50mm f/3.5-6.3 | 1/40 sec, f/8, ISO 100, hand-held, single exposure
Orange County, California
Nikon Z50, Irix 150 mm f/2.8 | 1/400 sec, f/7.1, ISO 100
100% Crop, ISO 100, 5-image Panorama
Orange County, California
Nikon Z50, Sigma 105 mm f/1.4 | 1/800 sec, f/5.6, ISO 100
100% crop, ISO 100
Landscapes and travel photographers will really enjoy the Z50 with a lens like the DX 10-20mm AF-P VR, on the FTZ adapter, and casual wildlife or action sports photography with a lens like the Z 50-250mm DX, or the 70-300mm AF-P DX on the FTZ adapter. (Yes, a more serious wildlife/sports shooter might still prefer a D500 DSLR, though.)
Both casual and serious portrait photographers of all types will really enjoy the Z50 if they can afford to pair it with one of the amazing new Nikon Z-mount S-series primes, such as the Z 35mm f/1.8 S, Z 50mm f/1.8 S, and/or Z 85mm f/1.8 S. These mirrorless lenses are a whole new level of impressive image quality and aesthetic, in a relatively affordable and portable package compared to any flagship options.
White Sands National Monument Park, New Mexico
Nikon Z50, 4K video frame, "Neutral" Picture Control
The Z50 makes a fantastic video camera, as well as a decent vlogging and selfie camera, with its flip-down LCD screen. You can plug in a microphone, but not headphones. Having said that, it should be noted that the downward-flopping LCD is a bit cumbersome; you can't see part of the LCD screen, especially if you have a tripod plate attached to the camera for use with a gimbal or selfie stick, as vloggers often like to use. (Dear Nikon, I'd love to see the traditional horizontal-articulating LCD screen, like the D5x00.)
Nikon Z50 Review | Pros
There's a lot to like, and not much to be disappointed by. It's that simple. Nikon is legendary for making cameras that just work great and feel great, and pack a lot of value into their price point. The Z50 continues this long tradition.
It's not perfect, and as one of Nikon's first-generation Z-mount mirrorless cameras, there are a couple minor growing pains compared to the more well-established competition. However, anyone who is either first getting into photography, or upgrading from a Nikon DX DSLR, will find far more to like than dislike about the Z50.
[Related Reading: Nikon Z7 Full-Frame Mirrorless Camera Review]
Image Quality
Nikon Z50, Nikon 16-50mm f/3.5-6.3 | 1/400 sec, f/8, ISO 100
100% Crop, ISO 100, kit lens @ 50mm, f/8
Nikon Z50, Nikon 16-50mm f/3.5-6.3 | 1/40 sec, f/4, ISO 6400
100% Crop, ISO 6400, minor noise reduction & sharpening applied
Simply put, the Z50's sensor is one of the best sensors on the market today. Its overall image quality beats even full-frame sensors from 12-15 years ago, and competes incredibly well against any current-generation APS-C option.
The 21-megapixel resolution is enough for big prints, despite other cameras offering staggering resolutions, plus various bells and whistles for adding even more per-pixel detail. The simple question you should ask yourself is, do you ever need to make massively large prints, and/or do you ever like to massively crop your photos? If the answer is "no" to both questions, then quit worrying about megapixels and enjoy how many extra raw photos you'll fit on a memory card in the Z50. Of course, if the answer is yes, then just get a Z50 while you save up for a Z7, maybe?
Portability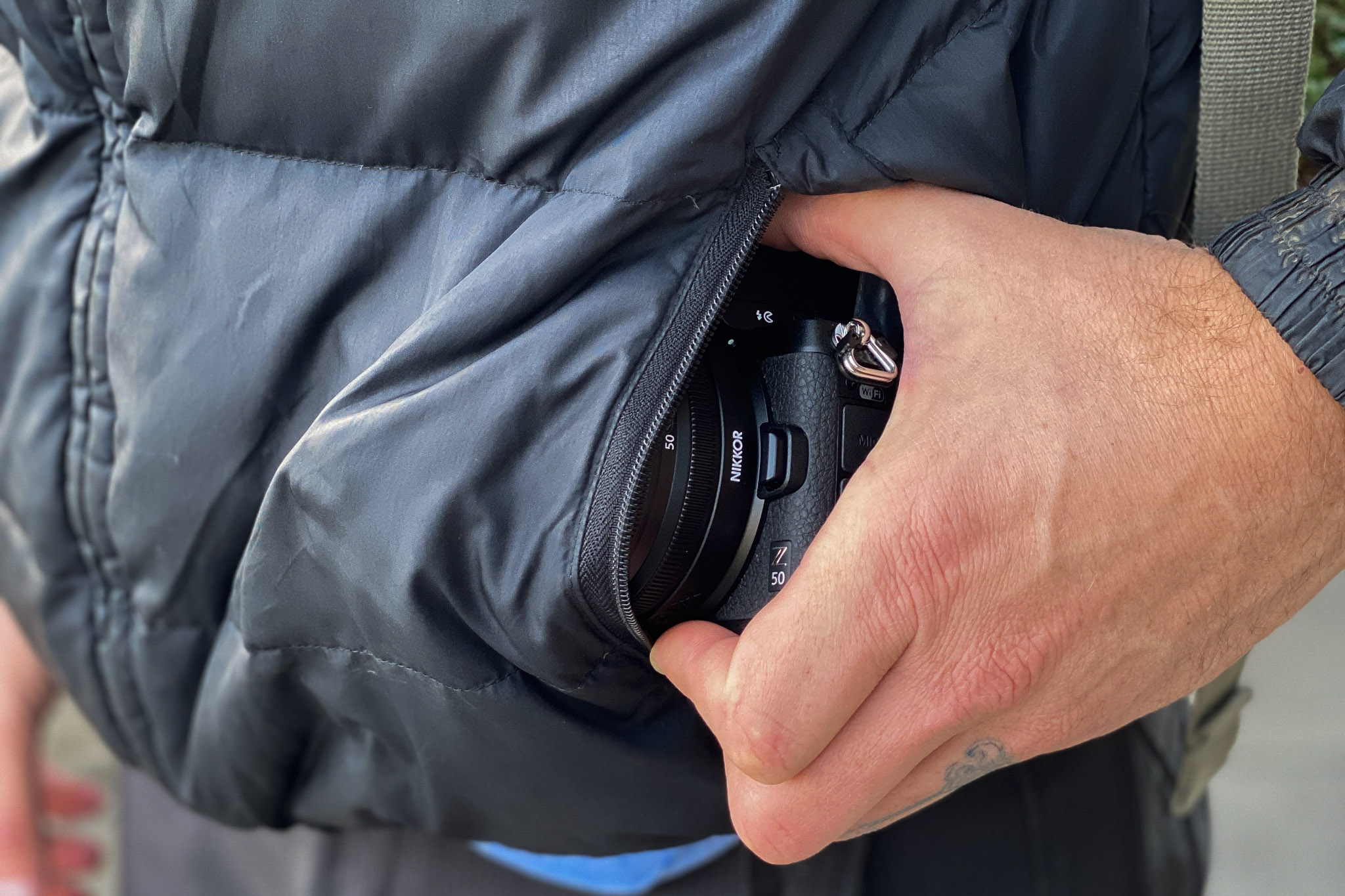 When Nikon announced that they were going to use the positively enormous Z-mount for an APS-C (DX) body, I was skeptical at first. Surely it would have been a better idea to make a separate DX mirrorless mount that uses a diameter like Fuji, Sony, and Canon have all done?
The minute I picked up the Z50, however, I realized all my fears were totally unfounded. The Z50 is delightfully portable, and although the Z-mount itself looks comically large around that 1.5x crop sensor, the body and lenses themselves are a perfect size. The whole camera and 16-50mm kit lens are small enough to easily fit in a compartment in your bag that might have previously been dedicated to a full-frame 24-70mm f/2.8 lens.
Durability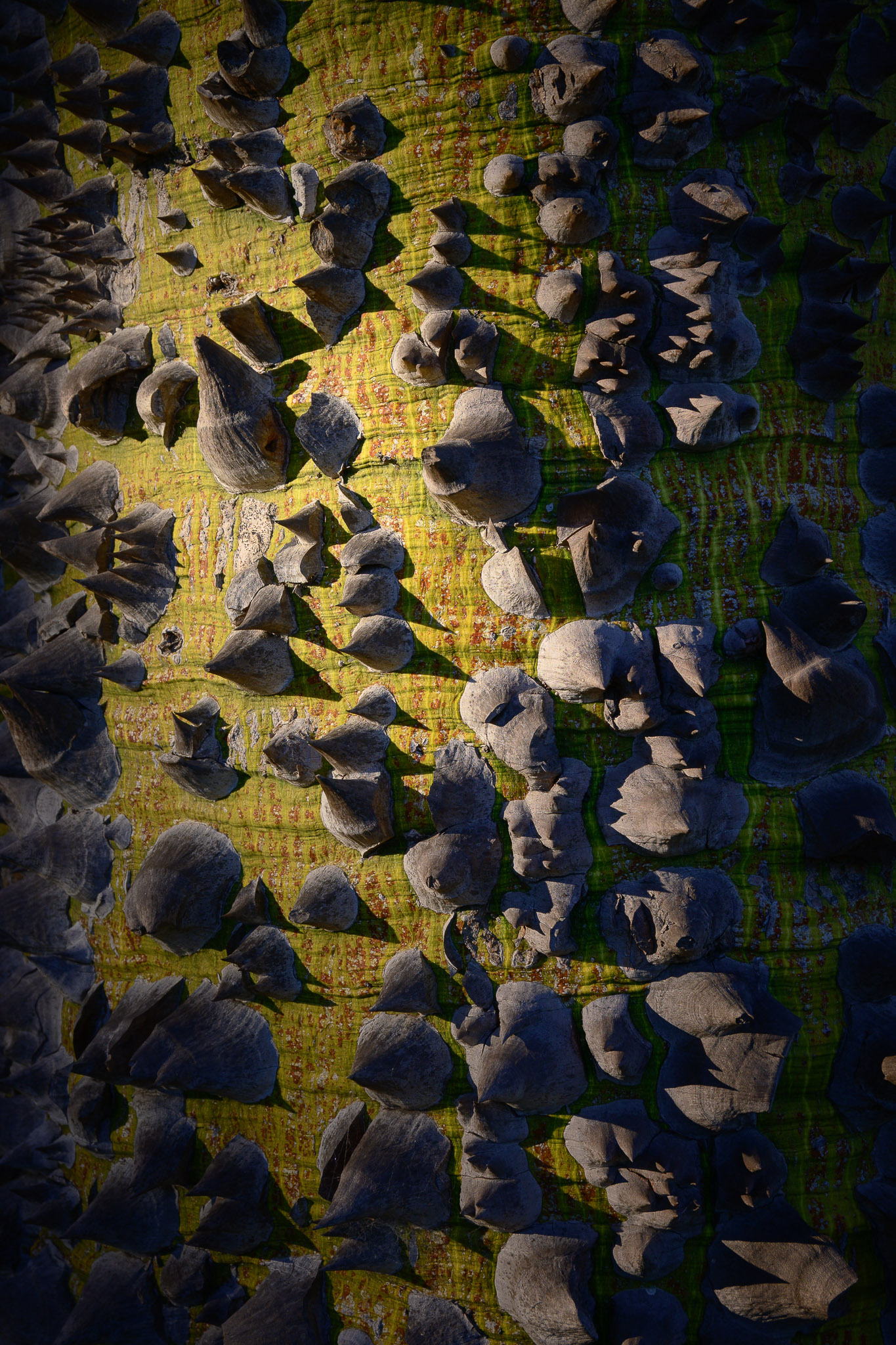 Unlike most other APS-C camera bodies that are meant to be portable, the Z50 does not skimp on a durable overall feel. It feels like a real high-end camera, not a toy. I don't think it's as thoroughly weather-sealed as the Z6 and Z7, (correct me if I'm wrong?) …but it's definitely a no-nonsense body.
I would happily take the Z50 on any demanding wilderness adventure, that's for sure. I might like to see a 16-80mm f/2.8-4 DX lens that is also weather-sealed, though; that would make the Z50 body an even better all-weather choice.
Autofocus Performance
There are two ways we can measure how good the Z50's autofocus is. First, if you compare it to the previous Nikon DX DSLR bodies, particularly the D3x00 series and D5x00 series or even the D7x00 series, you'll find that the Z50's autofocus is an incredible improvement. It nails shots in any static scene, and tracks moving subjects impressively well, whether human faces/eyes or any other type of subject.
Having said that, it would be incomplete to not also compare the Z50's autofocus performance against its mirrorless competition from Canon, Sony, and Fuji. Indeed, the Z50 struggles to match up to those other AF systems that are now quite a few generations old.
Value
At around $850 for the body only, or $1000 for the kit with the 16-50 or $1200 for the kit with both the 16-50mm and 50-250mm, the investment in the Z50 isn't dirt-cheap, but it also isn't nearly as much as a decent full-frame setup.
For what you get, it's a solid value. Nikon included almost all of the features that you might want at such a price point, except maybe in-body stabilization, but that is often left out of other APS-C cameras that fall well below the $1K mark.
Nikon Z50 Review | Cons
As I just mentioned in the Value section, it's going to be hard to come up with many "cons" for the Z50, when comparing it against the similarly priced competition. Indeed, the Fuji X-T30, Canon M6 mk2, and Sony A6400 all lack sensor-based stabilization, so I'm not even going to give "No IBIS" its own category in the Z50's cons. If you want stabilization, you'll have to spend a bit more than $1K.
Maybe we'll see a Nikon Z70 or Z80 in the next year or two, with pricier features like "IBVR" and dual card slots. In the meantime, there's not much to dislike about the Z50.
Autofocus Performance & Implementation
As I already mentioned in the Pros, your existing standards will dictate your level of satisfaction with the Z50's autofocus. If you're coming from an entry-level or mid-level Nikon DX DSLR, you'll likely love everything about the Z50's autofocus system. It is much, much better than the relatively unreliable DSLR autofocus in entry-level cameras, with respect to both overall reliability, and the lack of proneness to getting "out of calibration" with one lens or another, and requiring the dreaded Autofocus Micro-Adjustment.
However, if you want to compare the Z50 against its current mirrorless competition, you'll find that its autofocus implementation is still a bit lacking. It's just not as easy to control your AF points compared to other cameras, for example with most Sonys and Canons you can use the touchscreen to move the AF point even when your eye is up to the viewfinder and the rear LCD is off. Also, compared to the latest Sony options in particular, the focus point control of the Z50 could use some minor improvements, in addition to the sheer reliability overall.
Fortunately, this is the type of thing that can actually be improved with firmware updates to existing cameras, so there might be a few tweaks to the AF point control interface, as well as potential overall reliability, coming to the Z50 in 2020. Nikon has shown that it is committed to this new way of offering value to camera buyers, like Fuji, Sony, and Canon have also done in 2019.
[Related Reading: Nikon Z 50mm f/1.8 S Review | Is this Nifty Fifty Worth $600?]
Lens Selection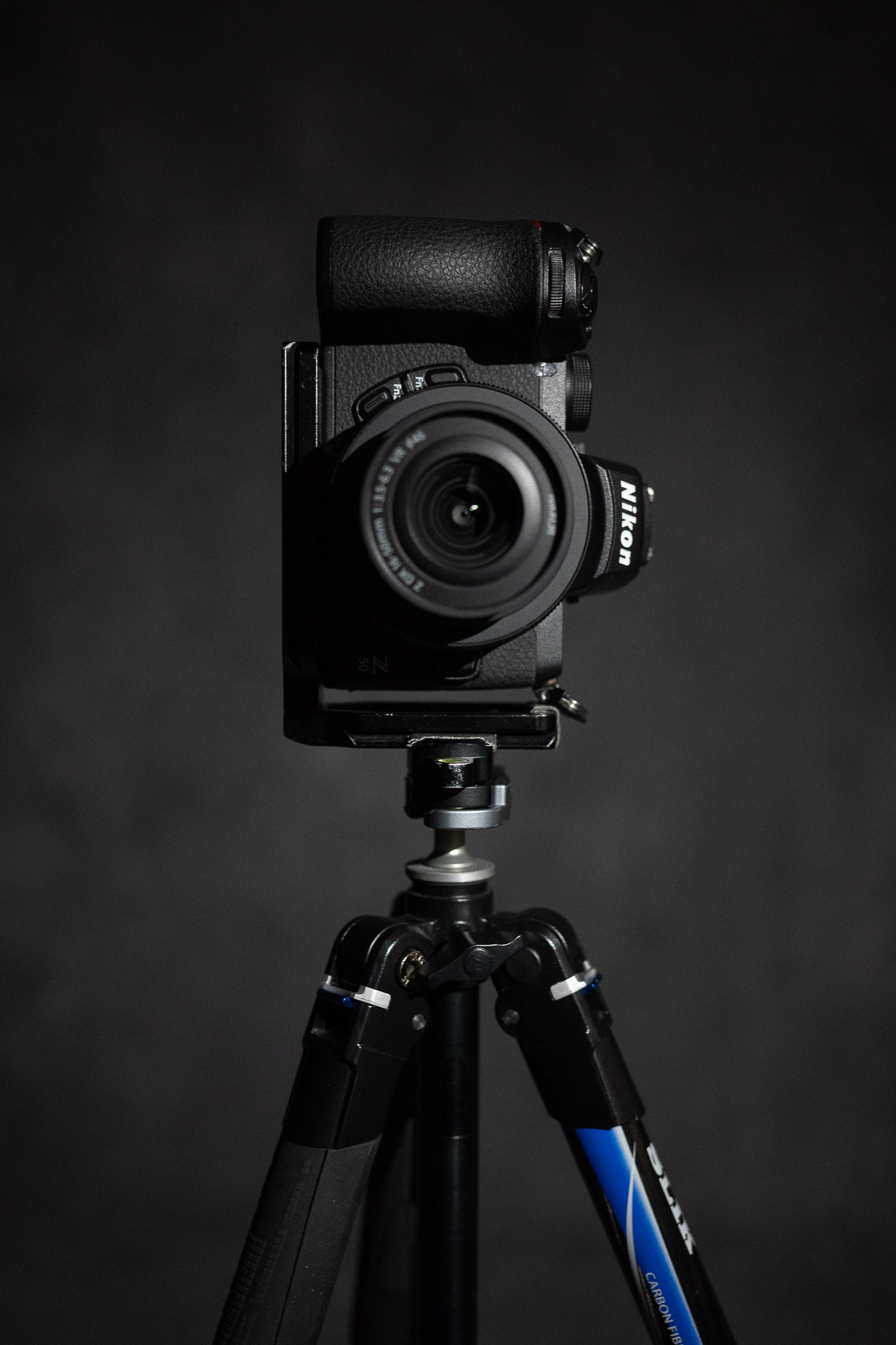 The other main drawback of the Z50 is not really the body's fault. Simply put, the DX Z system itself is the youngest APS-C system on the market, and only has two native lenses so far. The rest of the Z-mount lenses are FX full-frame, and most are quite a bit more expensive than an entry-level shopper might want to spend.
(Having said that, if you're on a Z50 and are looking for some of the most amazing portrait primes ever, for any sensor size, the Nikon Z 35mm f/1.8 S, Nikon Z 50mm f/1.8 S, and Nikon Z 85mm f/1.8 S are all truly incredible, and worth every penny!)
It is also unfortunate that the kit lens for the Z50, the 16-50mm DX, is an f/3.5-6.3 aperture lens. Having such a small aperture as f/6.3 at such a modest, standard focal length as 50mm is a setback to the sensor size itself. If you're looking to really "kill" a background with blur, you'd better also purchase a 50mm prime lens, or at least switch to the 50-250mm kit lens and utilize the much longer focal lengths to help combat such tight apertures.
Thus, my number one wish for the Nikon Z50 isn't about the body at all- I'd really love to see a DX Z-mount lens like the DSLR 16-80mm f/2.8-4; such a lens might be pricey, indeed brand-new it could run about $1000, but it would be totally worth the investment because it would make the camera itself significantly more capable and versatile.
(Unfortunately, the next DX Z-mount lens is an 18-140mm lens, which is an understandably popular focal range; in the meantime I'll settle for using the existing 16-80mm f/2.8-4 DX on an FTZ adapter, espeically since the lens can now be found for about $600 used.)
Battery Life & USB Charging
Lastly, although the Nikon Z50's battery life is about on par with, or better than, the similar APS-C competition, I still wish Nikon had been able to design a better battery for their DX system. It might have made the grip too big to try and go with the Z6/Z7 battery, of course. We'll see what future battery technology can do.
My main complaint is one that I also have had for the Z6 and Z7 even though they do have a bigger, better battery: the Z50 lacks direct USB power capability. On those cameras (Fuji and Sony) that do offer this feature, you can get through an entire day of shooting, or even a multi-day trip, by just plugging in your camera to USB and charging it up even while the camera is on. Especially for recording 4K video; just leaving the camera connected to USB power 100% of the time is a fantastic option.
Hopefully, Nikon will improve the power management options of their mirrorless cameras in the future.
Nikon Z50 Review | Compared To The Competition
"The Space Race" – Little Joe II – Alamogordo, New Mexico, Museum of Space History
Nikon Z50, Nikon 16-50mm f/3.5-6.3 | 1/640 sec, f/7.1, ISO 100
The competition in this APS-C realm is truly all over the place, from limited, entry-level beginner options to high-end flagships. So, where should we begin? First, let's briefly mention each of the different brands that have APS-C sensor systems. Then, we'll break down how the Nikon Z50 compares to all of them…
Fuji X-Mount APS-C Mirrorless
Fuji's APS-C "X mount" has likely the strongest native support and diversity of both bodies and lenses, and a huge fan base among both professionals and hobbyists alike. Indeed, whether you need flagship bodies and lenses that match the spec sheets (and even the light-gathering ability) of full-frame systems, Fuji has got you (almost completely) covered. From dual card slots in their flagship body and an abundance of weather-sealed lenses and bodies, to ultra-lightweight portable options that are pretty affordable, Fuji seems to have something for everyone.
Canon EF-M Mount APS-C Mirrorless
Canon's APS-C "EF-M" mount was created quite a while ago and is a pretty great system, to be fair, but doesn't exactly offer any show-stopping features or performance. In short, it's a great system, and anyone who is already used to the Canon interface, and who appreciates Canon's optical prowess, won't be disappointed by an EF-M setup. That is, just as long as they're OK with using an EF adapter for DSLR lenses, since there are no EF-M L lenses.
To make things slightly more confusing, Canon's EF-M mount will not be compatible with their new full-frame RF lens lineup, due to the physical dimensions of each mount, so you're left wondering if Canon will make an APS-C body for their RF mount, and if so, will that effectively obsolete the entire EF-M system?
Sony E-Mount APS-C Mirrorless
Sony, of course, has an incredibly diverse E-mount lineup, because they're the only major player besides Nikon to offer both full-frame and APS-C options for the same mirrorless mount. In fact, Sony's E-mount was originally started as an APS-C mount, with the NEX series, so their support of APS-C lenses goes way back.
Unfortunately, Sony hasn't done much in the way of high-end, flagship-grade APS-C lenses. Much like how we've never seen a Canon "L" lens for either EF-S or EF-M, we've never seen a Sony GM "E" lens; all GM (G-Master) lenses are "FE", meaning full-frame. These full-frame lenses are fully compatible with Sony's crop-sensor bodies, of course, but you'll have to 1.5x every focal length in order to get its equivalent angle of view.
So, How Does the Nikon Z50 Compare to Fuji, Canon, and Sony?
Now that we've introduced the contenders, how does the Nikon Z50 stack up? Actually, it stacks up incredibly well in some regards, although it does fall a bit short in others.
First and foremost, Nikon always gets one thing right- the Z50 is just a delight to handle overall, it's ergonomics and interface are just some of the best around. The perfect feel of the grip, the ample controls, (especially for such an entry-level body) …it all comes together to deliver a great experience for the photographer.
Fuji, Canon, and Sony all seem to have a few various drawbacks with some of their bodies' ergonomics, especially in the price range of the Z50. Heck, even if you spend the most money on any APS-C body, and get the Fuji X-T3, you'll still find that the grip, in particular, doesn't feel as good as the Z50 for long days of hand-holding. Also, for autofocus point control, all of the Fuji bodies have a relatively tiny, potentially slippery AF point control joystick, for those who still prefer a physical control "joystick" for AF point control, instead of using the touchscreen.
With that said, once you depart from the physical user experience and start to look at some of the other specific features related to performance or image quality, the Z50's competition, collectively, starts to offer some tempting alternatives.
In particular, Sony's autofocus on their latest APS-C bodies is incredible; their subject tracking technology in particular is definitely better than any other option. The Nikon Z50's autofocus is no slouch, though, in fact if you're coming from almost any of the Nikon DX DSLRs, especially those in the D3x00 and D5x00 series, you'll enjoy the Z50's autofocus capability. (D500 users will likely miss the implementation of Nikon's 3-D tracking, even though the overall reliability of subject tracking on the Z50 is still quite good.)
[Related Reading: The First Three Prime Lenses Beginners Should Buy For Nikon DSLR]
Other than that, there's not much to complain about, or to say that Nikon has dropped the ball in any major way.

The Z50 lacks sensor-based stabilization, however, it's likely that most DX Z-mount lenses will have VR. If you like shooting fast primes and also like stabilization, though, you're out of luck.
The Sony A6600 finally added a flagship-size battery, but all other APS-C mirrorless bodies (including the Z50) still have relatively mediocre battery life, across all other Sonys plus the Fuji and Canon options.
The image quality of the Z50, for both photo and video, makes it a strong contender against literally every other APS-C camera ever made. Nikon's latest generation 20-megapixel sensor is just incredible, with a balance of great image quality at both the lowest native ISO of 100, and at much higher ISOs. (I would much rather have this great image quality than a few extra megapixels, that's for sure!)
The only other drawback compared to the competition is not the fault of the Z50: there are currently only two native DX Z-mount lenses. You'll have to go with FX Z-mount lenses if you want some more exotic options, or you'll have to use an FTZ adapter with your Nikon F-mount DX or FX lenses.
Happy Holidays from LA!
Nikon Z50, Nikon 16-50mm f/3.5-6.3 | 1/250 sec, f/9, ISO 100
100% Crop, f/9, ISO 100 | fine-radius sharpening applied
One of the advantages of having such a tiny kit lens is, you can fit it through a chain-link fence!
It cannot be understated just how incredible Nikon's collective lens lineup is, though. If you get the FTZ adapter, you've got access to one of the most diverse lens lineups around, from ultra-wide, lightweight DX lenses like the 10-20mm AF-P VR, to the relatively portable super-telephoto DX 70-300mm AF-P VR.
Just about the only thing lacking from Nikon's DX lineup would be fast, wide-angle primes such as 16mm f/1.4. Although, even if Nikon never makes such a lens, Sigma is likely working hard to reverse-engineer the Z-mount, and their 16mm f/1.4 DC DN is pretty good on Canon EF-M and Sony E-mount.
Thus, all in all, the Nikon Z50 isn't going to feel "held back" for most types of photography, or compared to its alternatives. Despite its diminutive size and relatively affordable price, it still offers that thing we said Nikon does so well- a great balance of quality, value, features, and performance.
Nikon Z50 Review | Conclusion
Monument Valley Navajo Tribal Park
Nikon Z50, Nikon 16-50mm f/3.5-6.3 | 1/250 sec, f/9, ISO 100
[Related Reading: Nikon Z50, Three New Lenses, And A Controversial Battery Grip Announced Today!]
We definitely need to see as many Nikon DX Z-mount lenses as possible in the near future, because this camera is just itching for more native options. With amazingly versatile lenses for Nikon's FX Z-mount bodies, like the Nikon Z 14-30mm f/4 S, (review coming soon!) …I can't wait to see if Nikon makes something crazy like a DX 8-16mm f/4, or at least a 9mm or 10mm ultra-wide zoom, that accepts 77mm or 82mm filters and barely takes up much space in a camera bag.
Of course, it would also be wonderful to see a few "tiny" DX Z-mount primes, such as a 35mm f/1.8 or ~60mm f/1.8, for those who want an ultimate DX portrait kit.
Honestly, going into 2020, almost every camera in production is "more camera than you'll ever need". To compare any two or three cameras against each other and find a difference, we really have to nit-pick and pixel-peep in ways that aren't very realistic.
Nikon Z50, Nikon 16-50mm f/3.5-6.3 | 1/250 sec, f/10, ISO 100
The best thing you can do is choose a camera based on how your mind jives with its controls, interface, and customization. You're far more likely to miss a shot completely because your camera is complex or confusing to operate, than you are likely to see a difference in any of the minor comparisons in objective measurements.
With that said, the Z50 makes for one of the best choices around. The kit lens that comes with it may not be very exotic, but overall the camera itself is a delight to use, and a powerful, versatile camera.
Where To Buy The Nikon Z50
Pros
Incredible Photo & Video Image Quality
Impressive Durability
Familiar & Intuitive Ergonomics
Compact & Lightweight
Cons
Autofocus is better than Nikon DX DSLRs, but behind some competing mirrorless options
Battery life & in-camera charging leaves something to be desired
Native DX Z-mount lens selection is limited
Design, Build Quality, & Ergonomics
10
Final Verdict
In as many ways as we can quantify, the Nikon Z50 is an incredible camera. Its drawbacks lie in the areas that are more difficult to measure, such as the overall value when considering the whole system investment, including available native lenses. We shouldn't expect high-end features like dual card slots or IBVR in a camera this far under the $1,000 mark, although we do hope that Nikon improves battery charging options and speed in all future mirrorless cameras. With that said, for both casual and serious photography and video, the Z50 is a great choice.