One of our favorite moments of the week we were at WPPI was when we got a chance to chat with Caitlin Lazo, formerly of ProDPI. Together with her husband Jeff, Caitlin runs Magic Hour Foundation, a network of professional photographers across the United States, who serve individuals and families fighting cancer by celebrating life through charitable portrait sessions.
Background
Caitlin and Jeff started ProDPI in 2006, a printing lab that grew from their California living room to a 26,000 square foot facility headquartered in Colorado. They recently made the decision to sell ProDPI, and it was purchased by WHCC. According to the Lazos, the ProDPI brand will remain within the industry, and the ProDPI experience will remain the same, including Fuji Paper, ProDPI Roes, ProDPI customer service, and all other products and services. At some point, production will move to WHCC after a transition period with ProDPI staff.
So why the sale? In early 2015, Caitlin and Jeff took over Magic Hour Foundation, which itself began in 2007. It's the sale of ProDPI that will allow them the time to take over Magic Hour Foundation, and it's definitely the right fit, says Caitlin, because "[they] want [their] boys to know that what [they] do is good. That you can make the world a better place than where you started."

The Legacy of Magic Hour Foundation
Originally, Magic Hour Foundation sought to provide free photo shoots as a way to capture the beauty and triumph of courageous people. In 2006, the founders, Alysa and Alan Darmody, according to Magic Hour's website, received a call from a church member who had been sick with an unknown ailment for over a year. His daughter was offering to sell her car so they could afford to pay for a family portrait session. Alysa and Alan told her to keep the car, and they did the photo shoot for free.
The Lazos have their own personal connection to the legacy begun by the Darmodys. When Jeff's cousin was 19, her father passed within five months of being diagnosed with pancreatic cancer. Four years later, her mother received a terminal stomach cancer diagnosis. They arranged for one of ProDPI's managers to come out and take family photos. His cousin had unfortunately missed a formal portrait with her father, and they were determined she wouldn't miss that with her mother. "That's a gift you can't go back to," says Caitlin.
For Caitlin, "One of our real goals is to fundraise to a point where it isn't just a photo session but a photo session and an event. Something for the family. Go out to dinner on us and have the memories of the photos tied to a good event. Make a girl a princess for a day or give a woman a makeover." She and Jeff believe "there is so much power to healing when you feel good."
How Photographers Can Help
Caitlin told us that they've been a part of this industry for 11 years: "The reality is that [photography] matters to people. It matters to the brides and grooms that photographers shoot, and it matters to the families. And it matters even more when someone's grieving. Because when there is a loss in someone's life, in someone's family, the first thing everyone does is go through the photos."
And, according to Caitlin, "not everyone has the gift of having family photos done. People think that their phones are good enough. But as a mom, if I'm taking the picture of my boys, I'm not in it. So if I die, they don't see me anymore. That's what kids need to know. That their family unit existed."
That, in essence, is exactly what Magic Hour Foundation does: they coordinate a photo session to celebrate the truly important things in life through photography.
Additional Information
Magic Hour Foundation needs photographers because more photographers means they can serve more individuals and more families. They have a very simple application online, and "while [they] aren't looking for award winning photography, [they] are looking for solid photography: composition, sharpness, exposure," says Caitlin. You can apply here: Magic Hour Foundation's Online Application for Photographers. And here's Magic Hour Foundation's donation link: Donate here.
Finally, we'd so love for you to spread the word about them by liking them on Facebook, and you can take it a step further by checking out some of their recent shoots and sharing them with your network of colleagues, family, and friends!
Photographs by Magic Hour Foundation are copyrighted and have been used with permission for SLR Lounge. Do not copy, modify or re-post this article or images without express permission from SLR Lounge and the artist.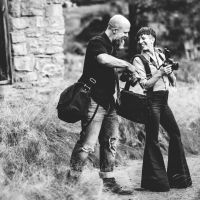 Amii & Andy Kauth
Amii & Andy are a wife and husband team of rad portrait and wedding photographers (Sunshine & Reign Photography) who absolutely love life and are generally just stoked! Yeah! When they aren't photographing or writing and teaching about photography, you'll find them off on a seriously legit adventure with their little ones, lifting weights in their garage, training jiu-jitsu, refining their archery skills, or surfing every chance they get. And on the rare chance they escape off on a "date night"? Yep! They'll find a wedding to crash (true fact). Website:
Sunshine & Reign Photography
Instagram:
@sunshineandreign