You might remember KUVRD from their Universal Lens Caps we reviewed a while back, well now they've launched the first Universal Lens Hood! This new product is the world's first all-fitting, multi-functional lens hood that's easy to pack, install, and use.
It's designed to fit over 99% of camera lenses and remain compatible with any lens' focal length/range without creating vignetting in the corners of the frame, meaning less gear to carry around and more room in your bag.
[Related Reading: KUVRD Review | A Universal Lens Cap or Industrial Protective Camera Condom?]
It removes glares and reflections when shooting through windows and holds any size circular filter, allowing you to use your largest filters with your smallest lenses.
Truly a universal, durable and multi-functional product backed by a lifetime replacement warranty from the company that has set out to keep photography gear KUVRD (pronounced 'covered').
KUVRD's Universal Lens Hood enhances workflow by:
Collapsing down in a millisecond to pack and store virtually anywhere…
Easily stretching and fitting over 99% of lenses while remaining compatible to any lens' focal length without creating vignetting in the corners of the frame in order to travel around with less gear and more room in bags.
Never falling off while being quicker to remove than normal lens hoods, eliminating the fear of losing or forgetting it somewhere while saving time in the process.
Removing glares/reflections when shooting through windows, providing more possibilities for amazing shots and saving time in post-processing not having to remove said glares/reflections.
Holding any size circular filter, enabling one to use the largest ND, VND, CPL or UV filter with his/her smallest size lens, broadening creativity while keeping money in the pocket and freeing up time during shoots.
Folding it down fully to surround the lens' barrel, providing a shell of better protection for the lens while maintaining total access to and usage of the lens' dials, switches and rings.
KUVRD's Universal Lens Hood provides peace of mind by:
Being engineered and manufactured of the highest grade hyper-elastic silicone polymers, creating the strongest and most versatile lens hood possible in order to keep pace with the craziest adventures in the gnarliest conditions.
Being double-coated in their patented lint-resistant silicone dioxide spray that makes it easy to wash and rinse off after a grimy use and restore the lens hood to looking brand new.
Including with it their Lifetime Replacement Warranty that covers any defect to the Universal Lens Hood's functionality so regardless of what or even when a problem occurs, KUVRD has committed to taking care of it and replacing it with a brand new one, for free… forever.
Customers can pre-order the Universal Lens Hood on Kickstarter for up to 50% off.
Pricing starts at $25 for a Universal Lens Hood and comes with a Lifetime Replacement Warranty that covers any defects that ever occur to their lens hood's functionality.
At the time of this writing, KUVRD's Universal Lens Hood has raised over $145,000 from 3,450 backers through its crowdfunding campaign, having shipped out a handful of golden samples to early supporters and high-profile photographers with great initial feedback.
Photo/Videographers are raving about the Universal Lens Hood
"Having it work on all my lenses and also pack anywhere in my bag just blows me away" – Mike Biggins / Brand Photographer
"I'd recommend The Universal Lens Hood to any filmmaker for two reasons. First, because of the ability to shoot through any glass or window. For years I've been filming construction and architecture. The ability to shoot through glass and not worry about reflections is huge. Have you ever tried filming out of an airplane window at night? Not happening. But with the Universal Lens Hood, all reflections and worries are swept away. Second, if you're a run and gun filmmaker like me, less can be more. I typically don't have the manpower or time to be worrying about matching my UV or my ND filter to my exact lens. Some of my lenses I don't even have an ND for. KUVRD's Lens Hood solves that issue by allowing me to use one ND or UV filter for any of my lenses. I highly recommend this product and will be using it for as long as I'm filming… aka, forever." – Douglas Steed / Filmmaker & Architectural Videographer
KUVRD (pronounced 'covered'), is a Utah-based startup with an ongoing passion for outfitting modern explorers to move forward with less. Going on two and half years, KUVRD is doing just that by designing innovative camera accessories like their Universal Lens Caps and Camera Straps and successfully funding them on Kickstarter & Indiegogo.
Their goal from the beginning has been to create tools that help eliminate photo/videographer's anxieties and enhance their workflow. Now, more than ever before, they are thrilled to state that they have "done it again" with their most innovative product yet; The Universal Lens Hood.
To learn more, please visit the fundraising site here
Check Pricing & Availability of KUVRD products Here;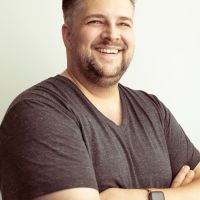 David J. Crewe
David J. Crewe is a full-time commercial photographer and Senior Editor with SLR Lounge. Based out of both Southern California & Las Vegas, Nevada. View his work and blog:
DavidJCrewe.com
Follow his Instagram:
@DavidJCrewe