There is a common thread of misconception when it comes to model photography that is woven deeply into society. The idea is that it is a simple task to make those known as 'the beautiful people' to appear as, well, beautiful. Appearances are deceiving.
The reality is that model photography is a multi-layered genre with a lot of specificities and intricacies when it comes to properly developing a model. When it comes to becoming a successful model test photographer, there are things that you should know.
Measurements & Divisions
What used to be a strict policy of height requirements and measurements is now becoming a little more lax thanks in large part to the demands of consumers. That being said, these numbers still play a starring role into what division a model will be cast.
Runway, fashion and editorial, print and commercial, curve and plus are all specific areas of focus which are determined in large part by a model's height and measurements. It is the responsibility of the photographer to first recognize where a model will be a best fit and then consider their market when developing them.
Primary vs. Secondary Markets
Various locations also influence the type of work a model needs in their portfolio. Primary markets such as New York City, Milan and Paris are very fashion-centric while secondary markets tend to have their own niche.
For example, Miami is known for its swim week while Denver is home to athletic and outdoor brands, therefore the type of work is very lifestyle and sports oriented. Create imagery that is specific to the type of work that a model will be booking in the future.
Fashion Trends
It is our responsibility as photographers to be in the know of both current and upcoming seasonal fashion trends. This is especially crucial for all parties when considering a fashion editorial that can take several months to reach publication from the shoot date. Being a season ahead with fashion trends can also provide more longevity for images in a model's book.
Check out photography and fashion trends for 2018 here. 
Direction
Models will more than likely become increasingly aware of their most flattering angles and pose accordingly. A model photographer should know the difference between linear and angular posing while knowing how to capture both movement and static poses.
More importantly, the photographer should be able to direct a model to get the best shot possible. Creating a narrative with strong verbal cues will paint a picture and make it easier for a model to get into character and evoke a mood.
Required Shotlist
Most modeling agencies will want at least full-length, 3/4 and portrait crops for each look. Be sure to inquire beforehand exactly what it is that they are in need of in addition to each look. Strong communication from the start ensures that everyone is on the same page and results in fewer missed opportunities.
Many of the ensembles with proper styling also make for great beauty images and it is a good habit to capture both, even if the agency doesn't request it. In addition to fulfilling the shortlist, this little extra goes a long way for everyone involved.
Learning how to apply all of this knowledge is vital to properly developing a model, especially in the beginning. Taking the time to become familiar with the trends and various markets combined with proper execution instills confidence and develops a level of trust. It is the practice of these skills over time that builds a foundational and long-lasting network that is vital to sustainability and career growth.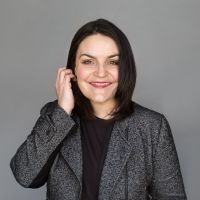 Brittany Smith
Brittany is a fashion and beauty photographer who works between NYC, Montana and LA. She photographs the way she has always wanted to feel and believes in the power of raw simplicity. When not behind a camera she can usually be found at a local coffeeshop, teaching fitness classes at the YMCA, or baking something fabulous in the kitchen. Instagram: @brittanysmithphoto