An important part of my job as a portrait photographer is to make sure my client looks good by posing them in a flattering way. Posing is an art form that takes practice and was one of the first road blocks I encountered when I first started doing portraiture. Women, especially, would ask, "What do I do with my hands? Does my chin look fat? I never look good in pictures!" Sound familiar?
I recently came across on article titled 4 Big Reasons You Look Fat in Photographs, by Alea at The Haute Girl. She writes,
…a photo is merely a snapshot of a moving, breathing object. Angles that most people never see because we are constantly in motion and when you freeze frame that action in the wrong moment or bad angle, it's not a reflection of what you may actually look like to anyone's eyes. Angles are that important. Ultimately anyone can be photogenic.
I 100% agree with Alea on this one. Posing is something I'm still learning to master so I've been doing some digging and found several videos that might help you, too! Whether you're a pro learning to pose your subjects, or just someone who wants to pose themselves in a flattering way for snapshots, here are 6 videos showing how to pose so you don't look fat in photos…
#1: It's All About the Stance
This short clip shows you how a simple adjustment to your pose can make a big difference in how wide or slim you'll look in a photo. Check it out!
#2: Accentuate the Jaw!
World famous head shot photographer Peter Hurley (who was a model before he was a photog), says accentuating the jawline is key to creating a flattering head shot. He's brilliant, so listen up…
#3: On Posing "real" Women
This video is long (an hour), but if you want to learn from the master of posing real women of all different body types, you'll take the time to watch this tutorial by Sue Bryce. Everything I know about posing women I learned from Sue.
#4: When Posing Couples
The SLR Lounge Natural Light Couples Photography Workshop is chock full of posing tips for couples. In this clip, Pye shows us how to make sure the woman is posed in a flattering way during an engagement shoot.
#5: Posing High School Senior Girls
Lindsey Adler gives her top 5 tips for posing teen girls. I'm heading right into high school senior portrait season, so this is really timely.
#6:How to Pose EVERYONE
Wow, this is a little gem and it's totally free to watch! A full 2-hour workshop by Jerry Ghionis on how to pose everyone. Women, men, couples, groups… He shares so many helpful tips for posing people in a flattering way without making them looked "posed". Awesome!
[Free Tutorial: Secrets for Posing Couples, Brides and More]
#7 Posing a Curvy Bride
As a wedding photographer, we photograph women of all shapes, sizes, and ethnicities. Whatever the size, some women love the camera and know how to "work it," making your job a little easier, but more often than not, women tense up in front of a camera (myself included) and don't know what to do, how they look or how to pose.
It is your job as a photographer to know exactly how to pose the human form – whether small, medium or large – to best enhance your subjects, make them feel comfortable and make a great image. If you need some pointers, check out some of our articles on posing here. Making someone comfortable in front of a camera, begins with you being comfortable AND confident as a photographer yourself, knowing exactly what will make your client look their best and being able to communicate that to them.
Posing women can be especially difficult because women tend to be more critical of themselves and the way they look. Invisible to everyone else, a woman can pinpoint all their problems areas in a photograph faster than you can tell them that they look beautiful. So one of the first things I always ask my brides – usually right before we begin the engagement session – is if there are areas they are self-conscious about and areas they love about themselves. That way, I can be aware on how to highlight the areas where the bride is confident (i.e. arms) and play down the areas she doesn't like (i.e. her chin).
In the following video clip from her CreativeLive Complete Wedding Photographer Experience, Jasmine Star gives tips on posing a curvy bride, but the tips can translate into posing any bride. She begins by saying that a photographer's job is to highlight what a bride looks like, not to hide or mask them. The clip is only 2 minutes long, but provides some valuable tips on posing, what verbiage to use (i.e. pull in the core, instead of "suck in your stomach"), and how to ask them to stand so that their weight is distributed. Personally, this is the best tip I've found to create angles in a photograph. I ask all of my subjects to try and distribute most of their weight on the leg away from the camera. It not only helps create a natural curve, but helps takes away the "10lbs" that the camera seems to add to everyone.
Watch 
How to Pose a Curvy Bride
Conclusion
Ok, now get to work in front of a mirror practicing your poses. I'm on a mission to rid the world of bad selfies, double chins and claw hands in portraits. Are you with me? Having some posing know-how in your arsenal of tricks will make you a more confident photographer (or model).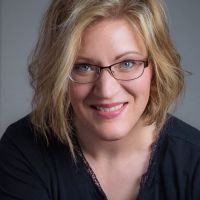 Tanya Goodall Smith
Tanya is the owner of WorkStory Branding Photography in Spokane, WA. Businesses hire her to create story-telling content that sells their high end products and services. She also teachings photographers her unique business model for making serious money as a corporate and personal branding photographer. Find her at
workstoryphotography.com
and
workstoryeducation.com