One thing that plagues almost every photographer is the noise in our images. Whether it is due to shooting at an incredibly high ISO or to aggressively lifting the shadows in post, the struggle with noise is as certain as the sunrise. Even with the great advancements in camera technology, even the most powerful of these tools can only hope to mitigate its presence.
As fortune would have it, there are a variety of methods available to combat this visual virus and, in this quick tutorial, Blake Rudis from F64 Academy shares some tips on how to remedy this problem with Adobe Camera RAW.

Luminance & Luminance Detail – 3:26
Luminance is the slider that has a wide-ranging effect in reducing noise in your image. However, the drawback is that it robs your image of overall sharpness. You can restore this sharpness with the Luminance Detail slider, but this counteracts the initial effect of the luminance slider. This brings us to the color slider.
Color Slider – 4:13
One of the most unseemly attributes of noise is the color that it produces. Those green and magenta blotches cripple light starved exposures; often reducing great shots to mediocre snapshots. Removing this color noise can leave a more grainy texture in your image that is more aesthetically appealing to the eyes.
Luminance Contrast – 5:34
Another drawback of the wide-ranging impact of the Luminance slider is that you lose contrast, in addition to overall sharpness; thereby relegating your image to a flat muddy mess. This lets you bring that contrast back without overpowering your prior adjustments.
Color Detail & Color Smoothness – 6:26
The Color Detail slider can make the color in your noise more or less vibrant while the Color Smoothness slider can blur the remaining color in your noise. The main drawback of these two adjustments is that it can reduce the overall saturation of your image.
Sharpening and the ALT/OPTION Key – 8:33
ALT/OPTION – Pressing ALT or Option gives you an instant grayscale preview of your image and the effect of the respective slider you are using. This is helpful because each individual adjustment we make in an image isn't drastic and this makes it far easier to discern its impact.
Sharpening, Radius, & Masking – 9:14
Sharpening increases the sharpness of the smallest details in an image. Your Radius slider controls the scope of the effect of your Sharpening slider.
Masking is a key feature in conjunction with the ALT/OPTION Key. It applies a grey scale mask which limits the effect of your Sharpening adjustments. Everything in black in your mask is unaffected by your sharpening and allows you to focus on your areas of outline.
This is a great tutorial which demystifies the various sliders in your Noise Reduction and Sharpening Panels. We are in the business of paying attention to details and this is another area to hone your post production skills, refine your best images even further, or perhaps, save a few images you thought were too far gone to save.
You can find more work from Blake Rudis at blakerudis.com and F64academy.com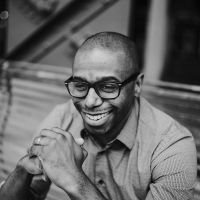 Wendell Weithers
Wendell is based in Atlanta where he shoots events, portraits, and food photography. He also supports his wife Andrea as she runs their cake design business, Sweet Details. Instagram:
Wendellwphoto