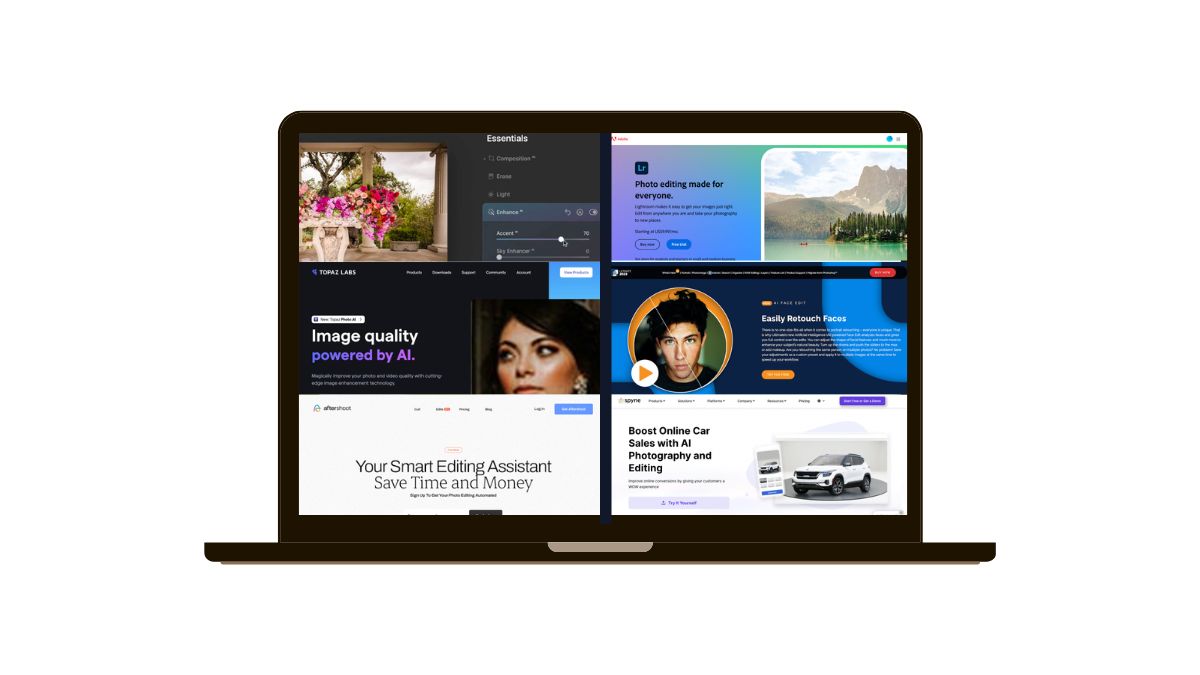 While relatively new, AI photo editing is making rapid advances.  What used to take photographers hours and specialized skills learned over years can now be done in fractions of a second.  We can only try to predict the ultimate ramifications of this new technology, however, one thing that's certain is that AI is here to stay in the photo editing space.  For photographers, the benefits of AI photo editing are clear.  It's going to save you time, freeing you up to do other things like run your business or spend time with your loved ones.  It's also going to enable you to get results that would otherwise be difficult or even impossible to achieve without highly specialized knowledge and experience.  The challenge will be choosing the right workflow, understanding the limitations of AI, and staying on top of the latest developments to effectively integrate the new technology into your workflow.  To help, let's discuss the AI photo editing options for photographers in this article.
Of course, when it comes to photo editing, we have to start Adobe, the leader in the industry in terms of the number of users, name recognition, and overall company value.
Adobe is constantly updating its software and adding features based on AI to Photoshop and Lightroom.  For example, they added a Denoise features that automatically removes noise/grain from images shot at high ISOs.  This new feature goes beyond the previous, simple tools, and creates a whole new raw DNG file.  They also added the ability to make precise edits to clothing and facial hair, as well as new AI mask categories (eyes, eyebrows, lips, hair, etc) for automatically generating a mask in any portrait. These are just a few of the features powered by AI in the Adobe ecosystem.
When it comes to photo editing software, the question, for most photographers, is not whether you should use Adobe Lightroom and Photoshop, but, what else should you add on top of Adobe Lightroom to help your workflow? In other words, most photographers' workflows will begin and end in Lightroom. Beyond that, however, you may add additional apps, extensions, or plugins.
Luminar Neo is a standalone photo editing software application developed by Skylum, a Ukrainian company. Luminar NEO is the newest version in their long line of capable software; this one adds the power of AI to almost every feature. Primarily, Luminar Neo includes what they call Enhance AI, which has two components, Sky Enhancer AI and Accent AI.  Accent AI balances hue, saturation, highlights, contrast, and details, while Sky Enhancer AI automatically detects and enhances the skies in a photo.
You might consider Luminar NEO if you're a landscape photographer, a photographer who edits each image individually, or a photographer with a bold and vibrant style of photo editing.  You could also consider Luminar NEO if you don't like the pricing structure of Adobe and you're looking for Adobe alternatives, however, the overall workflow is more convenient in Lightroom.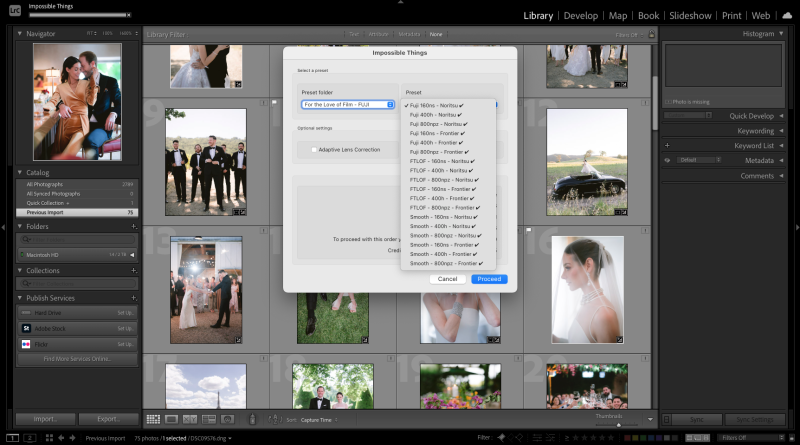 Impossible Things is a new AI Photo Editor from the creators of DVLOP and SLR Lounge.  The AI works inside Adobe Lightroom, automatically adjusting 38 different settings for each image to arrive at a final result.
In addition to its advanced capabilities, Impossible Things is the only AI editing solution that natively works with Lightroom Presets, allowing it to adjust itself situationally without requiring extra training or uploading new catalogs to a cloud or server. For photographers who don't have their own presets, Impossible Things provides an expanding collection of "cloud styles" that offer instant access to a range of popular looks. (DVLOP is known for its world-class development of "looks" that range from vibrant & punchy to muted, pastel colors, as well as accurate film emulation.)
The AI also incorporates camera profiles and features a patent-pending "Lighting Condition Based Development" system that adapts image color, contrast, and dynamic range to specific lighting conditions.
Topaz Labs is a software company that creates powerful and easy-to-use editing tools.  Topaz offers three primary pieces of software that use AI for more technical tasks:
Topaz DeNoise AI – Eliminate noise while recovering detail in high-ISO and low light images.
Topaz Sharpen AI – Sharpen images without artifacts to help with shake reduction, focus correction, and blur removal.
Topaz Gigapixel AI – Get better photo quality by enhancing the detail and upscaling for printing, cropping, restoration and more.
You can purchase any of these applications separately and integrate them into your Lightroom workflow, or you can purchase Topaz Photo AI, which offers a combination of all three applications. Topaz Photo AI offers slightly less advanced tools than the individual applications.
Topaz is a great tool to have in your software lineup, as it can help you save photos that might otherwise be discarded. On the one hand, things like noise, sharpening, and enlargement all lend themselves very well to being assisted by AI. On the other hand, of course, these aren't the artistic aspects of photography itself, so they are definitely meant to just complement your main creative workflow.
Aftershoot CULL is a feature that enables you to sort through each pose, variation, or group of people in a photo shoot and select the best image. You can set your own preferences and determine the "keepers" based on factors such as image sharpness or the subject's smile. You can also adjust the number of keepers for each pose, selecting only a few images based on specific criteria.
Aftershoot EDITS is another feature that allows you to apply your own personal style of color correction and artistic editing to your photos. It learns from your existing work and can automatically perform technical corrections such as straightening and cropping. You can also use your own creative profiles to switch up your editing style.
See our full Aftershoot Review here.
ACDSee, which has been in existence since the early days of digital photography, is comparable to Adobe in terms of its longevity. Although it is not as well-known, the company's Photo Studio Ultimate software for photo workflow and editing has garnered a loyal following among users who prefer it over Lightroom.
ACDSee's Photo Studio Ultimate 2023 has been updated with an emphasis on artificial intelligence (AI) capabilities, including a fresh Face Edit feature and subject removal, aligning it more closely with rival offerings from Adobe, Capture One, and Skylum.  The latest version of the app, released in 2023, features layer-editing capabilities similar to Photoshop, and some of its tools, such as Light EQ adjusters, are particularly effective.
However, it lags behind top competitors in areas such as initial raw camera file conversion quality, import speed, the effectiveness of some corrections, and interface usability. For these reasons, our Editors' Choice photo workflow app, Adobe Lightroom Classic, is recommended for those with higher volume workflows.
Spyne AI is an app that takes advantage of AI's powerful ability to identify mechanical things, cars in this case. Entirely dedicated to auto vehicle photo editing, Spyne allows users to create a "Virtual Car Studio", putting your car on a showroom floor, and making adjustments such as controlling tint on windows.
The app offers over 100 backgrounds, from showrooms to on-location photo scenes, and a scalable (high-volume) workflow. Last but not least, you can use their technology to turn your own car
With a straightforward interface, Remove.bg allows you to easily eliminate the background of an uploaded image. Within moments, Remove.bg will return the image without the background.
The standard definition image is available for free download, but higher resolutions require credits, which must be purchased.  Remove.bg also provides options to replace the background with a new one. You can choose from the given backgrounds or upload your own. If you prefer, you can blur the background of the image instead of removing it.
While Remove.bg is free to use, there are limitations. The tool allows unlimited low-quality versions of an image for free. Additionally, creating a free account enables you to download one high-quality image for free.  To access further features, payment is required. As you purchase more image credits, the cost per credit decreases. If you plan to use Remove.bg programmatically, you must pay for API calls too.
This AI-powered retouching software is made for all types of product photographers, it offers a host of features that may be attractive to e-commerce type businesses.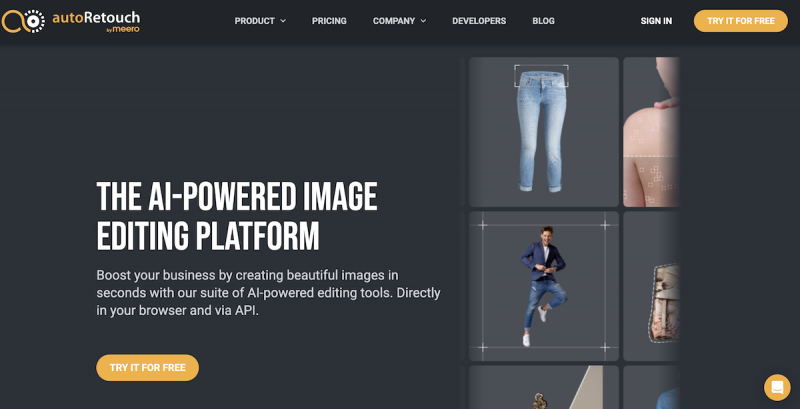 In addition to basic tools such as automatically removing and changing subject backgrounds, autoRetuoch offers tools such as various cropping, alignment, and border padding tools. Also, besides simple portrait retouching and background "cleanup" tools, there are advanced tools  for product photographers such as extracting a fabric swatch from clothing photos, and generating/exporting different vector paths.
Pixlr
Pixlr is a photo editing software that comes in both free and paid versions. The free version includes standard photo editing features such as background removal (with a separate app available), filters, effects, animations, and collage creation.
The paid version provides access to a vast selection of photo overlays, stickers, assets, exclusive editing tools, and tutorials. Additionally, Pixlr allows users to open images from cloud storage platforms like Google Drive and Dropbox, making it a preferred choice for professionals who need to make quick and simple edits.
Capture One
Capture One is the biggest rival to Adobe Lightroom, because it too offers a catalog system. This means Capture One is capable of a start-to-finish workflow, in addition to special editing tools.
Catering primarily to all types of portrait photographers, the software's Smart Adjustments tool uses AI to apply exposure and white balance corrections to any photo with a face in it. Of course, Capture One also offers some highly useful tools that all types of photographers will appreciate, and is known for film-like colors that portrait and landscape photographers alike appreciate.
Other AI Photo Editing
Below are other AI Photo Editing options to consider and research.  As we explore each of the companies mentioned below, we'll expand on them and update this article.
Leawo PhotoIns
Lunacy
Quik.ai
Claid.ai
Slazzer
Lensa
Conclusion – AI Photo Editing Is Getting Even Better!
As artificial intelligence continues to evolve, it is clear that AI photo editing is the future. What is possible now will seem very common in a few years or less! Thanks to its ability to save time and improve results, AI is poised to revolutionize the world of photography. We created this article to help you understand and utilize this powerful tool to your advantage! Be sure to check back regularly for news about improvements and new opportunities.
Alice Houstons
Photography has been a part of Alice Houston's life for over a decade now. Here at SLR Lounge, she prides herself on being a wealth of knowledge in the latest photography news and tech. Always searching and a self-described "Digital Nomad," she loves learning about those unique stories that inspire photographers around the world!