Sony has consistently been a dominant force in innovation by creating gear that photographers don't even know they want yet. The newest Sony Cyber-shot RX100 VI is no exception to the rule and embodies this philosophy as Sony continues to drive technology forward.
While the RX100 VI is nearly indistinguishable from its predecessor, Manny Ortiz has had the opportunity to play around with the camera and experience what it is that sets it apart. The highlight feature is unequivocally the unprecedented Zeiss 24-200mm zoom lens and the question of whether or not this pocket-sized offering can deliver on video as well as image quality begs to be asked.
While shooting 4k video at 30fps Manny demonstrates firsthand the power of Sony's RX100 VI zoom feature and it is nothing short of impressive. If someone were standing in one of the windows of the building, the viewer would be able to clearly see that person when zoomed in on the video.
He then tested the image quality of the RX100 VI's 20.1 megapixel sensor by capturing portraits of his wife when shooting at the 200mm focal length. The camera delivered beautiful portraits with great detail in both hard light and backlit conditions time and time again.
This fun-sized camera is perfect for beginner and novice photographers and serve as a backup or replacement to the professional community.
Sony has definitely raised the barre and once again changed the game with this newest addition to their lineup. The Sony Cyber-shot RX100 VI is priced at about $1200 and is slated to begin shipping next month. Also be sure to check out Manny's YouTube Channel for more related content and his upcoming review.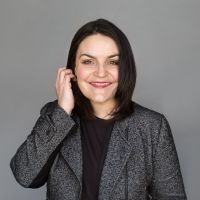 Brittany Smith
Brittany is a fashion and beauty photographer who works between NYC, Montana and LA. She photographs the way she has always wanted to feel and believes in the power of raw simplicity. When not behind a camera she can usually be found at a local coffeeshop, teaching fitness classes at the YMCA, or baking something fabulous in the kitchen. Instagram: @brittanysmithphoto