The photographic landscape has made such drastic changes since its inception, and with technology racing forward at a clipping pace it's hard to imagine that anything but infinite change is to come. The folks at COOPH have made a video list of ten predictions they see coming in the future of photography – some bold and some obvious, but you be the judge. We'll discuss a few, and the rest can be seen in the video at the closing of this article.
STRONGER SENSORS AND HIGHER ISO
This is logical, as it's been happening since the inception of digital. COOPH's predictions are a bit lofty, anticipating sensors in the 100s of megapixels. Though such sensors are in existence already, it'll be a little while before that type of sensor is found in every household as data storage prices, capacity, and transfer speeds will need to see quite a shift before such large files make sense to the average consumer.
MORE PHOTOJOURNALISM
This too is already in occurrence as the pocket camera of today, AKA the smartphone, is ever at-the-ready when things go down. With any camera the output varies by the mind behind its operation, but as image sharing platforms like Instagram have ensnared the public, greater attention to composition and story are already being paid. How does this bode for photojournalism as a profession? Well, it's perhaps not the happiest tale, but photojournalism as a pastime is on the rise.
CLOSER INTEGRATION
Human/cyborg Franken-cameras? Maybe. There are contact lens camera patents in existence and COOPH thinks that perhaps one day cameras could even be integrated into the human body. Creepy? Definitely.
Do you think COOPH has hit the nail on the head or missed the mark? What are your predictions for the future of photography?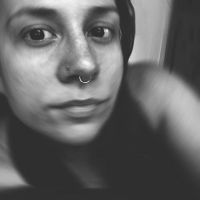 Holly Roa
Seattle based photographer with a side of videography, specializing in work involving animals, but basically a Jill of all trades. Instagram:
@HJRphotos