Besides being the best way to get to know your couple prior to their wedding, engagement sessions often come with fewer time constraints and not too much in the way of a timeline, which is great for story-telling wedding photographers. We do, of course, plan our  sessions ahead of time, and these are 5 of our best tips to ensure that your engagement sessions rocks!
Create a Story
If your plan is to take your engaged couple to the local park for a quick 30-minute session, that could be cool, but we suggest upping your game a bit by creating a story out of the session and making an afternoon/evening of your adventure together. Why not recreate the proposal or head to the couple's favorite coffee shop? You could even check out the wedding venue location with your couple. The point is to take your session beyond the standard and create a story is the way to do that, and can be as simple as sitting down with your couple and talking about their favorite places to go or their favorite activities.
Don't Miss Sunset
We have yet to meet a couple, or photographer who doesn't appreciate an epic sunset image, and ninety-nine percent of the time, we plan our engagement sessions around the setting of the sun. That means we meet our couple  about 2.5 hours before sunset and hang with them until 30 minutes after. Of course, we'd love to rock a sunrise session just as much, but occasionally we have to face reality and accept that most people aren't down for getting up that early. So sunset it is!
Prepare to Go Long, and Stay Strong
We stylize our sessions to be 3 hours because we want to tell a memorable story and because we don't want to miss sunset. The reality, however, is that we rarely keep our sessions to 3 hours. Now, we understand that industry standard is an hour or so because we should all be proficient at nailing a couple shots at each location. But we're always more than happy to screw with industry standards and will often have sessions that approach the 5-hour mark because we might get there early, when the couple is getting hair and makeup done, and stay late, even well into the night. So just in case your session is turning extra-epic, be prepared. Tell the sitter you'll be late and pack plenty of extra water and snacks in the car.
Wear Something Functional, But Professional
This might seem obvious, but as much as we like to dress up, in our experience, the engagement session isn't the time to break out the three piece suit. And while we seem to have to force ourselves to wear jeans, a nice looking shirt plus jeans and boots are the way to go. More often than not, we find ourselves hiking, lying down in a parking lot, or even climbing onto some kind of a carnival ride during a typical engagement session. Thinking about where you are planning to go with your couple, and dressing accordingly, makes a heck of a lot of sense.
MAKe a connection
You should absolutely plan to interact with your couple. On an engagement shoot, it's generally going to be you and the couple. There isn't likely going to be a bunch of family and friends around so you'll have ample time for conversation, especially if you travel to multiple locations.
You should take some time in your preparations to study up on your couple, particularly if you're not a natural conversationalist. There's no harm in reviewing some basic facts that you already know about your couple and that you can use as conversation starters: when/where they got engaged, where they work, hobbies, info on their families and pets, etc. Making conversation throughout the engagement session will help your couple feel comfortable, allowing you to capture the raw emotion and the connection they have between each other.
Conclusion
Simple planning ahead is smart business. And it will make your engagement session all the more pleasant for both you and your clients.
What are some of your best tips for engagement sessions? Share some below, and include some of your favorite images! And, as always, feel free to continue the conversation (by sharing your images and/or thoughts) over at Facebook, on our every-growing SLR Lounge Photography Community page.
If you're looking for some detailed instruction on engagement session photography, SLR Lounge has got you covered! You can start out here, with instruction on how to talk your clients through an engagement session. And remember, Premium Members get access to the SLR Lounge's entire Wedding Workshop Series, along with hundreds of tutorials and hours upon hours of educational content; check out "6 Reasons to Join SLR Lounge Premium" and sign up today, friends. You won't regret it!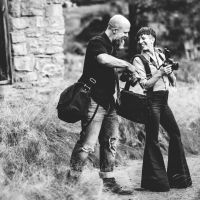 Amii & Andy Kauth
Amii & Andy are a wife and husband team of rad portrait and wedding photographers (Sunshine & Reign Photography) who absolutely love life and are generally just stoked! Yeah! When they aren't photographing or writing and teaching about photography, you'll find them off on a seriously legit adventure with their little ones, lifting weights in their garage, training jiu-jitsu, refining their archery skills, or surfing every chance they get. And on the rare chance they escape off on a "date night"? Yep! They'll find a wedding to crash (true fact). Website:
Sunshine & Reign Photography
Instagram:
@sunshineandreign