Whether or not you buy into their strategy of ranking sensors, DXOMark is still a great source for camera and lens testing data.  Recently, they have been collecting the best lenses for the Nikon D800, and categorizing them into wide, standard, and telephoto ranges.
Click HERE to read DXOMark's introduction to the full set of articles.
The results are pretty interesting, and as usual for DXOMark, not always in keeping with the general consensus of other reviews on the internet.
For example in the 50mm section of the standard range lens article, we already knew that the Sigma 50mm f/1.4 EX HSM was just as sharp or sharper than any other 50mm lens available on Nikon's F-mount.  DXOMark ranks it as an equal match to the Nikon 50mm f/1.4 AFS-G. (Side note:  The $196 Nikon 50mm f/1.8 AFS-G ranks within one point of the topmost lenses, including a Zeiss!)
However in the ultra-wide prime section of the wide angle article, nobody expected the $630 Sigma 20mm f/1.8 to rank so highly, in fact it ranks above the legendary (and $1840!) Zeiss 21mm f/2.8 Distagon!  This is definitely an eyebrow-raising statement for DXOMark to make, and I'm not sure what to make of it…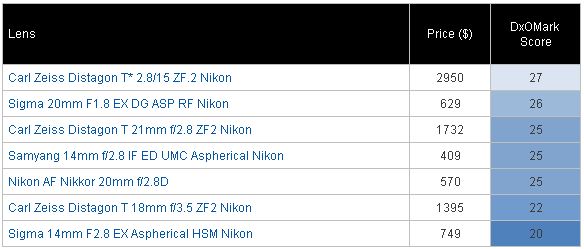 Another important note is in the ultra-wide zoom section of the same wide angle article.  While I have personally tested and will agree that the Tokina 16-28mm f/2.8 is one of the sharpest ultra-wide lenses I have ever used, it is unfortunate that DXOMark simply has not reviewed the (once again, legendary and more than 2X the price!) Nikon 14-24 f/2.8 AFS-G yet.  In my opinion, this renders the whole article just slightly incomplete.  Wouldn't YOU like to know how a $2,000 lens compares with a $750 lens, if their sharpness could be anything from nearly identical to night-and-day opposite?
Speaking of lenses that aren't reviewed by DXOMark yet, in the telephoto category (Click HERE to skip to that article) …you'll notice that while I won't dispute that the Nikon 70-200mm f/4 VR is probably the sharpest 70-200mm lens ever made for Nikon, (and possibly the sharpest 70-200mm, EVER) …there is unfortunately no ranking for the nearly $1,000 more expensive Nikon 70-200mm f/2.8 VR mk2.  So the question remains-  how much different might these lenses be, and is the f/4 lens a better choice for anyone who doesn't absolutely need f/2.8?
By the way, we have a review forthcoming for the Nikon 70-200mm f/4 here at SLR Lounge, and it is definitely a killer lens!
So there you have it, folks.  Lots of information, and grains of salt required.  Personally, I'm a huge camera nerd so I love to read testing data such as this. However I also constantly remind myself to stay rooted in reality.  Having the sharpest lens could NEVER automatically mean that I have the best pictures.  In fact to be honest, sharpness and all these rankings and stuff is just a fun, geeky thing for me to study in my spare time.  When it comes down to it and I'm on-location, I use whatever lens I happen to have, and I really don't care what the corners look like.  I just focus on my vision, and get the job done.
An aspiring photographer would do well to keep these things in mind.  Treat this pursuit of "the ultimate lenses" as some sort of geeky side-project, and always let your primary focus remain on the actual content of your images themselves.  The light, the composition, the pose, …all of these things matter infinitely more than megapixels or MTF charts.
;-)
Nikon D7100, Sigma 8-16mm
1.0 sec. @ f/4.5 & ISO 100
(Click HERE to read our field test of the Nikon D7100!)
Take care,
=Matthew Saville=