When there were stirrings in the drone rumor mill about another DJI update I didn't delay in offloading my go-to Phantom in order to make way for whatever was next. I've become that confident in the updates DJI has made to their lineup. Then as more information was coming out about the possibility of it being exactly what I was hoping for, a better camera on the Mavic, the metaphorical hairs on my neck stood up.  And, man did DJI come through with the Mavic 2 Pro.
I'll get more into but, quickly, there are compelling reasons to either add this to your arsenal alongside the Spark and/or Phantom – or just abandon both for this alone. If you're a person that likes spec sheets, pixel peeping, or chart comparisons this will probably let you down – I'm coming at it with professional experience but moreso a long history of getting my hands on everything DJI has put out since the Phantom 3.
If you're new to the drone world and this is the first one you're looking into just know some of the qualities I'll review are shareable with the first DJI Mavic – things like the portability, the design, the ease of assembly, and the overall ease of flight. To see a video comparison of the original Mavic Pro to other DJI products check this out. Rather than spend time on these (which are still all great with little updates/polishing) I'll be focusing on the areas where they stepped up in a big way: the radio communication, the noise, the obstacle avoidance, the flight time and responsiveness, and of course the image quality coming from the new 1" sensor Hasselblad camera.
Even though this newest addition lands in DJI's 'consumer' line of drones, don't be confused, it is plenty robust and perfectly suited for the needs of working professionals – and you don't need to look any further than the full time working professionals who have trusted the Mavic series drone for their work. So let's get into it.
Mavic 2 Pro RC/Drone Communication
I wont pull punches here – I have some trepidation in taking drones up in the air, particularly for reviews, and especially when they are new. I've lost drone communication with my RC mid flight even when it was plenty close and in my FOV. I have had battery life say 10% and start landing while over ocean water and panicking to quickly get it over sand or rocks. I've gotten lucky though and none of my mistakes or equipment failure has been terminal … yet… but this drone had NO issues. From my very first Mavic 2 Pro flight the quality and speed of communication from RC to the drone and back to my phone/monitor had nearly no delay or breakups. Ease of mind is probably the most foundational benefit of this drone over every other DJI product I've tried.
Mavic 2 Pro Noise
 This drone being noticeably quieter than every other drone I've flown is a massive upgrade. My experience is that people have a lot of skepticism and reservations whenever a drone shows up to the party, and with good reason. I find myself looking for every way to get my shots and leave people alone – simply out of respect – so now with this at a calm buzz around 20' away it will just make that privacy even better for others and myself. Also, although I didn't test the Mavic 2 ZOOM, that quieter operation would help with getting some of those really unique shots to get that popular dolly zoom effect from the air.
The Obstacle Avoidance
Really 2 things to be said here. 1. Omnidirectional – yes even above, and 2. APAS (Advanced Pilot Assistance Systems) which is automatic obstacle avoidance on a flight path. I don't often 'test' this feature but if it works as it says it does then it adds to my point before about peace of mind.
Mavic 2 Pro Flight Time & Responsiveness
Sure it's only 31 minutes vs 27 but with the better camera/sensor/sensors and weighing a bit more, the reality that flight time increased is really amazing when I doubt anyone would have complained if it had stayed the same.
I can't speak too much about the speed, besides feeling plenty fast for anything I could need it for, but the Mavic 2 Pro was crazy responsive.
Mavic 2 Pro Image Quality
Yes, it's really good. No, I don't miss anything about my Phantom image quality. Check out this laundry list: 12,800 ISO, 1billion colors, 10bit video HDR or dLog profiles, 2.7K @60fps, 1080p @120fps, 20 megapixels of pure goodness.
The color retention, quality, and ease of editing definitely felt like my experience with the Phantom 4 Pro – great. There will be videographers putting out great content and testing it's color grading ability in the coming weeks no doubt, but even initially with the standard color profile the video looks great. I'm anxiously waiting for DJI to release a real solid DJI LUT for the dLog video profile, but in the meantime manually grading the footage hasn't been an issue.
COLOR GRADING IS SUBTLE AND CAN HANDLE BIG EDITING SHIFTS
Notice how well the noise and sharpness are controlled in this 100% crop shot.
And so much more…
There are a lot of intelligent flight modes in the Mavic 2 Pro, hyperlapse options, tripod mode, tracking modes, and more that I didn't have a chance to review but are truly game changers if you are in the business of creating compelling and cutting edge video content.
I tried my hand at a little bit of grading, a little bit of unedited and edited hdr video as well…
Buuuut…
The one thing I was disappointed in was the loss of the portrait mode on the Mavic 2 Pro. Portrait mode was one of my favorite features of the Mavic especially as so many brands and creators have vertical needs for their content to be viewed on a phone. Of course you can make vertical crops, but imagine being able to create vertical prints without having to stitch panoramas or natively create vertical videos to post to IGTV or anywhere else for mobile. I'll miss it.
In Conclusion
Ok, honesty time. For many reviews I am sent gear to try and find ways to be honest and genuine while being generous and find the positives – and then I send the gear back – not this one. I bought this Mavic 2 Pro with my own money and have nothing compelling or coercing to make me say anything one way or another since I've also sort of struck out with trying to become a content partner with DJI. And still…
It's really good.
It will keep up with the creative needs of just about everyone I know, and outperform 90% of people who use it.
I'll be able to make large scale prints, solid videos of travel without having to lug around a massive Pelican case, and with the Fly More package I'll be able to have about an hour and a half of flight time covering anything I could need on a stop. I don't regret selling my other drone even a little, this one will cover all of the bases for me for now. Would I love the same options as the Zenmuse X7 available on the Spark body? Sure… but I'd also love to be able to telekinetically bring guacamole and hint of lime chips to wherever I'm sitting at any moment. We're just not there, yet.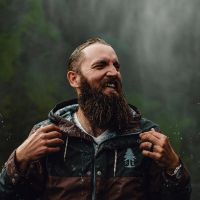 Ryan Longnecker
I grew up in the Eastern Sierras and since I was a kid I loved being outdoors and art. I went to school for music and theology and think both of those weave their way into my photography. I have a passion to change people from being cynical about people and this planet to being hopeful and seeing the beauty in it. I have a wife and two daughters and they could care less how successful I am at taking pictures, and that's great, because it's a constant anchor to what is best.