Newborn photography is a unique genre of photography that requires a very specialized skillset beyond a typical photographer's experience. Besides the usual lighting, technical settings and compositional rules, newborn photography requires an understanding of newborn safety, comfort, soothing, posing and more. This specialized skill is why newborn photographers need to charge hundreds and sometimes thousands of dollars for a newborn shoot. If you're like me, a photographer with portrait experience but no newborn experience, who wants to try some DIY newborn photography, here are some useful tips below.
The DIY Newborn Photo Equipment and Settings
Before we get started, here are some DIY newborn photography tips on gear. Below is the gear that I used:
Canon 6D
Canon 50mm F/1.8 II, hand-held
1/320 sec @ f/1.8 & ISO 2500
Manual Exposure, Daylight WB, RAW
1 Ratty "Use To Be White" Blanket
1 Piece of Tin Foil
However, nowadays, you can use any camera, including your smart phone camera, to get decent results!
Why We Shot The Baby Photos
Before I go into too much detail about how exactly I shot this Image I wanted to take a minute and talk about WHY I took this image. Three and a half months ago my wife and I welcomed the newest member of our family to the world, and being a photographer I wanted some of those awesome newborn portraits that I always see on Facebook and Pinterest. I thought I could do it myself. How hard could it be, right?
Wrong, the results were terrible. I mean really terrible. The lighting didn't work and I just couldn't get the posing the way I wanted it, and baby Noah was not the easiest subject in the world. I was really discouraged and my wife was also really bummed that we could not get the sort of results that we were hoping for.
Fast-forward a few months and the team behind the workshops here at SLR Lounge released the new Newborn Workshop Collection. Needless to say I was pretty psyched, we had been talking about it internally for a while and I knew it was coming but I was really excited to check it out and see where I had gone wrong with my attempt at diy newborn photography.
So as soon as I could get my hands on the workshop, I sat down and watched it through, beginning to end. I was happy to see that it was not all that complicated, and I was able to see where I had gone wrong in my first attempts.
Before we jump into how I shot this image I  just want to reiterate that I am not a professional newborn photographer, nor am I trying to be one. I am just a photographer who wanted to get better images of my new baby than I was able to get on my own.
How We Shot The DIY Newborn Photography
I decided that I did not want to wait, I wanted to give what I learned from the workshop a try. The problem that I had was that I did not have my photography gear with me at the time, most of it was at my make-shift studio, and I was the only parent home. So I decided to improvise and use what I had available around the house to apply the principles that I learned from the workshop.
In this case that happened to be an old ratty "use to be white" blanket which probably cost about $20 brand new at Walmart, a "boppy" feeding pillow,  and a piece of tin foil from the kitchen. Throw in a big sliding glass door and the back of my couch and you have probably the cheapest newborn set known to man.
[Rewind: See These 10 Newborn Photography Tips]
Baby Noah is now 3 1/2 months old, he does not pose into cute little poses or sleep throughout a photoshoot. That got rid of a lot of the standard newborn poses that people tend to think of with diy newborn photography, which makes sense since he is not a newborn. Taking this into account I decided it would be cute to set him up and try to get him to react to the camera.
I was shooting with my new Canon 6D, a camera that I am still learning coming from the 7D, so this was also fun for me as a way to play with my new camera. The only two lenses that I had with me at the time were my Canon 50mm F/1.8 II and my Canon 100mm F/2, and due to space limitations I decided that the 50mm would be the better option.
Since I was using a nasty old blanket I wanted as little of that as possible to be visible, so I chose to shoot the 50mm wide open at F/1.8. In hind sight the shot is a little on the soft side, largely due to hand holding and shooting the "Nifty Fifty" wide open (luckily baby shots look best a little soft). If I do this again I will probably try something different – like using a tripod and stopping down the aperture a bit – to get a sharper shot.
I set up the shot with the blanket draped over the back of the couch, and placed the "boppy" pillow under the blanket. The big sliding glass door was on camera left and on the right I had my 4yr old son Michael holding a piece of tin foil for me as a reflector. I originally tried a piece of white fabric, but it was not reflective enough and Michael had to stand to close to the baby for enough light to fill in the shadows on Noah's face, so I switched to tin foil.
After it was all set up I placed Noah on his belly and propped up his front with his arms over the pillow. He got the idea down pretty quick and soon he was holding himself up just fine. We tried to get this shot for about 30 minutes, and it took quite a bit of hand waving and talking to keep his attention but eventually I got what I was after.
Just remember to pay attention to how the baby is feeling, they can get tired of getting their picture taken just like adults can (as is evident in the below shot, ahaha)
The Post-Processing and Editing DIY Newborn Photos
The processing on this shot was a breeze thanks to the new Newborn Presets that come with the Newborn Workshop Collection. After loading the shot into Lightroom I simply loaded the "NB Standard Import  – Color + Profile" preset and that was pretty much the hardest part of my editing process for this image.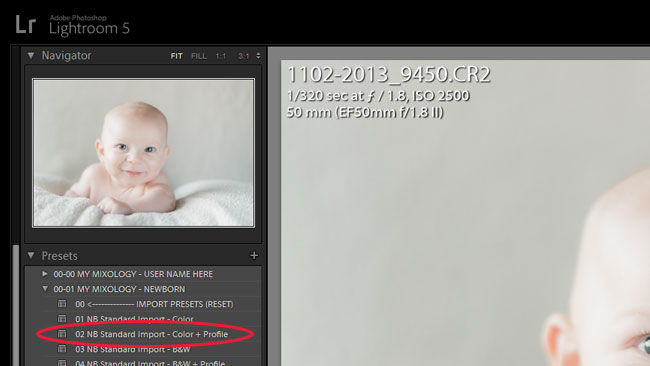 I did have to make some tweaks to the highlights, which were a little too powerful for my liking, and add some sharpening. But overall it was really a quick "under-10 click" edit.
Overall I am really happy with the results of this shoot given that it was on the fly, with (mostly) everyday household items. Friends and Family alike have not stopped gushing over the image(s) from this shoot that I posted to Facebook, and the wife is happy to now have some great baby photos of Noah. I am excited to give this a try on another day with more planning, preparation and props.
It just goes to show that you don't need expensive equipment or adorable props to create great imagery of your newborn baby. You don't need to be a professional newborn photography nor do you need to be trying to be one, but if you are a photographer and have a new baby coming or recently had one I highly suggest you check out the new Newborn Workshop Collection. It will save you a lot of time, disappointment, and help you create the images that you dream about.
Before & After Processing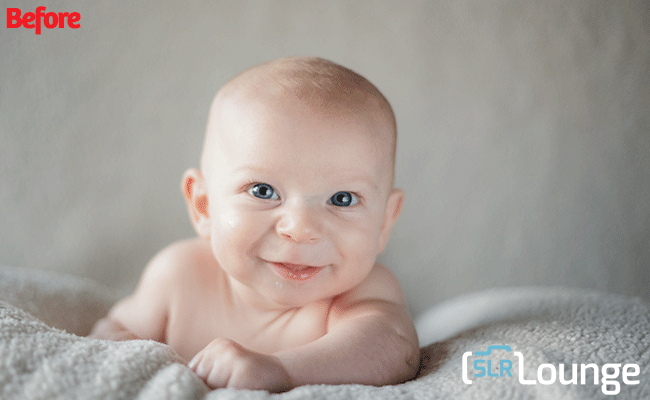 Conclusion and More Info on DIY and Professional Newborn Photography
From planning to posing, lighting, newborn safety, camera techniques and everything in-between. This 8 hour workshop collection will teach you everything you need to know to capture and create beautiful newborn photo as well as how to process them to perfection. Click here for more details.