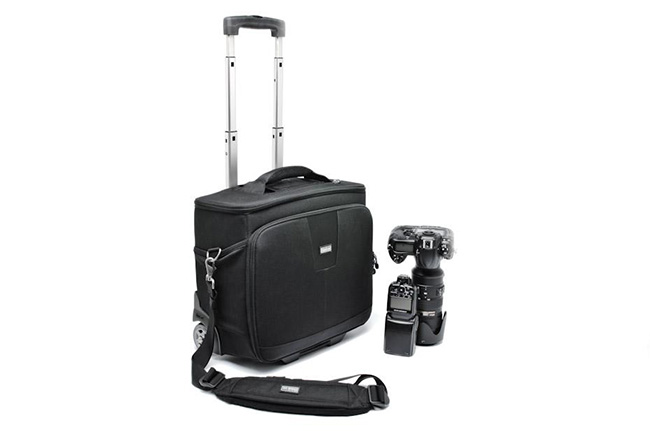 I'm a wedding photographer that travels by plane, train and automobile a good number of times a year. Having the right bag for the job is crucial. Most airport bags work like suitcases in that you lay it down on its back, zip the flap open and reveal your gear for access. For two reasons, this typical way doesn't appeal to me:
I hate having to open up my bag and reveal all its contents in public places just to grab one camera.
The amount of real estate the bag occupies when access is needed is quite large. It makes it inconvenient in narrow hallways and hotel rooms that are crowded.
[REWIND: How To Travel Internationally By Plane With Your Gear]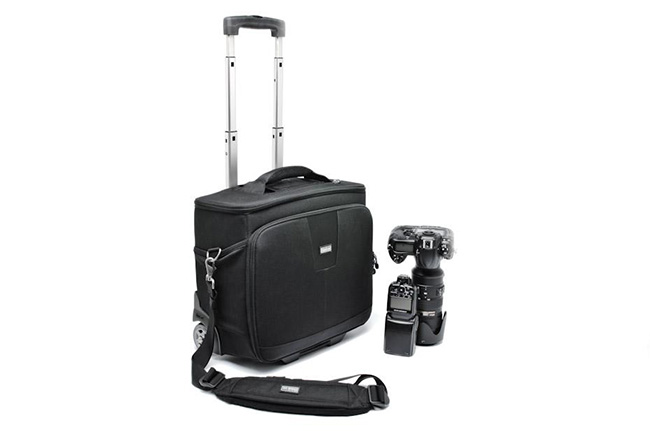 My Favorite Feature
With the Airport Navigator, Think Tank took a different approach. They set the suitcase on its side and gave us access from the top which can easily fit a camera (or two) with a lens attached. And for those that love the old suitcase-on-its-back way they provided a secondary access through the front panel.
All of the Other Good Features
Great craftsmanship and quality materials are a standard feature for Think Tank and the Airport Navigator is no different. The telescoping handle is smooth and sturdy. The zippers come around the corners easily with no sticking. The wheels have a smooth roll and are well-constructed.
Straps and Handles – The top handle is durable enough to handle the weight of a full bag. Its strategic placement was intentional to allow the flap to be held open using the retractable handle. There's a secondary grip under the carriage which is extremely helpful when raising the bag for overhead storage on a plane. The detachable shoulder straps connect via D rings on the side of the bag which is very useful when managing stairs. I love that the shoulder pad on the strap has a split design which lets you hook it onto the telescoping handle to keep it out of the way.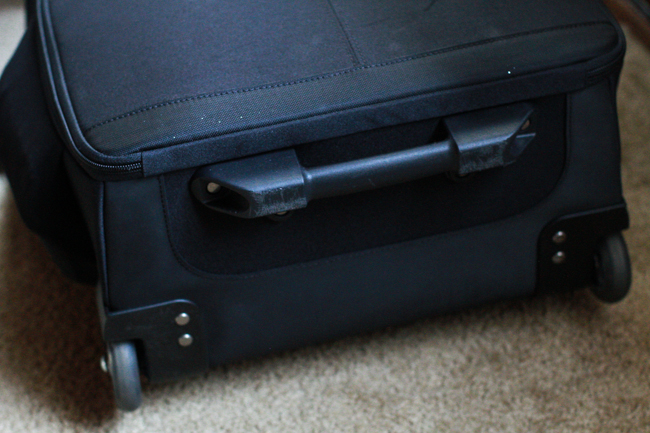 Laptop storage – The front panel zips open to reveal the laptop storage for a tablet or 15.4" laptop.
Side pockets – made of ultra-stretch fabric. I can take a bottle of water with me or have quick access to my flash.
The main compartment – configure it as many different ways as you want or need with the Velcro attached dividers provided. The demo shows 2 camera bodies with lenses attached stored side-by-side and a some flashes and lenses. I have six L-lenses (including the beefy Canon 24-70 f/2.8L II & Canon 70-200 f/2.8L IS II ), 3 flashes, 2 camera bodies and all my accessories in this bag. Yes, I know how to pack.
[REWIND: Lens War Series 24-70 vs 24-105 vs 70-200]
The Not-So-Good Features
The front flap has security straps that prevent it from flying open should you choose to unzip it while the bag is in an upright-standing position. The straps are removable so you can have full access to the bag like a suitcase. Unfortunately, the hook and tab mechanism can be tricky to unlatch. Personally, I find it annoying. A quick release connection would have been a better choice for ease of use.
Elastic security tabs were provided to go across dividers preventing gear from accidentally falling out. They only included 2 of these though and I wish there were at least 2 more.
Accessory Compartments – the top flap is so much smaller than the front access and accessory compartments are usually on that flap. The loss in space also meant loss of accessory compartments. The little zip mesh provided is so tight, it barely allows room for items that are thicker than a battery.
Size – the bag has the following dimensions: 16"W x 15.5"H x 10"D and it's listed as domestic and some international carry on compliance. And for the most part, it looks pretty small as far as carry-ons go. It will fit into overhead bins easily, I have yet to test it out under the seat. It might not fit the bill for carry on for a small regional jumper plane, but not a lot of rolling camera bags do. At this width, it will definitely not fit rolling down the aisle of a plane. I will most definitely have to carry it in sideways.
Conclusion
My complaints are such negligible misses compared to the rest of the great features this bag has to offer. I'm so thrilled with the way it works and I gladly give it 5 out of 5 stars.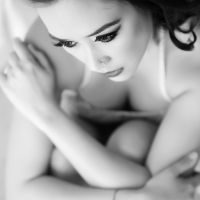 Michelle Ford
Michelle is a Southern California Portrait and Wedding Photographer. When she's not geeking out with a camera she's nerding out in her IT world. All other moments in the day are spent with her two wonderful children. See her work on
The COCO Gallery
check out her blog at
frexNgrin