As I've often said, getting your message across, and to stick in this noisy slippery world of ours is tough. Twenty years ago photographers were much more in competition for getting attention, where today we have the pressure of keeping it. There's just so much imagery around, and even if your work is found or stumbled upon there's another film roll's worth of other imagery a thumb scroll away.
So what do you do?
One of the key things I tend to suggest is an old piece of advice, and that's to really think about your work, and only put out your very best. It's so simple in concept really, but no less profound. Sure, it harks back to some of the more common platitudes, but just because something is platitudinal doesn't mean it's unsound. If you'd like to think of it more concisely: Don't tell a story if it's boring, even if it's true.
Editing a story, of course, begins with planning the project, but after the shoot is where you've really got to be critical and think, and this applies to wedding photography, fashion, and all the rest – curation, is King. You could be shooting for a print magazine spread, an online campaign, or a wedding album, and in all cases you've got to create a narrative with your images that is coherent and cohesive.
If you're shooting for print for something like a wedding album or magazine, it certainly requires understanding key things to look for in terms of continuity and flow, as well as how to approach culling. Culling has always been critical, but 2016 seems set to see a mass movement to resurrect 'the print', so it's probably more vital now than in recent memory.
Of course, culling is something we all abhor, but it's oh-so necessary, and it's nice to get some perspective from those who do it at a prodigious level, and with equal frequency. Alexi Lubomirski may not be a name you're familiar with, but unless you walk with your eyes perpetually staring down at the sidewalk, you've seen his work since it adorns marquee magazines the world over. Alexi regularly shoots for the likes of Vogue, GQ, Harpers Bazaar etcetera, but the principles of his planning, culling, layout technique can be applied for most anyone, and he's kindly put out a video walking us through them.
Amongst the approaches and tips, you'll see how he progresses from 50 images to a single publishable one; how he approaches the details of an image during the cull, and how he caters to the 'fold' of a magazine when it comes to choosing a layout. It's great stuff, and worth the watch.
You can find more from Alexi here on his site, and in this previous feature on SLRL here where he discusses how he got his start in the industry with an icon.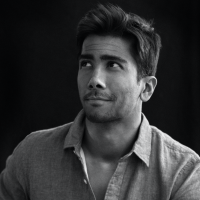 Kishore Sawh
A photographer and writer based in Miami, he can often be found at dog parks, and airports in London and Toronto. He is also a tremendous fan of flossing and the happiest guy around when the company's good.