Question:  Are all RAW image qualities and file sizes created equal?  As a Nikon user I've asked myself this question a few times over the years, because there are all kinds of RAW compression options.  But on Canon DSLRs there is something different these days, there is mRAW.  Basically, RAW images with lower resolution than the sensor's actual megapixel rating. The new Canon 6D has a 20 megapixel sensor for example, and the 6D also has mRAW which is a handy 11.2 megapixels, and sRAW which is a still-useful 5 megapixels.  The Canon 5D mk3, which has a 22 megapixel sensor, has a 10.5 megapixel mRAW mode and a 5.5 megapixel sRAW mode.
The big question people always ask is, …is resolution the ONLY difference in image quality?  Or, since the camera is in fact "messing around" with the pixels instead of creating a true full-resolution image file, …might there be some additional drawbacks to shooting in these other modes?
The internet is rife with technical diagrams and expert opinions about how this raw re-sizing is performed, whether the camera is "throwing away pixels", or simply taking the full size image and scaling it down.  We are not going to get into that here, because quite honestly it doesn't matter.  What matters is, plain and simple, …what do the images look like?
Disclaimer
Many people are going to immediately ask, (or shout) "but why shoot mRAW or sRAW, ever?  Memory is cheap and memories are priceless, so you should always shoot full-resolution!"
Well, that is a very good argument, and this article isn't for you if you have a totally unlimited budget for memory cards, computer power, and extra time to post-process the larger image files.  However we are confident that at least some photographers out there will find value in this article.  For example a high-volume wedding photo studio can easily generate 10,000+ images per week, and that can add up to many, many extra terabytes of storage and hours of post-production.
The Test
We performed a test using three different Canon DSLRs, the Canon 6D, 5D mk3, and 5D mk2.  For us here at the studio, these are the three cameras we have been using over the past few years for all sorts of professional work.  We have shot tens of thousands of images both in mRAW and in full RAW.  So we can vouch that the images in this sample test are consistent with our years and years of experience.
The testing method was simple:  Go out on a high-contrast day, and torture-test our image quality.  Fine details, bright highlights, deep shadows.   Bring it on!
The Scene:  A cloudy day in Southern California creates dramatic
opportunities for extreme testing of both highlights and shadows
(NOTE: Shadow and highlight tests have different editing applied)
Contestant #1 – Canon 5D mk3
Click the links below to buy the Canon 5D mk3 for ~$2,975! (On sale, ends Feb. 2nd)
www.BHPhotoVideo.com – www.Amazon.com – www.Adorama.com
…Indeed, as I suspected, the Canon 5D mk3 has a significant difference in shadow detail quality between the different image sizes.
In short, mRAW stinks for shadow details.  It is plaid green.  And ironically, sRAW shadows are the most neutral!
In the highlights, no real difference is noticeable in the ability to recover lost detail, however the truly "blown" details do seem to get flatter when extreme processing is applied…
General details in mRAW seem to be slightly more smoothed-over than in full RAW and sRAW, which is weird.  I suppose that the different size algorithms generate a different amount of per-pixel detail.  Of course if detail is a concern at all, you should shoot full size RAW anyways.
Contestant #2 – Canon 5D mk2
Click the links below to buy the Canon 5D mk2 for ~$1,799!  (On sale, ends March 2nd)
www.BHPhotoVideo.com – www.Amazon.com – www.Adorama.com

Surprisingly, the Canon 5D mk2 fairs a lot better in sRAW1 and sRAW2 than the 5D mk3 did in mRAW and sRAW.  There is still a difference in the extreme shadows and highlights,  and still a slight "smoothing" in sRAW1 compared to full RAW.  However as far as usability is concerned, I would consider the 5D mk2 to be 100% good-to-go if you wish to shoot in a smaller RAW file size. 
Contestant #3 – Canon 6D
  Click the links below to buy the Canon 6D for ~$1,899!  (On sale!)
www.BHPhotoVideo.com – www.Amazon.com – www.Adorama.com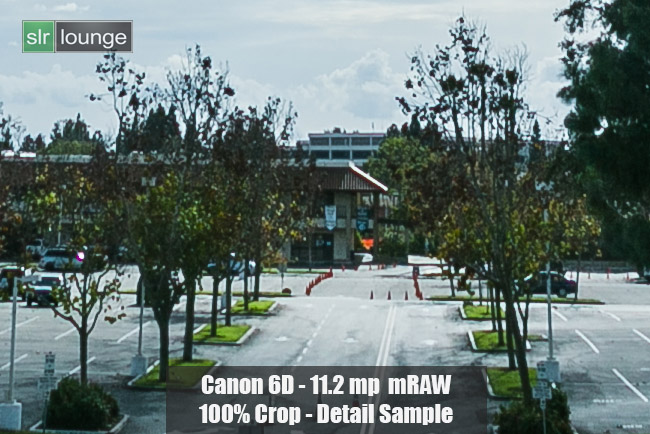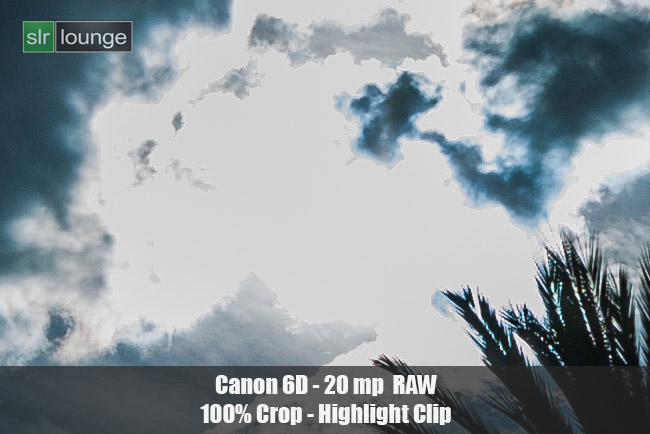 Last but not least, we see that the Canon 6D delivers a similar performance to the 5D mk2:  No significant changes in details overall, or in highlight recovery,  and just slight color shifts in the shadows…
Overall, I think that the 6D has slightly better shadow performance than the 5D mk3 and 5D mk2, however the highlight edges do look a little more posterized.
Conclusion
Are all RAW file sizes created equal?  Not for these three Canon full-frame DSLRs.  Thankfully however, the differences only reveal themselves in extreme pixel-peeping situations, so casual photography is totally okay.  However especially on the 5D mk3, if you do a lot of shadow boosting then you should definitely stay away from mRAW!
Also, it is interesting to note the overall dynamic range capabilities of each camera.  One thing that is a huge "flame war" these days online is the difference in dynamic range between Canon and Nikon cameras.  We'll do a comparison between Nikon and Canon dynamic range in another article, but it is interesting to note in this comparison that for all intents and purposes, Canon's advances in dynamic range aren't incredibly significant, or at least they're difficult to measure in real-world tests.  Sure, laboratories with charts and graphs can measure slight changes, but in these real world conditions, it's safe to say that you can pick up any of these three cameras and get comparable results.  (At ISO 100, that is!)
In another future article, we will also test the different RAW options available for Nikon DSLRs.  Stay tuned!
Take care,
=Matthew Saville=