Common scenario: 50,000 followers. 100 likes. 0 comments.
Either 49,900 people simultaneously lost their cell phones or most of them are just ghosts. Now, before you sprinkle your house with holy water, these are not actual ghosts; they will not haunt you in a literal sense. If anything they will haunt your statistics and give you inaccurate perceptions of social media growth.
There are definitely benefits to buying engagement, especially from a branding standpoint. In order to compete in this industry, especially as a start-up, it's important to "fake it till you make it". You need to appear successful, trusted, and long-standing. One way to achieve this is to have a strong presence on Instagram. It is likely that having a large follower count will attract actual followers that take an interest in your product. It's just the way it is.
This tactic can also be applied for influencers. Having a strong influence on Instagram will not only attract more potential followers, but also brand deals that want to be promoted on your feed. In this day and age, the stigma in buying engagement is not as negative as it once was. Many people are now catching on to the effectiveness of investing into their accounts, and attracting organic followers is a little harder considering how saturated the market is.
Of course, in this industry, if it sounds too good to be true, it often is. There is a dark side to this method; one being that you might not actually have any real influence whatsoever with no real way of tracking it. Once you start buying your followers, your likes, and your comments, how do you discern what is real and what is fake? Particularly as a starting business, it is important to know where you stand in the market and who your target demographic is. Once you add outside factors that are beyond your control, your statistics become skewed and you're given a false sense of security.
Credibility (hard to earn and hard to keep), is also on the line when you try to buy your way to insta-fame. Less respect is given to those who buy their way to the top vs those who work their (donkey) off—this honestly applies to any field. Even buying comments that are placed on other people's accounts to attract organic followers could be discrediting.
If you have ever hashtagged a photo on Instagram, such as #lablogger, #foodie, or my favorite, #catsofinstagram, chances are you have gotten one of these comments: "Nice!", "Love it *heart emoji*", "click here for more followers!", "stop posting so many photos of your cat". Comment bots are, in fact, a thing, and they target specific hashtags. While it is a confidence booster to get these comments, you risk losing a personal connection with the user if the comment either has nothing to do with the photo or disengages them from you – an actual human being.
From a social media management position, this is also something huge to watch out for, especially if you are utilizing Instagram as a marketing investment. If everything can be bought, it's hard to gauge what accounts the brand will promote most and which will reach the best audience. Like picking a ripe avocado, it's hard to tell if it will be good or not until you actually open it up (at least with my abysmal avocado picking skills, it's near impossible).
From a personal standpoint, I believe that with the current feed algorithm Instagram implemented not too long ago, buying followers and likes will not do much good in getting yourself noticed. The dashboard, somewhat similar to Facebook's, creates a personalized experience geared towards common interests, image recollection, location, and 'like' engagement. Like engagement will improve your chances of showing up earlier in someone's feed, especially when it is consistent. A big problem with getting too comfortable with buying your followers and buying your likes is reducing the time and effort to curate great photos for your feed as well as dehumanizing your interaction with them.
It is not impossible to start from the ground up and grow organically. I believe people can appreciate the time and dedication spent perfecting a feed; the amount of work toiled will come to fruition and be appreciated. Some accounts I've come to respect a lot that could be points of inspiration are @everlane, @aesthetnik, @taramilktea, and @pchyburrs. Aside from whether or not they also invested into their accounts, they all found their aesthetic and their niche in the market, owned it, and branded themselves with consistency.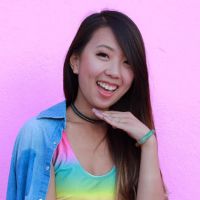 Jennifer Wu
Jennifer is a photographer and graphic designer out in Los Angeles. When she's not shooting fashion bloggers or creating social media content for brands, she's usually bombarding her snapchat with too many photos of her adorable cat or coming up with terrible puns that her friends don't find a-meow-sing