Your client is pregnant and wants a beautiful backdrop for her maternity photos. What better location than a stunning sunset at the beach to commemorate this time as a new mother-to-be.  In previous article, we covered general maternity photography tips; and in this article, we'll narrow it down and share some tips and ideas for beach maternity photos.
6 Beach Maternity Tips Outline
Here's what we'll be covering in this article.  For more a comprehensive workshop, see the Maternity Photography Workshop in Premium:
Prepare the Subjects for Beach Maternity Photoshoots
Before the shoot, communicate with your clients to discuss their preferences and needs. This includes what type of clothing they would like to wear and what poses they are comfortable with. Provide them with some guidance on what clothing to wear or bring that will complement the beach setting, such as flowy maxi dresses or simple cotton shirts.
Consider having your clients put a moodboard together to help communicate their preferences.
Location Selection and Timing
One of the most important factors to consider when planning a beach maternity shoot is the location. Choose a beach that has a picturesque scenery, clear skies, and minimal crowds. Research the weather forecast and pick a time that offers soft natural light, such as the golden hour before sunset. Early mornings can also provide a great opportunity for soft, diffused light.
The beach can be an unpredictable environment to shoot in. Crashing waves, rocky tidepools, and cold temperatures are just a few of the scenarios to watch out for. Be mindful of the spot you select for your beach maternity photos as you don't want to stress out your clients and make them uncomfortable throughout the session. Once you find a safe spot use the storytelling tips above to work the scene without moving the clients around too much.
Incorporate Wardrobe into Beach Maternity Photos
A fun way to get stunning shots is to find a dress with a train. With a backdrop like the ocean, this will yield some incredible beach maternity photos. This is a great option for more of a dramatic shot. You can find some beautiful dress options at SewTrendy or even a quick search on Amazon.
Include Props for More Interest
Beach maternity shoots provide the opportunity to use natural elements to your advantage. Utilize the beach's surroundings to make the photo shoot more appealing. Some good props to use would be flower crowns, beach hats, and blankets to help them feel more comfortable on the sand.
A fun idea for beach maternity photos is to include personalized props during the shoot. Have the couple bring their sonogram, a "coming soon" sign, or even baby clothes/shoes to celebrate the new addition to the family. Don't let the props overshadow the portraits, use them instead to drive the narrative.
Limit Session to 30-45 Minutes
Having a pregnant woman be on her feet, posing, and smiling can be uncomfortable. Find opportunities during the session to give her breaks, make sure she's hydrated and feeling comfortable. If she feels uncomfortable it will likely be seen in the images.
Photograph a Variety of Expressions & Groupings
If your beach maternity photos include a family adding a new member to the team then this is a great opportunity to get individual portraits with each parent and some solos of the child. Oftentimes, kids are well aware of the situation and feel insecure or threatened that a new child is coming into the family. This is the perfect chance to get individual portraits with each parent and then grab some portraits of the child for the parents to cherish.
Master Maternity Photoshoot Posing
When it comes to posing, aim for a natural look that highlights the mother's beauty and the love and anticipation that they feel for their child. Consider using poses that incorporate the mother's belly, such as holding it gently or cradling it. Keep in mind that the mother may be uncomfortable if the poses are too strenuous or difficult, so encourage them to take breaks when needed. Finally, be sure to capture candid moments as well, such as laughing or enjoying the scenery.  For more information on maternity photography posing, see our article on Foundation Tips for Maternity Posing.
Choose the right timeframe
It's important to consider your client's safety and schedule the shoot no later than the 7-8 month mark, depending on your client's comfort.  Of course, you also don't want to do the photoshoot too early either, as the belly may not be showing enough yet.  The ideal timeframe, for most couples is between 6-7 months into the pregnancy.
Technical Considerations
It's essential to have the right equipment to get the best results.  Besides the camera, here are a few items to consider bringing to ensure a successful beach maternity photoshoot.
Bring a combination of lenses to your beach maternity photoshoot that allow you to tell a complete story.  Medium range primes and zooms in the 50mm to 85mm range will help you capture beautiful portraits, and wide-angle lenses in the 16-35mm range will enable you to capture the vastness of the beach and create dramatic shots.
Consider using polarizing filters to help reduce glare and create a more vivid sky.  You may also choose to bring a tripod to take capture movement in the waves with long exposure photography.
Conclusion
Beach maternity photography is a fantastic way to capture an unforgettable moment for mothers-to-be. A great photoshoot will require communication and preparation, utilizing the right props and equipment, and a focus on natural poses. By keeping these tips in mind, you can create beautiful and memorable photographs that your clients will treasure for years to come.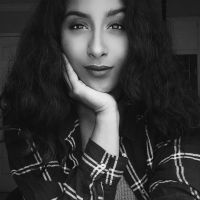 Shivani Reddy
Shivani wants to live in a world where laughter is the cure to pretty much everything. Since she can't claim "Serial Bingewatcher" as an occupation, she'll settle for wedding/portrait photographer at Lin and Jirsa & marketing coordinator here at SLR Lounge. For those rare moments when you won't find a camera in her hand, she will be dancing, eating a donut, or most likely watching Seinfeld. Follow her on Instagram:
@shivalry_inc