There is something deeply disturbing about seeing elderly people suffer and have absolutely no chance for a better life. Because there is no family to help, no kids, no siblings and no government that cares. Elderly people are being written off in Moldova. Not just by the government but also by the people around, by the doctors, and by hospitals. What started as simply an outreach and photo project, has turned into something much much more.
In December of 2019 my dad was told about a specific region in Moldova where hundreds of elderly folks were left to fend for themselves. So I flew there with my friend Val Sevastyanchuk to see how we can help. What we saw was inhumane. The elderly men and women are abandoned. No family. No caregivers. No one comes to check up on them. The living conditions and illnesses are heartbreaking. These are folks that are blind and crippled, who have lost limbs, are suffering from cancer and other ailments and have no means to get any help. There isn't food or medication. Winters are spent without heat or showers because no one has running water or the means to get wood for warmth.
So we decided to do something about it.
We are building an elderly care facility in that region. This facility will house up to 30 people and will have clean beds, fresh food, round the clock care, and most importantly, companionship!
The project is already in motion. The Team has hired full time social workers that are checking in and caring for those that need it most. They are arranging for medical care and will provide for the needs of the elderly. The current homes are already being renovated to ensure better living conditions and we have purchased land that is directly across from a hospital and need your help with funding the construction of the facility! The project is estimated to cost $110,000 and we are looking to finish construction by the end of 2020.
If you'd like to make a larger tax deductible donation through Mosaic, you can do so here: Moldova Global Project.
Thank you for your generosity. Thank you for reading and hopefully sharing this story. Thank you for making a tremendous difference for those who cannot help themselves. Let's make it happen!
GoFundMe link: https://www.gofundme.com/f/elderly-care-facility-in-northern-part-of-moldova
About the Author
Sasha Leahovcenco is a humanitarian, entrepreneur and photographer. He was born in USSR. Moldova to be exact. Which is known to be the poorest country in Europe. At the age of 16 Sasha started working for Athletes in Action. He spent 4 years organizing sports events in Moldova and participating in international projects all over Europe.
Check out more of Sasha's work below;
Instagram | Twitter | Facebook | Website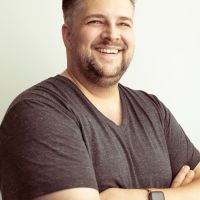 David J. Crewe
David J. Crewe is a full-time commercial photographer and Senior Editor with SLR Lounge. Based out of both Southern California & Las Vegas, Nevada. View his work and blog:
DavidJCrewe.com
Follow his Instagram:
@DavidJCrewe