Our "SLR Lounge Awards Artist Feature" articles highlight SLR Lounge Awards winners, some of the very best wedding photographers around the globe.
This article features Sabina Mladin of Sabina Mladin Photography (Arad, Arad County, Romania). Sabina is a multiple platform award-winning wedding photographer; she entered her three Apex Award-winning photographs into the wedding photojournalism category in February and March. The Apex Award is a level reserved for those whose photographs are selected by SLR Lounge's curators from the top 1 percent of submissions.
Read on as Sabina shares her three tips for capturing the natural moments for which she is known!
 Tip #1: Get Close
I don't know if this happens to you, but I will tell you something about me. There are times during the wedding day, when I am behind my camera, that I find myself crying tears of joy or sadness or that I am laughing so hard that I almost drop my camera. I love being close to the people in front of me, feeling what they're feeling and trying to capture the moments that will create the perfect memory for them. Years later, when they look at their wedding album, I want them to remember exactly what they felt that day.

I aim to establish a connection with my couples because I want them to trust me, to feel that I am their friend, and not to hide from me. I want them to act natural, exactly how they are and without pressure because I have a camera in my hand. When you are able to make this connection, your couples will see that you are there for them and that you empathize with them, and they will open up in front of you. If you establish this connection, you will be able to get close to them and most certainly capture the most natural and real moments.
Tip #2: Feel, Listen, and Observe
I always listen to what is happening around me: someone entering a room, kids playing in a corner, or a dog is barking. I try to keep my ears open for everything in order to anticipate what is going to happen so I can be there to capture it. Sometimes you need to get the big picture of what's happening. In order to do that, I just take a few steps back and observe the scene in front of me. The idea is that you must be there, in that moment, to feel what is happening around you. Then, you will capture the moments that matter.
Tip #3: Shoot, Shoot, Shoot
I shoot a lot! I never let my camera down until I feel that the scene in front of me is finished. And, really, not even then, because the moment when they think you are no longer taking photographs is exactly when they relax for maybe a second … And that's the real moment that you want to capture. So, always be thinking about photographing the in-between moments. Also, be where nobody expects you to be. For example, follow kids and animals on the wedding day because they will definitely do something that will surprise you. As well, always keep an eye on the family members; they are the closest to the couple, and you will want to capture how they are feeling.

At the end of the day, try to remember that you are a storyteller. In telling the story, you must show where the action takes place,; you must detail the main characters; and you must describe what the other characters are doing. So, don't be afraid to be there, in the moment, shooting more in order to tell the story right.
Sabina's Final Thoughts
I love life, people, emotions, and true feelings, but what I love most is that I can capture all of this with my camera. Being a wedding photographer gives me the liberty to do documentary photography but also portraiture and landscape photography. Overall, I would say that my style is a mixture of all this. My photographs tend to be very vibrant and colorful, but I also definitely love the look of a dramatic black and white photograph!

And maybe what defines me most is that I like to capture all those in-between moments that happen on a wedding day, moments that others might sometimes think are not that important.
You can see more of Sabina's work on her website; as well, be sure to give her a like/follow on Facebook/Instagram as well! And Sabina is also very excited to be hosting her first wedding photography workshop in June, in collaboration with another Romanian photographer, Ionut Diaconescu.
Check out the latest SLR Lounge Award Winners here. Don't forget to submit by the April 30 deadline to be considered for SLR Lounge's April 2018 awards competition. And, finally, remember that anyone can sign up for an SLR Lounge account for free and submit, but Premium Members are able to submit up to three photographs each month!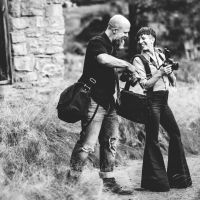 Amii & Andy Kauth
Amii & Andy are a wife and husband team of rad portrait and wedding photographers (Sunshine & Reign Photography) who absolutely love life and are generally just stoked! Yeah! When they aren't photographing or writing and teaching about photography, you'll find them off on a seriously legit adventure with their little ones, lifting weights in their garage, training jiu-jitsu, refining their archery skills, or surfing every chance they get. And on the rare chance they escape off on a "date night"? Yep! They'll find a wedding to crash (true fact). Website:
Sunshine & Reign Photography
Instagram:
@sunshineandreign