We are in the midst of an LED lighting renaissance with quality lighting shrinking in both size and cost. However, what isn't shrinking is the market, as new contenders for your cash provide more options to every photography and video creator. PRLLighting's Lustra L 50 is offering a new compact powerhouse that it hopes to be your go-to lighting workhorse. So, if you're looking to upgrade your lighting kit, take a moment to consider what the L50 has to offer.
The Lustra 50 is billed as "the high performance, high quality LED light for photographers", and touts the ability to provide a useful lighting solution for both video and stills needs where 'what you see is what you get.'
PRL is the brainchild of Rudy Pohlert and Pat Ralston, both of whom have come from a film background but saw the need to bring the film and stills world together, but 'properly'. They have between them about 50 years in the film and tv industry and merits include creating the first LED Ringlite and first on-camera LED, and both Pohlert and Ralston told us that they wanted to create something of quality for an affordable price, to fill that void in the market.
The goal here was to bring to market something that would have color consistency through the dimming range, have flexibility and mobility, and overall high quality. These units don't overdrive the LEDs but under-drive them, and they paired dedicated lenses to the SMTs, and these factors are things that differentiate these LEDs from others.
The light comes in two kit options:
1 Light Kit – $399
3 Light Kit – $1,099
Each Kit comes with 3 filters, stand mounts,  softbox modifier, and power supply for the lights.
(1) 1/8 CTO Filter
(1) 1/4 CTO Filter
1 Opal Frost Filter
Additional softboxes and filters can also be purchased separately.
Filter Set – $40
Softbox – $89
Product Details
Color: Daylight (5600K)
Output: 

1200lux @ 5ft,  

419lux @ 10ft

CRI (Ra) : 97
TCLI: 95.6
Size: 7.7 x 4.5 x 2.17 in. (195.5mm x 113.4mm x 55.2mm)
Weight: 15 ozs./425 g
LED Count: 50 Hi-power surface mount technology (SMTs) LEDs
TIR (Total internal reflection) Optic lenses
If you would like to see the full spectrum of specs you can find them over at the PRLlighting website here.
Design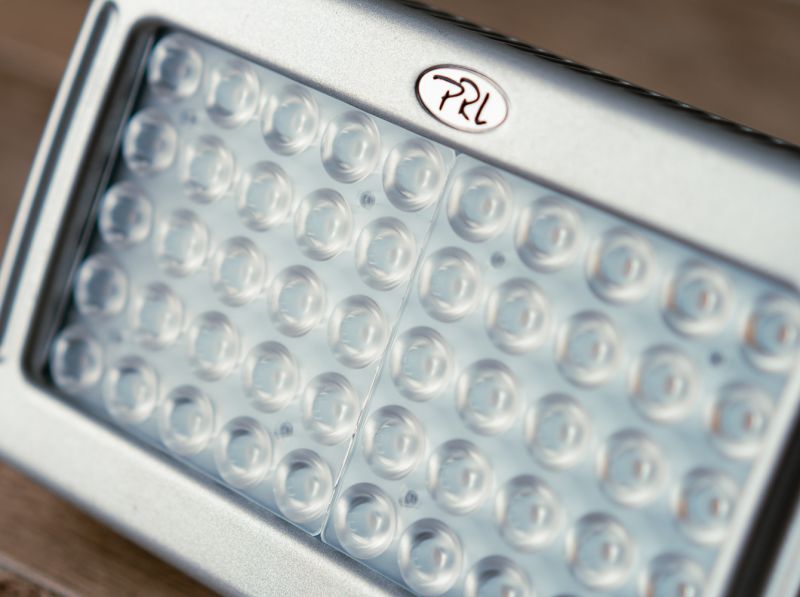 The light has a sleek silver metal finish and the body itself feels sturdy. You'll pack it confident that a few bumps won't damage it. It has large vents on the top and bottom to release the heat it produces but, even though its frame seems large enough to house a small fan, there isn't one. This could be a positive if you're a stickler for keeping ambient noise as low as possible during a video shoot or, a negative if the heat build-up worries you; and it will get hot.
The On/Off switch clicks confidently into place and puts up enough resistance that you won't worry that you may switch it on by mistake in your bag and kill your battery.
What I Really Like
Well, there are two features that I found very useful. One, the inclusion of a power supply and additionally the modifier, which greatly improves the light's utility. The benefit of a power supply is that it alleviates stress on location by removing one more aspect of your shoot that has a time constraint. Without it, the light is powered by Sony L Series batteries or its third-party counterparts.
Next, the modifier is a 12×8 softbox that really takes the edge off the light and opens up the opportunities for you to use it in different scenarios whether that be people or product or whatever.
The fact you have total control over the power range is also incredibly useful and makes shooting either video or still easy, because with older traditional LED panels you'd often only get say around 4 stops of control, meaning there's much more balancing to be done with all your other gear.
Concerns
While the frame of the light is solid, the knob that controls the light's power level feels a bit lower in quality.  If the light were to take hard falls; over time, I'm less confident it would survive. There is no screen with battery life, no physical markings to indicate your power setting, and the knob turns freely with little resistance.
Still, the knob cycles through an impressive range of power settings and the minimum power setting, whatever it is, is very low. The softbox is quite useful but I'd prefer it to be a bit thicker diffusion material. As it is now, it seems vulnerable to get easily damaged.  Still compared to what it gives, these concerns can be overlooked.
Who is it for?
You can easily see this light at weddings in the bags of both the videographer and photographer for continuous lighting in the scenery, detail shots, and even handheld by a second shooter in the crowd on a packed dance floor. Product and food photographers who need a small mobile setup could easily use one or two of these to create all the light they need on location.
For video, the light's power, size and range of output settings can discretely light a subject or scene. I personally prefer a larger light source as I am sure many of you do, but the L50  can easily serve as a key, fill, kicker, or rim light.
In short, you are getting a light with high quality and output with the trade-off being a simple user interface. In a field whose professionals are used to rationalizing such design trade-offs, this probably won't dissuade many.
What could put you off is the price. Asking $399 for one and $1,099 for three isn't cheap, though again, quality lights rarely are, and the price would be higher if not for the fact they do direct sales, so you won't find them at B&H.
It all depends on where you are in your career.  Some won't be able to afford it. Others may be at a point where they can't a afford not to invest in a quality lighting setup. If you're the latter, the Lustra L50 is worth your consideration. The quality of light output of the Lustra is what it's all about, and quality approach. The dedicated optics for the LEDs make a difference to the discerning, as they've married the right lens to the right LED.
1 Light Kit – $399
3 Light Kit – $1,099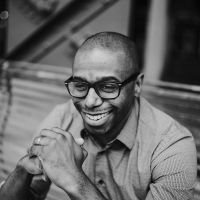 Wendell Weithers
Wendell is based in Atlanta where he shoots events, portraits, and food photography. He also supports his wife Andrea as she runs their cake design business, Sweet Details. Instagram:
Wendellwphoto