For 15 year old Rosie Hardy, she picked up a point and shoot camera to do what most girls her age would do, to get a really good selfie for MySpace. Soon, she found herself sneaking home from school early just so she could shoot with good light and doodling pictures of concepts she wanted to try for her next shoot.
From Selfies to Album Cover
Rosie put her images up on her Flickr page and she began to garner some popularity from her photos such as this one that was inspired from one of her doodles:
In 2010, pop rock band, Maroon 5's management team were scouring the Internet for album cover ideas for their soon-to-be released album, "Hands All Over." Stumbling upon the above image on Rosie's Flickr page, they promptly sent her an email. Thinking that some 'Internet troll' was playing a trick on her, she laughed it off and ignored it. When they emailed her again, asking if she would be interested in allowing them to re-do the concept, she realized that this was an opportunity of a lifetime! Wasting no time, Rosie jumped on her parent's bed and started taking photographs of herself with her "hands all over." She made some edits and sent over the draft. The loved the image she sent over and asked to use it instead of finding a model and photographer to re-create it. Below is the final Maroon 5 album cover:
Her photo appeared on Maroon 5's promotional material, billboards and buses around the world. As these photos of the signs and posters began popping up on Facebook, her friends began tagging her and overnight, Rosie found herself with instant credibility.
Instead of seeing photography as a not-great-pay-but-hey-I-love-it sort of job, I thought – I can do this! All of a sudden, photographing celebrities, for brands, shooting ad campaigns didn't seem like a dream only the most seasoned pros get to take on. Me, Rosie – the 19 year old girl who painted the front drive yellow and tipped bags of feathers from pillows into my bedroom… I could pull this off!! The confidence I got was unreal. No situation couldn't be mastered – elephant? No biggie, I will learn to edit it in realistically. I would sit on my bed sewing heads of mops together to create avante garde dresses for shoots. I knew the only thing that would stop me was if I gave up, or my ego got too big! So I continued taking smaller shoots, weddings etc to fund my creative portfolio, and I still do that today.
From Aspiring Photographer to An Inspiration
[ Rewind: 'Characters' | Self-Portrait Series by Photographer and Makeup Artist Ryan Burke]
Based in Manchester, England, Rosie, now 22, still takes self portraits (It helps with her model good looks), in addition to her work with many different projects with major clients.
I would say for my future, I would love, love, love to be the kind of future Annie Leibovitz of photography," Rosie admits. "I would love to shoot celebrities, take their stereotypes and create amazing pictures that no one has seen or thought of to do before. But at the same time, for me, I just love photography. And that is still there. The 19-year-old girl, the 16-year-old girl, who loved taking pictures, that's still me.
Rosie has been a long time reader of SLR Lounge and the advice she would give to aspiring photographers like herself:
Don't give up, and don't be scared to be inspired. When I first started out, I saw so many photos on Flickr that I loved and admired and aspired to create. When I would try and make something similar, whilst working out my style, people on the internet were quite mean and made me feel like I was doing something wrong by being similar to other people. There's nothing wrong with being inspired and having aspirations to shoot like someone, as long as you plan on one day outdoing them!!!  So yeah, that would be my advice. And lift your limits of what you think you can create.
Here are some more of Rosie's images. You can see more on her Flickr page or her Website.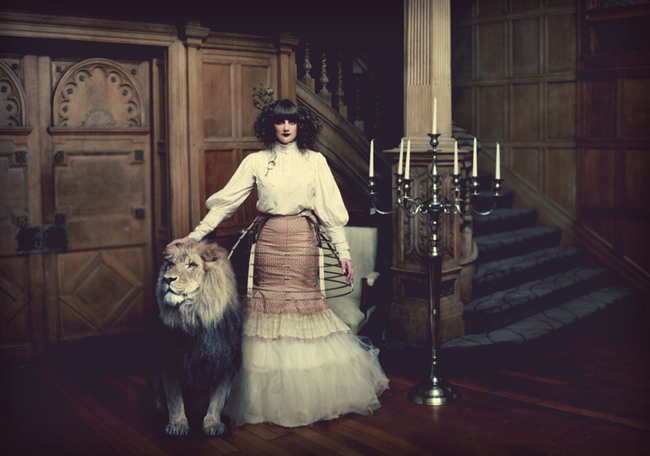 CREDITS : Photographs by Rosie Hardy have been used with permission for SLR Lounge. Do not copy, modify or re-post this article or images without express permission from SLR Lounge and the artist.
(Via @Flickr)
I don't know what you were doing at 19 year's old, but I wasn't garnering the attention of rockstars with my work. What do you think of Rosie's images?
Hanssie
Hanssie is a Southern California-based writer and sometimes portrait and wedding photographer. In her free time, she homeschools, works out, rescues dogs and works in marketing for SLR Lounge. She also blogs about her adventures and about fitness when she's not sick of writing so much. Check out her work and her blog at
www.hanssie.com
. Follow her on
Instagram