Advertisement
How To Spot A Scam: Must-Read Camera Buyer Advice!
This time of year I always spread the word about internet scams.  As Black Friday gets under way, I hope that everyone can take a minute to read this article before doing any online shopping.  There are so many scams out there theses days.  Specifically, this article is about online camera store scams that all use a very similar tactic, a trend that has a long history going back at least a decade…
These scam tactics and shady parent companies really exploded in 2004-2006, and the first scam group to do this was based in Brooklyn, in the 718 area code.  A couple of the most notorious ones were Broadway Photo and PriceRite Photo, which have long since been shut down thankfully.
They were even so bold as to buy advertising space in numerous mainstream magazines, closely mimicking the reputable stores ads.  This was back when social media was still in it's infancy, and many people were still very new to the whole online shopping concept.
Back then, I first encountered this scam operation when I almost purchased a Nikon D70 from an online store called Digital Liquidators.  I trusted them because I first saw their printed ad in Outdoor Photographer magazine; I naively assumed that if they had a printed ad they must be legit!  Anyways, you can have a glance at their reputation by clicking HERE.
"I HATE BEING CHEATED, this company is full of scam artists. An Absoulety terrible experience. Bought a camera and was "forced to buy a battery, warranty and memory card" as I was advised this didn't come with the camera. When I looked at the website it said all equipment brand new in box. I cant believe the manufactor would sell you camera that you need to buy a battery just to be able to use, let alone not stand behind their product. When I called "customer service" to discuss the camera I received and asked for a detailed invoice I was told that it was my fualt that I had a "comprehension problem". I was then hung up on. My advice to anyone looking to purchase from these folks is to look elsewhere." 
Unfortunately, nowadays these types of scams are now operated all over the place and are extremely elusive.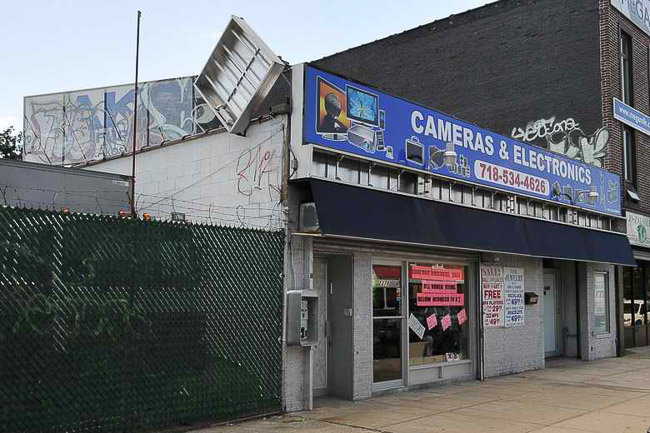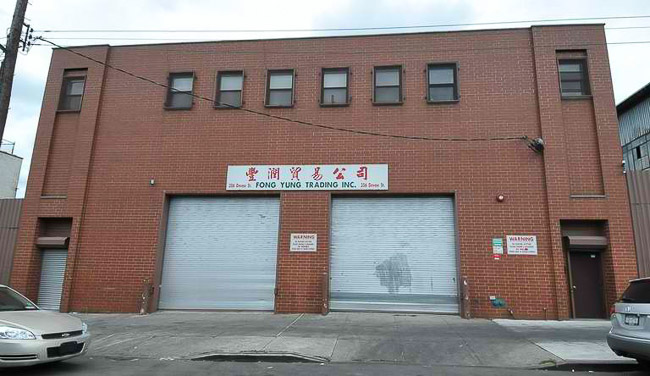 The listed business addresses of online camera stores, circa 2010
Photos by Don Wiss, used with permission. Click HERE for more…
With the 2012 "shopping season" arriving, I was curious to see if any of these scam groups were still around.  So I googled "Nikon D800″ and clicked on the lowest price that came up.  Sure enough, a crazy-low $1900 price listed at a scam store.  So, allow me to warn, educate, and arm you all…  I will start by briefly describing the symptoms, the red flags, that indicate you could be getting scammed.
1.)  The insanely low prices
This is the  number one red flag that something is too good to be true.  Especially on brand-new cameras that came out within the past year.  Remember, it is actually illegal for an authorized camera dealer to list equipment below a certain price.  It is called "minimum advertised price", or MAP, and you can read about it by clicking HERE.
2.)  The phone call
The phone call usually goes something like this: Shortly after placing your order, they call you up and start up-selling you on memory cards, warranties, etc.  They'll be VERY high-pressure.  If you decline all of the usual accessories, they start flat-out lying to you about the product you're buying.  They might tell you the battery that's included will only last for 10 minutes and isn't rechargheable, and you need the $500 "good" battery and charger. They may also start telling you that all of a sudden what you're getting is not a USA model, but an imported "grey market" model, and you have to pay extra.  If you manage to stand firm through all of this nonsense, they will definitely be getting extremely irritated and condescending at this point, and may simply tell you that they're sorry but the exact model you want is actually on back-order, then they hang up.  Red flag!  Or even worse in one case reported HERE, they may refuse to hang up, and threaten to charge you a re-stocking fee if you cancel your order, or even threaten to charge you for the full amount yet leave your order status as permanently backordered.  To quote Monty Python- "Run away, run away!!!"
3.)  The insanely high-priced accessories (and shipping)
Back in 2004, I remember seeing a 512 MB compact flash card for $300.  No, that's not just what memory cards cost back then, that's probably ten times more than the actual cost.  And the accessories are always no-name generics, brands that you've never heard of before.  …Or, oppositely,  the websites themselves may choose to display ZERO accessories whatsoever, and will only bring up the accessories once they get you on the phone.  Either way, if you see $300 memory cards that cost $30 on Amazon, that's a red flag, or if you see absolutely no accessories listed whatsoever, that's another red flag.  Lastly, beware of $100+ "mandatory" shipping rush charges, weight charges, or other fees.
4.) The silly testimonials and gaudy badges
In case you didn't notice, the major retailers have reputations that speak for themselves.  They're reputable and secure, and they don't need to trumpet that fact in every corner of their website with flashy badges and satisfaction guarantees.
So, how do you avoid getting scammed?
1.)  Don't just google a camera and click the lowest price.
Rule number one!  Doing this is a recipe for getting scammed.  If it sounds too good to be true, it probably is.  It is well-documented that those "lowest price finder" sites frequently include these scam sites, especially Yahoo.  (Historically speaking, at least)
2.)  Use Reseller Ratings or Ripoff Report.
Visit ResellerRatings.com or RipoffReport.com and search for the store you're considering.  Weed through the fake, one-liner reviews that are cut-and-pasted like Ebay feedback, and search for the more extensive reviews.  Chances are, if they are a scam group then you'll see multiple reports of the same up-sell tactics, or overall shady / rude behavior.  Also if they have no rating whatsoever, that's not necessarily a bad sign however it isn't a good sign either.
Actually, a lot of outspoken victims got a lot of flak for falling for such obvious scams, because they simply didn't follow these two guidelines.  If you plan on buying camera gear from a no-name online store and you don't do some serious research first, you kinda deserve what you get.
3.)  When in doubt, shop at B&H, Amazon, or Adorama.
It's really that simple.  There is no free lunch.   So, should you just give up and pay the MSRP every time?  Not necessarily.  There are still plenty of rebates, sales, and gradual price drops.  Just no free lunch.  That is why we here at SLR Lounge put a lot of effort into hunting for safe ways to save money on camera gear.  You're welcome!
For the latest information on which sites are known scam sites using this bait-and-switch tactic, a good resource is: thoughts-of-dave.blogspot.com  For additional reading, see the immense collection of storefront photos that Don Wiss has taken by clicking HERE, or the late-2005 blog posts by Thomas Hawk HERE and HERE, (warning, some of it is a little shocking!) or the New York Times article from early 2006 HERE.  If you dig deep enough, some people claim that the original scam group may have been affiliated with the Russian Mafia.  Yikes!
Take care,
=Matthew Saville=
Advertisement