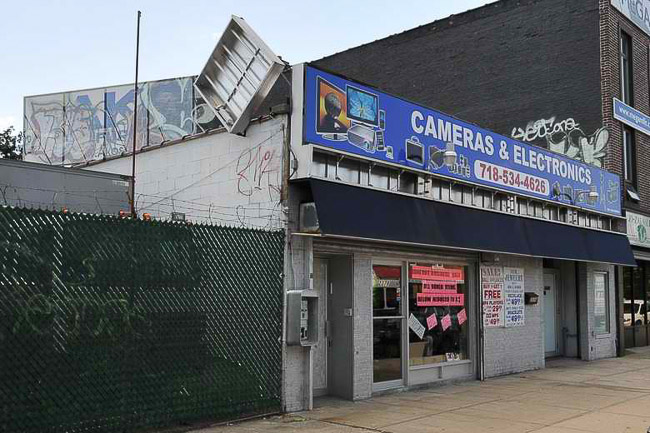 Update: This article was first written 13 years ago, when online shopping first began to collide with the relatively new world of "regular consumers" shopping for high-end digital cameras.
Over the years, our warning has been the same: Be careful where you shop online! New online scam storefronts pop up every year, selling cameras, lenses, and photography accessories at incredible discounts. Are they too good to be true? Of course, they almost always are.
---
Well, it's that time of year again, folks! Before Black Friday and Cyber Monday get fully underway, I like to spread the word about internet scams in the world of photography.  I hope that everyone can take a minute to read this article before doing any online shopping!  There are so many scams out there these days, and this article will cover the common online camera store scams, which seem to employ a similar sales tactic.
The scam tactics and "shady" online storefronts really exploded in 2004-2006, as far as digital photography is concerned, with one of the biggest rackets being based in Brooklyn, New York.  A couple of the most notorious ones were Broadway Photo and A&M Photo World, which have long since been shut down. (Or, allegedly, turned into legitimate businesses, possibly under different ownership?)
Originally, they were so bold as to buy advertising space in numerous mainstream magazines, closely mimicking reputable stores' ads.  (This was back when social media was still in its infancy, and printed magazines were a much bigger industry compared to today.)
Back then, I first encountered this scam operation when I almost purchased a Nikon D70 from an online store called "Digital Liquidators."  I trusted them because I first saw their printed ad in Outdoor Photographer magazine. I naively assumed that if they had a printed ad, they must be legit!  Suffice it to say, you can have a glance at their reputation by clicking HERE.
"I HATE BEING CHEATED, this company is full of scam artists. An Absoulety terrible experience. Bought a camera and was "forced to buy a battery, warranty and memory card" as I was advised this didn't come with the camera. When I looked at the website it said all equipment brand new in box. I cant believe the manufactor would sell you camera that you need to buy a battery just to be able to use, let alone not stand behind their product. When I called "customer service" to discuss the camera I received and asked for a detailed invoice I was told that it was my fualt that I had a "comprehension problem". I was then hung up on. My advice to anyone looking to purchase from these folks is to look elsewhere."
 Unfortunately, nowadays all types of scammers are now operated all over the place, are extremely elusive, and getting creative in finding all-new ways to try and cheat you out of your money.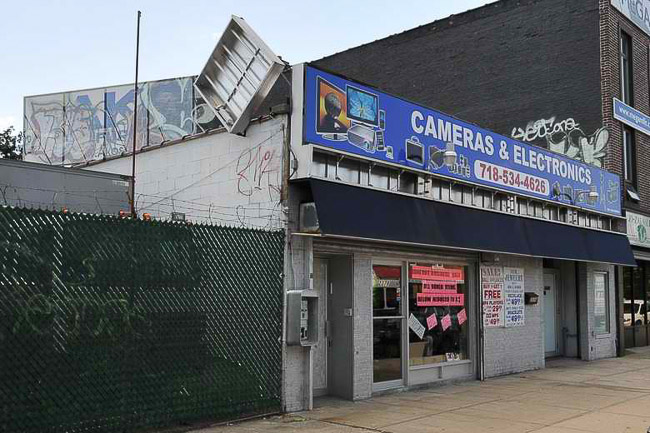 The listed business addresses of online camera stores, circa 2010
Photos by Don Wiss, used with permission. Click HERE for more…
2018 Holiday Camera Gear Shopping
With the 2018 shopping season upon us, I was curious to see if any of these scam groups were still around.  I googled "Sony A7R III best price" and checked to see which online stores popped up. Thankfully, unlike so many previous years in which there always seemed to be at least two or three websites listing absurdly low prices, I only noticed one. I won't mention the name of the online store, because I've never heard of them before, and they aren't listed on the website that I always use to investigate online stores. (More on that in a minute!)
Suffice it to say, we may be past the worst when it comes to online store scams! HOWEVER, there are many new scams popping up more recently, such as using Venmo and other social media platforms for peer-to-peer sales to go horribly wrong. (Our advice: DON'T DO IT. Never accept payment for a local or online sale through Venmo, or even through Paypal if it is not an official, protected transaction.)
With that said, we should all still be aware of the signs of an online scam, whether it is a storefront or a peer-to-peer used sale.  So, I will briefly describe all of the red flags that indicate you could be getting scammed.
[Related: We've Listed the Best Black Friday Deals for Photographers Here]
1.)  insanely low prices
This is, of course, the number one red flag that something is too good to be true.  Especially on brand-new cameras that came out within the past year.  Remember, it is actually illegal for an authorized camera dealer to list equipment below a certain price.  It is called "minimum advertised price", or MAP, and you can read about it by clicking HERE.
2.)  The phone call & Sales Pitch
The phone call usually goes something like this: Shortly after placing your order, the store calls you just to confirm your order or some other information. However, they quickly start up-selling you on things like memory cards, warranties, etc. They'll be VERY high-pressure.
In fact, if you decline all of their accessories, they may start to actually lie to you about the product you're buying. They might tell you that the included battery will only last for 10 minutes, and/or isn't rechargeable, and you need the $500 "good" battery and charger. Or, they may all of a sudden start telling you that what you're getting is not a USA model, and you have to pay extra if you don't want the grey market model.
If you manage to stand firm through all of this nonsense, they will definitely be getting extremely irritated and maybe even condescending at this point. They may simply tell you that they're sorry but the exact model you want is actually on back-order, then they hang up. Red flag! Or, even worse, in one case reported HERE, they refused to hang up, threatened to charge a re-stocking fee if the order was canceled, or worst of all- threaten to charge you for the full amount, yet leave your order status as permanently back ordered. To quote Monty Python- "Run away, run away!!!"
3.)  The insanely high-priced accessories (and/or shipping)
Back in 2004, I remember seeing a 512 MB (no, not GB) compact flash card, listed for $300. No, that's not just what memory cards cost back then, that was ten times more than the usual price. It would be like if someone charged you $300 for a generic brand 16GB card today!
Either way, the accessories are always no-name generic brands, ones that you've never heard of before.
Oppositely, the online store might display ZERO accessories whatsoever, and will only bring up the accessories once they get you on the phone.  Either way, if you see $300 memory cards or batteries that cost $30 on Amazon, that's a red flag.
Lastly, beware of $100+ "mandatory" shipping rush charges, weight charges, or other fees.
4.) The silly testimonials and gaudy badges
In case you didn't notice, most major retailers have reputations that speak for themselves.  They're reputable and secure, and they don't need to trumpet that fact in every corner of their website with flashy badges and satisfaction guarantees.  Yes, there might be a handful of well-known web security badges that all major online retailers have, and customer reviews, but if you see a bunch of extra fluff trying to instill confidence in shoppers, …beware.
So, how do you avoid getting scammed?
1.)  Don't just google a camera and click the lowest price.
Rule number one!  Doing this is a recipe for getting scammed.  If it sounds too good to be true, it probably is.
Furthermore, those "lowest price finder" websites may not thoroughly screen the stores they list in their rankings, potentially including scam sites, whether knowingly or not.
2.)  Use Reseller Ratings or Ripoff Report.
Visit ResellerRatings.com or RipoffReport.com and search for the store you're considering.  Weed through the fake, one-liner reviews, and search for the more extensive ones.
Or, if you're a cynic like myself, just go straight to the 1-star reviews and see if they consistently report the same "shady" tactics.
Chances are, if they're a scam you'll see multiple reports of the same things I mentioned above: up-sell tactics, over-priced accessories or shipping, and overall pushy/rude behavior.
Alternately, if they have no rating whatsoever, that's not a good sign either!
3.) Avoid peer-to-peer sales and payments
Unfortunately, money transferring sites like Venmo, combined with direct buy-and-sell websites such as Craigslist, have created a perfect storm for bold scammers to meet even face-to-face with you, and scam you out of either a camera, or your money. Dont' do it!
If someone offers to pay you through Venmo, they can easily reverse the transaction later, effectively getting their money back and stealing your camera. Even Paypal's buyer/seller protection may not be able to help you, if you complete a transaction outside of their protected eBay environment. NEVER accept offers to cancel an Ebay sale/purchase, and then meet in person and/or do a Paypal "friends" money transfer. Such transactions are completely unprotected, and can even get your Paypal account suspended if you frequently buy and sell camera gear using eBay etc.
Online photography communities that have a reputable "buy & sell"  section might be safe, if they have a system in place that allows you to see if someone has an established record or not, (FredMiranda, etc.) …however there is still risk involved, especially if you accept offers to use certain unprotected payment methods.
Last but not least, (and we don't recommend this, generally) …if you absolutely must meet someone from Craigslist, please do so in broad daylight, in a highly public, visible place, in a nicer part of town where you feel totally comfortable and familiar. Otherwise, you're just asking for trouble.
4.)  When in doubt, shop at B&H, Amazon, or Adorama.
It's really that simple. And no, this post is not sponsored by anybody. (Yes, affiliate links do help us out, but clicking on them is totally optional; they're just your way of saying "thanks for the free info!")
Heck, if you live in an area where there are still local brick-and-mortar camera shops, by all means, go support them! Unfortunately, these are becoming fewer and farther between. Personally, I do spend a roughly equal amount of money online and in local camera stores.
Either way, should you just give up and pay MSRP every time? No, not necessarily.  There are still plenty of rebates, sales, and gradual price drops. And sure, there are plenty of other legitimate retailers out there who might offer you a small in savings, if you're willing to hunt them down. Just know that you might not have as smooth of a customer experience. The best thing you can do, when considering shopping anywhere online? Ask a friend. A real friend who you actually know, not just strangers on the internet.
If you want to support SLR Lounge when shopping online, great! No pressure.
For the latest information on which sites are known scam sites using this bait-and-switch tactic, a good resource is: thoughts-of-dave.blogspot.com  For additional reading, see the immense collection of storefront photos that Don Wiss has taken by clicking HERE, or the late-2005 blog posts by Thomas Hawk HERE and HERE, (warning, mild language.) or the New York Times article from early 2006 HERE.  If you dig deep enough, some people claim that the original scam group may have been affiliated with the Russian Mafia.  Yikes!
Best Camera Equipment Buying Advice | Recap
Don't just google the camera/lens and click the lowest price. Do your research!
Beware of overpriced accessories, unspecified USA/grey-market items, and any type of up-sell tactic.
Avoid unknown peer-to-peer sales, and NEVER use unprotected payment methods whether buying or selling!
Shop at stores which you personally know someone who has already successfully purchased from, whether online or local.
Shop safely this year, and enjoy your new camera gear.