There are hundreds of camera bags on the market, with new versions, revamps, knock offs, and new brands joining the competition every year. Basically, there's a LOT out there to choose from. So if you're in the market for a new bag, to help you in your decision making, we've created our list of the Best Camera Bags for photographers, updated annually.  These lists are based on our personal experience with these bags as working photographers combined with extensive research from other reputable sources online.
If we missed anything, or if you have any recommendations on what we should consider for next year, please comment below!
Best Messenger Camera Bags (Camera Sling Bags)
A reliable messenger bag is important for both amateur and professional photographers who need quick access to gear, especially lenses.  Gear within backpacks and roller bags takes time to access, so consider a messenger bag if you need access to multiple lenses quickly.  See our list of the best camera bags that sling over the shoulder.
Think Tank Photo Vision 13 Camera Shoulder Bag (Our Choice)
Our Winner for the Best Camera Messenger Bag.
The Think Tank Photo Vision 13 is an updated and great blend of style and functionality. It fits one standard-size DSLR with a mid-range zoom attached plus 2–3 additional lenses.
The neutral color options give the bag versatility for everyday and professional use for any gender. Unlike many other camera bags of it's type, the Vision 13's main compartment features its own zippered lid for use under the bag's front flat, enhancing the security and protection of your gear from the elements and damage.
The main drawback of this bag is the laptop compartment size.  It can only fit a 13-inch laptop, making it a great camera bag but maybe not the best everyday laptop bag. That being said, you can always upgrade and get the 15, which of course, will accommodate a standard 15″ laptop or tablet should you need that extra carrying space. I actually have the 15 and use it nearly every single day!
Check the prices from our preferred retailers below: Amazon | B&H | Adorama
Peak Design Everyday Messenger 15 V2

2nd Place for the Best Camera Messenger Bag
The co-developers, Peak Design and Trey Ratcliff, have thought through every minute detail, from the compartment separators and secure pockets to the way the strap attaches to the bag.
Peak Design also makes other great products that work seamlessly with this bag, so if you're a capture clip or slide strap user, this is a great choice for you.
The main drawback of this bag is that there is no luggage strap on the back of the bag.  It also has a tapered design that limits its potential carrying capacity.
Check the prices from our preferred retailers below: Amazon | B&H | Adorama
Domke F-2 Original Camera Bag
3rd Place for the Best Camera Messenger Bag
The Domke F-2 is in a bit of a different league when compared to the other two messenger bags above. This is made to carry 2 full DSLRs with 6-10 lenses and accessories while still not being "huge" like you'd expect from a bag carrying so much gear. Especially since it manages to look stylish and NOT look like a stereotypical camera bag.
Made with tough, breathable, and waterproofed canvas material, it's designed to hug close to your hip, rather than bounce around like many other ridgid bags on the market. The strap also fully wraps around the base of the bag to provide some extra strength and stability to your carry.
The only real drawback of this bag is while it's technically big enough to carry a small laptop, it doesn't have a defined pocket for such devices, so if you were wanting to carry your computer in here, you'd need to do some customization which would take away from the carry capacity for your regular gear. Additionally, the straps for closing the bag are "clip" style, meaning they aren't as quick and easy to close up as the other bags mentioned above.
Check the prices from our preferred retailers below: Amazon | B&H | Adorama
Best Camera Backpacks
Camera backpacks are great for photographers who want more carrying capacity and carrying comfort than a messenger bag but don't want to lug around a full rolling camera bag.  We recommend a camera backpack for your choice of the best camera bag if you're traveling, going on an outdoor or urban photo adventure, or if you need more equal weight distribution than a messenger bag has to offer.
Peak Design Everyday Backpack V2 (Our Choice)
Our Winner for the Best Camera Backpack
This features a unique design that gives you quick access to ALL of your gear without having to remove the backpack.  Some other backpacks require that you remove it entirely and set it down in order to access your gear; they also only give you quick access to some compartments. The Peak Design backpack, however, gives you full access to the fully modular compartments from both the left and right sides.
In addition, it's also beautifully designed and made with high-quality materials and stitching.  The look and functionality make this perfect for everyday use, overseas travel, or just daily photo adventures. Take everything you loved from the original backpack, and add enhancements from user feedback, and you've got the updated V2!
The primary drawback is that the top pocket is secured with a clasp (and not a weatherproof zipper). So, if you're going on a serious outdoor adventure, this may not be the right fit for you.
Check the prices from our preferred retailers below: Amazon | B&H | Adorama
Lowepro ProTactic BP 450 AW II Backpack
2nd Place for the Best Camera Backpack
If you're the type of photographer who likes to carry more than 2 cameras and multiple lenses along with other accessories, then this might be the backpack for you!
At a glance, you could say the namesake is accurate, as it definitely looks like something designed for the function and utility for the military if it weren't for the Lowepro logo. Designed for pure function on the inside and out, this has become one of the industries best selling backpacks across the market, and is definitely Lowepro's most popular ever!
The material and straps are incredibly breathable, comfortable, and provides great support for the photographer on the move. Two zippered pockets are available on the hip support belt for your quick grab items like lens caps, batteries, or even just a simple snack! What we love is this bag, allows you to gain access to your gear from the top, left, right, and back/inside panels! Letting you get to your gear quick and easily in any situation.
Check the prices from our preferred retailers below: Amazon | B&H | Adorama
Wandrd Duo Day Pack
3rd Place for the Best Camera Backpack
Wandrd isn't afraid to think differently in terms of design and functionality.  While it may be the 3rd place on this list, internally at SLR Lounge it's one of our favorite bags we've tested in a LONG time! Aesthetically, it's style is appealing for everyday use as a commuter backpack.
Functionally, it has an array of pockets, a unique system that allows you to access everything without setting the bag down, and can function as a general use backpack for your day to day usage as well as being a camera and gear bag! The DUO Daypack was truly designed to move effortlessly from work to play. Once you pick it up, you'll be sure to see why!
Check the prices from our preferred retailers below: Amazon | B&H | Adorama | Wandrd 
Best Rolling Camera Bags
Most professional photographers need a rolling camera bag/case to store all of their gear.  Below are our choices for the best camera bags with wheels:
Pelican Air 1615 Case (Our Choice)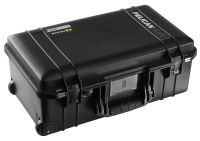 Our Winner for the Best Rolling Camera Bag
This is the most durable rolling camera case on the market. Shorter photographers can stand on it when they need extra height. Travel and nature photographers can reliably drag it through extreme elements without fear.  And the kicker is the low price in comparison to its competitors.
The main drawback is that it's not as easy (or smooth) to roll around as some luggage-style bags, especially the ones with four wheels.  Also, with its rigid, durable design, the carrying capacity is limited if you have a ton of gear.
Check the prices from our preferred retailers below: Amazon | B&H | Adorama
Think Tank Photo Airport Roller Derby
2nd Place for the Best Rolling Camera Bag
The Think Tank Photo Airport Roller Derby is one of the most popular rolling camera cases on the market, for good reason.
It features Think Tank's modular interior, a high carrying capacity, durability, and a high-quality build.  It also has four wheels, making it easy to roll around at the airport, on the street, or through a crowded event. While you will pay a premium for the smooth rolling, it's well worth it for professionals.
A quick "honorable mention" alternative here would be the Airport Takeoff V2 for those who may need to quickly convert their roller into a backpack.
Check the prices from our preferred retailers below: Amazon | B&H | Adorama
Lowepro PhotoStream RL 150 Roller Bag
3rd Place for the Best Rolling Camera Bag
The Lowepro PhotoStream Roller is a classic rolling camera bag with a modular interior, as well as compartments and pockets for for laptops, lenses, flashes, tripods, and other camera gear.  The build quality is great and the price point is fair.
This is a great bag to consider if you don't want to splurge for a 4-wheel bag, yet you want more carrying capacity than a Pelican.
Check the prices from our preferred retailers below: Amazon | B&H | Adorama
Best Budget Camera Bags
If you're looking for a the best camera bags on a budget, whether it be a messenger, backpack or rolling bag, then you are going to have to make sacrifices, primarily on the style and uniqueness of the bag. But if these aren't a priority for you, then you should consider the Amazon Basics lineup. For the functionality, you're not going to beat the price.
Here are our recommendations:
Best Camera Bags for Women
Our recommendations above are for all genders.  However, there are brands designed specifically for women with bags that feature the look and feel of  designer purses.  If you're looking for these, you'll want to check out Kelly Moore Bags and Jo Totes.
How to Choose A Camera Bag
Primary Features
Before pulling out your credit card, make sure you focus on the features that are most important for you.  Remember, every photographer has a unique set of gear and a unique sense of style, so the "best" for someone else might not be the best for you.
Place top priority in the following features:
Comfort – Whether you're shooting an event or going on a hike, your camera bag could be on your body for long periods of time.  Ensure that the straps are comfortable and that the bag is not too heavy. Your health could be on the line.
Size/Capacity – Ensure that your choice of the best camera bag carries what you need for your style of shooting but isn't excessive in size.  Many bags have two versions/sizes, one smaller and one larger, so read the specs carefully and watch a few Youtube videos before making that final purchase.
Style – Just like anything else on your body, your bag, whether you care or not, reflects your personal style to the outside world.  Select a bag with versatility, one that you can wear with whatever outfit you find yourself shooting in that day.
Small But Important Features of the best camera bags
In the competitive bag market, the smallest features or conveniences make the biggest difference. You'll have to decide what's important for you and your personal preferences.  Here are a few features we recommend focusing on:
Luggage Attachment (for backpacks and messenger bags) – The ability to slide a messenger bag or backpack onto a roller bag or luggage is critical for traveling and during long shoots to give your back and shoulders a rest.
Secure pockets (Zipper) – Ensure your bags have enough zippers and pockets to accommodate your gear. Zipper pockets are especially important for places you will store your memory cards.
Rain Jacket/Waterproofing – Find bags that are weatherproof.  If you live in a rainy area, find bags that allow you to weatherproof quickly and conveniently.
 Summary of the Best Camera Bags
Here is a list of all of the gear discussed in this article:
What did we miss?  Please give us feedback so that we can check out other bags and keep this list up-to-date.