I am always looking for ways to branch out and make more money as a photographer in my small community. So, when I saw that Fstoppers had teamed up with Mike Kelley to produce an 8 hour workshop on the topic of shooting Real Estate, Architecture, and Interiors, I was psyched to get a chance to check it out.

My Quick Hit Review
I am certain, as I will elaborate on further in this review, that if you are at all interested in this sort of photography, that this is simply a must have workshop. What you will learn from Mike is invaluable, saves you from lots of trial and error, and gets you in a place to where if you wanted to go out tomorrow (after watching your copy), and start your Real Estate, Architecture, or Interiors photography business you could do so knowing that you have the 'know how' to get it done right.
If you are interested in reading more about the 8 hour workshop continue reading. If you are already sold, you can purchase the workshop here.
Where Art Meets Architecture Review
Introduction
The workshop starts out as any quality workshop should, with the background of the instructor. In the first section of the workshop, Mike Kelley takes us through his progression as he went from a "washed up professional snowboarder" to one of the most well respected architecture and interior photographers based in Los Angeles in just a few short years. It was not easy, but Mike shares what he learned along the way so you can learn from his struggles.
Following Mike's story and an overview of the topics, the workshop moves into high gear, and Mike starts to share interesting information regarding what gear he uses and recommends, as well as what sorts of advertising and marketing he uses to promote his own business. This is information that you will want to know if you are looking to start your own business, or add similar services to your existing business.
I really enjoyed the way that Mike went over all of the gear options in detail, ranging from lenses to speedlights, trigger, and lighting modifiers. He really does a great job covering all of the gear that you can use for Real Estate, Architecture, or Interiors photography. I was also really interested to see his personal gear, and was pleasantly surprised to see it was not $20,000 worth of equipment – most of it was very attainable for someone looking to get into the business.
Following the gear talk, Mike takes us into software mode, and shares the basics of using Photoshop to edit your Real Estate, Architecture, or Interior images. The information and techniques shared in this section form the basis of Mike's post production process and are revisited many times throughout the workshop during the real world shoots.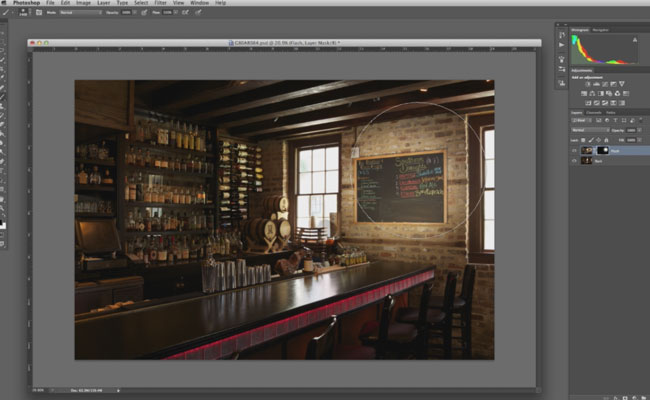 The Real Estate Photo Shoot
The first of those shoots is the Real Estate Photo Shoot in which Mike takes you through a rather basic real estate photo shoot, the sort of job that you may get if you are just getting started out in Real Estate photography.
This happened to be the part of the workshop that I was personally most interested in, since this is the sort of work I would most likely be getting in my area. Not many multi-million dollar mansions or buildings with crazy cool architecture in my small town of 9,000.
What can I say, Mike went over this Real Estate section really well. In comparison to the other sections, it was rather short, but the information shared with you is just as valuable – in my opinion. I feel fully comfortable that I could go into a home and shoot amazing Real Estate photos after watching this section.
If you get the workshop for nothing else, this section could be applied to anywhere you could live. There are always homes, and always Real Estate agents looking to sell them. This, to me, is the most valuable section to the vast majority of you out there. That is not to say that the other sections and shoots are not valuable, but I feel like this section is the one that could be applied literally anywhere.
One thing I will note about this section though, is that the entire home is completely furnished. I know that in my area that is a rarity for a home being sold. It would have been nice to see another example of how he would have shot an empty home. Otherwise, I have no concerns, its really very solid.
The Principles of Architectural and Interiors Photography and More
Following the Real Estate Photo Shoot, Mike continues on with his workshop by taking you along on several shoots focused on teaching the principles of Architectural and Interiors photography as well as commercial spaces such as a hotel or restaurant. Many of the same techniques are gone over multiple times throughout the different shoots, which I liked because it meant you could see each technique applied in different situations.
I really could go on and on with a detailed summary of the rest of the workshop, but in the interest of keeping this review from getting out of control (length wise), I will just say that  what you learn from Mike regarding his signature twilight style, how he creates "better than HDR" images, and just watching him process various images in Photoshop is invaluable.
Final Thoughts
'Where Art Meets Architecture' is the definitive workshop on shooting Real Estate, Architecture, or Interior images. What you learn in this 8 hour workshop, which by the way, is short enough that you can consume it all in one day (though I don't recommend doing so), is what many photographers dream about. You get to learn from a successful, working professional talking about the ins and outs of his passion.
Not only is Mike incredibly successful, but he is very talented at explaining his techniques and processes, so that by the time you are finished with this workshop, you will feel as if you have the tools you need to complete any job in this niche of photography. I highly recommend this to anyone who is at all interested in shooting Real Estate, Architecture, or Interior imagery – $299 well spent.
Overall, I feel as if this is a really good workshop and I would give this a solid 5 out of 5. If you are interested in picking it up for yourself, you can head over to Fstoppers and start downloading it today.