Nearly everybody with a camera has tried capturing their backyard critters prancing through their yard. Some shooters are a bit more serious and have invested in nicer optics and tripods to stabilize their cannon (pun intended) sized lens.  The step above that is what you'll find below. I caught up with award winning-wildlife photographer, Charles Glatzer, a few weeks back to help launch a video of him venturing the back countries of Bella Coola searching for grizzly bears. While the art of what he does requires some expensive tools, I found the techniques and thought process something most on the outside would appreciate reading.
Charles has had a very long and fruitful career in professional photography. He has since taken what he's learned shooting commercial work and has channeled that into teaching others how to capture wildlife. Out of the dozens of stunning images he sent over, I asked him to comment about how he captured the following shots.
1. King Penguin, Volunteer Pt. Falklands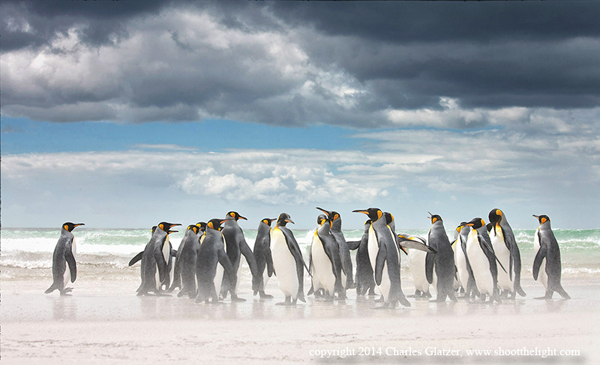 This image was produced in 50 mph plus winds and blowing sand. Inclement weather can often produce dramatic images. I highly recommend using a full camera and lens cover in these conditions like the Think Tank Hydrophobia, Aquatech, or Kata covers. If you use an open style cover like the LensCoat RainCoat, Storm Jacket, etc. place a shower cap over the camera body. Clear food grade wrap also works very well over the camera body, as well as fixed focal length lenses, and flashes.
2. Bison Portrait in Blizzard, Yellowstone National Park, Wyoming
Yellowstone in winter is one of my favorite places to photograph.  I love photographing in snow and harsh winter conditions, especially capturing wildlife struggle for survival in severe wind, with double digit temps well below freezing, and snow is certainly challenging for both man and equipment. But, the stark, often surreal, graphic quality of images produced in these conditions continue to lure me back year after year. I feel privileged to photograph and share these animals in an environment most will never get to, nor want to, experience.
[REWIND: 6 Tips for Shooting Deer, With Your Camera]
We were traveling across Swan Flats, YNP just after first light when we came upon this bison snow caked and bedded down in deep snow. This was an opportunity I was not going to miss. Trudging through the waist deep snow, I set up my tripod, waiting for the howling wind and snow spindrift to die down before depressing the shutter. This image pushed the ability of my gear and technique. Combin1e low light levels, high ISO, 1200mm focal length, and having to use f/11 to ensure the best resolution and DOF with a 2x converter, and you have a recipe for soft images. This image would require high ISO and excellent long lens stabilization technique; placing my hand as far out on the lens as possible, I ever so softly depressed the shutter at the end of my exhale. I fired off a short burst to further ensure a sharp image, as one is always rendered sharper under these conditions.
3. Black Bear Sow and Cub, Minnesota, USA
Understanding animal behavior is paramount to producing consistently successful wildlife imagery. I had been photographing and observing bears at this location for seven years. When I heard the low guttural grunt from the sow I knew she was calling her cubs down from the tree, and that she would stand up to reassure each cub with nuzzling on the way down. Cubs are bonded to each other when young, and they do not like to be separated.  The first young cub down stood up next to mom; calling and watching with intent for its sibling to descend the tree.
Positioning the camera at ground level helps draw the viewer further into the subject's world.
4. Pileated Woodpecker with Chicks, Michigan, USA
A pileated woodpecker pair was known to nest in this area for quite sometime, but typically in a location not conducive to photography.  Fortunately, this year the nest cavity was located in an open area more favorable. I visited the nest site a few times before deciding on the best time of day, and location to setup the 10ft deer stand.  Photographing at the subject's level provides a more intimate view. I waited for the adults to leave the nest cavity before setting up; they would not return for at least 45 minutes. It did take quite a bit of maneuvering before I got the stand in the proper location for the precise background and subject position desired.
As the lighting and distance to the subject were fixed manual exposure and fill flash was used to capture this image.
 5. Polar Bears with Caribou Carcass, Churchill, Manitoba
 On my 7th visit to Churchill, we came across this caribou lying in open sea ice with a bear leisurely sitting on hard packed snow nearby. When the tide receded the bear proceed to swim out to the carcass, dragging it to shore. The caribou was in the wrong place at the wrong time; apparently being chased onto the loose ice, it fell through, dying from hypothermia a short time earlier before we came upon the scene. Shortly after the carcass was dragged out of the ice, other bears arrived to opportunistically feast. The polar bears sense of smell is without equal. Although, I did see dominance behavior, to my surprise the bear shared the meal without showing much aggression. It is better to have a full belly in lean times, than be injured.
6. Red-crowned crane, Tancho Sanctuary, Kushiro, Japan
 I love shooting in inclement weather. In heavy snow, it is often necessary to manually focus on the subject, lest the AF catch on snowflakes, hunt like mad, or not focus all due to the extremely low contrast. With static subject's you can try to lock AF on an area of greater contrast, manually tweaking the focus if necessary.
7. Crab Among Red Soft Coral Polyps, Ras Mohamed, National Park, Sharm El Sheikh, Red Sea, Egypt
Taken at a depth of 140 feet this image required two strobes. I used one strobe as a main light, and the other as fill. Fuji Velvia provided the intense color and incredible detail. Fuji Pro used the image to showcase the intense color and insane amount of detail Velvia slide film could render. The image was printed on Fuji Flex, it was quite an amazing poster.
Special thanks to Charles for the images and words above. For more on Charles and his work, visit www.shootthelight.com.
CREDITS: All photographs by Charles Glatzer have been used with permission for SLR Lounge. Do not copy, modify or re-post this article or images without express permission from SLR Lounge and the artist.
Sinh Truong
A graduate of industrial design, I am currently working full time in both marketing and design for f-stop gear. I have been shooting photos since the days of 35mm film and have a deep passion for everything photography. Most of my inspiration comes from a global team of over 200 professional photographers and videographers which I manage.