Our "SLR Lounge Awards Artist Feature" articles highlight SLR Lounge Awards winners, some of the very best wedding photographers around the globe. Read on to gain some insight into how SLR Lounge's award winners started their business, grew their portfolio, and achieved excellence in the photography industry.
This article features Dave Shay of Dave Shay Photography. Dave is a wedding photographer from Raleigh, North Carolina and entered his Apex Award-winning photograph into the wedding portraiture category in January. The Apex Award is a level reserved for those whose photographs are selected by SLR Lounge's curators from the top 1 percent of submissions. Here's a look at Dave's world of wedding photography!
What Would You Say Is Your Approach to Photography?
My approach is always to serve my couples first. Of course, I have to take photographs that I'm happy with, so in a way I photograph what I photograph for me, but I always try to do it in a way that's respectful of the fact that this is their wedding day above all else.

I kind of have always just kept on photographing the way I enjoy photographing. I started out creating photographs that make me happy and only worked with couples that shared my taste. Over time, that evolved into how I work today. It's all a process.
In Reflecting Back On Your Start In Photography, How Did You Get Your Business Off The Ground?
I worked. Hard. While I was growing my business, I worked for both FujiFilm and Leica. But the equipment required to photograph weddings is really expensive, so occasionally I would also do pick up work when I was trying to transition into full time. I would do a lot of construction or temp work. Getting my business started was a lot more than just taking pictures.
What Do You Think Is The Most Valuable Form Of Marketing?
Blowing current clients' expectations out of the water. I can show up on the first page of Google for my area (which I do) all day long, but it's all about referrals. I book over half of all leads that come my way from a past client. Compare that with all social media platforms combined (about a third). I keep a presence everywhere I can, but in terms of where I think you should spend your marketing dollars? I spend most of it on past clients.
If you had to select only one lens to shoot with, what would it be and why?
If you asked me a year ago, I would have said my 85mm 1.4, but lately it's been my 24mm 1.4. I can tell the whole story with it, and I can get really close to the key moments. And the beautiful thing about the Nikon 24mm is that there's very little distortion as well, so I can get away with a lot that I normally wouldn't (compared with a lens like the 24-70mm).
How are you constantly evolving/pushing forward, With Regard to your style and quality?
Getting beat up by my peers! I send every wedding to friends of mine with the hopes that they will rip it apart and tell me where I can improve. My ego has no place in this job if I want to be the best I can be for my couples. The constructive criticism of those I trust is crucial to that
Any "Shout-Outs" You'd Like To Give?
As far as a "shout-out"? Well, no one deserves one more than my wife. She brings out the best in me, and I'm nothing with out her. In many ways she's the single greatest reason I've had any form of success in photography. And in terms of gear/companies? Definitely, Nikon and MagMod! They are a wedding photographer's dream when it comes to being prepared for any situation.
You can see more of Dave's work on his website. And be sure to give him a like/follow on Facebook/Instagram as well!
Check out the rest of the January SLR Lounge Apex Award winners here. Don't forget to submit by the March 31 deadline to be considered for SLR Lounge's March 2018 awards competition. And, finally, remember that anyone can sign up for an SLR Lounge account for free and submit, but Premium Members are able to submit up to 3 photographs each month!
All photographs are copyrighted by Dave Shay of Dave Shay Photography and have been used with permission for SLR Lounge. Do not copy, modify, or re-post this article or the included photographs without express permission from SLR Lounge and the artist.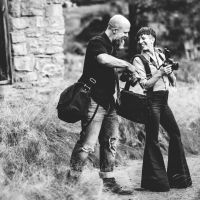 Amii & Andy Kauth
Amii & Andy are a wife and husband team of rad portrait and wedding photographers (Sunshine & Reign Photography) who absolutely love life and are generally just stoked! Yeah! When they aren't photographing or writing and teaching about photography, you'll find them off on a seriously legit adventure with their little ones, lifting weights in their garage, training jiu-jitsu, refining their archery skills, or surfing every chance they get. And on the rare chance they escape off on a "date night"? Yep! They'll find a wedding to crash (true fact). Website:
Sunshine & Reign Photography
Instagram:
@sunshineandreign