"SLR Lounge Awards Artist Feature" articles highlight SLR Lounge Awards winners, some of the very best wedding photographers around the globe. They are meant to give the photography community insight into how SLR Lounge's award winners started their business, grew their portfolio, and achieved excellence in the photography industry.
This article features Brian Mullins of Brian Mullins Photography. Brian is a multiple platform, award-winning wedding, commercial, and portrait photographer based out of Raleigh, North Carolina. He entered his award-winning photograph into the wedding portraiture category in November and earned an Apex Award, a level reserved for those whose photographs are selected by SLR Lounge's curators from the top 1 percent of submissions. Here's a look into Brian's photography world!
How did you establish and define your style, and who are some of the people that you looked up to when you entered the industry?
Establishing my style took somewhat of a long time. One of the biggest influencers I know, and am so fortunate to call a friend, is David Williams. I was lucky enough to attend his 3-day seminar, "Almost Alone," early in my career. He gave me the encouragement and knowledge on how to pursue a more timeless style. From there, I started playing with strong lighting sources and their ability to alter what we see with our eyes.

I started my career as a photographer for magazines and then kind of fell into weddings and portraits. Starting out, I didn't get into a lot of "hero worship," if you will. I preferred to search out photographs that really caught my attention because of their "feel," technique, or creativity. That being said, some of my favorite photographers are: David Williams, Jerry Ghionis, Joe McNally, and Chuckie Arlund, to name a few. I also love using some of our industry's pioneers as inspiration for my work: Richard Avedon, Brassai, and David Bailey.
What Photography companies help you make your job easier as a photographer, and why?
I keep a fairly busy shooting schedule (40 weddings per year; 30 wedding "sessions" like engagements, bridal portraits, and day after shoots; 50 events; 40 head shots; and 40 commercial jobs) so keeping everything organized is crucial to staying on schedule. I use two companies to help me in this regard.

The first company is Tave. Their business management software is extremely robust and flexible. It allows me to setup my workflows, scheduling, automated emails, invoicing, task lists, reminders, and client communications in a way that maximizes my time on other things (like shooting).

The second company is Lavalu. Mike & Cindy (the owners) were among the first people to offer digital editing services when digital cameras were gaining popularity in the wedding photography industry (so they've been at it a while now). I could not keep up with my shooting schedule, not even close, if I didn't have an editing company I could trust to help me knock out the "rough"editing that takes me anywhere from 15-20 hours per wedding.
Do you have a favorite accessory that you use to get the photographs for which you are known?
Absolutely! Magmod lighting modifiers totally changed the game for me with how I approach my reception and portrait lighting. In my region, we typically aren't given a lot of time for "formal" portraits (30 minutes is typical) so being able to quickly add modifiers is extremely important. And being able to switch them in a matter of seconds lets me put my focus on visualizing, posing, and working a scene, instead of focusing on getting the technical details sorted out.
What are you reading Lately?
Currently, I've been reading up a lot on nutrition, physical fitness, exercise, etc. I've found that when I'm not in shape physically, my mental focus also starts fading. So I've been working on getting into top shape.
How Do You Try to evolve … And push forward your style and quality?
I always remind myself that every shoot I do, I have multiple clients. The client themselves, secondary clients (their audience if it's commercial work or their parents for wedding work, for example), and, of course, myself. Remembering that I can shoot for myself as well as the clients gives me "permission" to play … and to fail. I like failing because it gives me room to improve and push boundaries that I would have never known about.
You can see more of Brian's work on his website; check him out on Facebook and Instagram as well! And you'll be able to see him live on  Facebook on Tuesday, January 16, at 11:00 a.m. MST. You won't want to miss that! Yeah!
Check out the latest SLR Lounge Award Winners here. Don't forget to submit by the December 31 deadline to be considered for SLR Lounge's December 2017 awards competition. And remember that anyone can sign up for an SLR Lounge account for free and submit, but Premium Members are able to submit up to 3 photographs each month!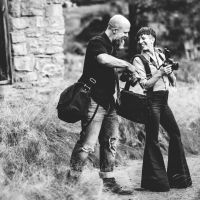 Amii & Andy Kauth
Amii & Andy are a wife and husband team of rad portrait and wedding photographers (Sunshine & Reign Photography) who absolutely love life and are generally just stoked! Yeah! When they aren't photographing or writing and teaching about photography, you'll find them off on a seriously legit adventure with their little ones, lifting weights in their garage, training jiu-jitsu, refining their archery skills, or surfing every chance they get. And on the rare chance they escape off on a "date night"? Yep! They'll find a wedding to crash (true fact). Website:
Sunshine & Reign Photography
Instagram:
@sunshineandreign