Our "SLR Lounge Awards Artist Feature" articles highlight SLR Lounge Awards winners, some of the very best wedding photographers around the globe. Read on to gain some insight into how SLR Lounge's award winners started their businesses, grew their portfolios, and achieved excellence in the photography industry.
This article features Beth Lang of Chad Winstead Photography. Beth is a wedding photographer based out of Eastern North Carolina and entered her Apex Award-winning photograph into the wedding photojournalism category in January. The Apex Award is a level reserved for those whose photographs are selected by SLR Lounge's curators from the top 1 percent of submissions. Here's a look at Beth's world of wedding photography!
Describe Your Approach to Wedding Photography
Growing up as a self-proclaimed theatre/band/music geek, it came as no shock that even in the early stages of learning what I wanted my photographs to feel like, I embraced creative, dramatic, and abstract lighting! Embracing a theatrical approach has guided me towards capturing moments and telling my clients story the best I can.
And How Did You Establish Your Style Of Wedding Photography?
Defining my own style took a great amount of trial and error. First off, I get to work with my better half and partner in crime, Chad Winstead. Chad started photographing before me, and in the beginning of my career, I thought my work had to look like his! I didn't realize how unrealistic of an expectation this was! Eventually, I let go of what I thought my work should look like and just began to photograph what I saw. Throughout the years, I've noticed that I am drawn to photographing moments of all kinds. My vision is for my lighting to reflect the mood of the moment. Just as theatre is complex with constant emotional twists, my approach to photography has taken the same form: moment-driven imagery created with unique, timeless lighting.
What Is One Tip You Have For Photographers Looking to Grow Their Referral Base?
The biggest thing is getting to know vendors, venues, and building your contacts! The Internet is a powerful tool, but in our area, vendors refer their preferences. Being on a preferred vendor list can be a great way to gain momentum for your business as you start out.
What Is Your Favorite Piece Of Gear On A Wedding Day?
I'd like to give a big shout out to the Sony a9! One of the biggest changes that I've recently made is switching to the a9 as my main camera body. Since Chad and I don't limit our hours of coverage on a wedding day, we are often at weddings for super long hours photographing the day from start to finish. The a9 makes an all-day affair so much more enjoyable! The size and weight of this camera, along with its electronic shutter, truly makes me feel like a moment-driven photography ninja.
Finally, How Are You Constantly Evolving And Pushing Forward Your Style And Quality?
I'm always pushing myself to try and find new ways to photograph weddings. I strive to create a new perspective! Weddings can sometimes be monotonous to photograph, but by pushing myself towards creating stories that are unique to my clients, I have gained much confidence in my style. Recently, I have also set a personal goal of capturing my own everyday life. I push myself to photograph our household shenanigans (including our pets), with an emphasis on using shadows, textures, and reflections.
You can see more of Beth's work on her website. And be sure to give her a like/follow on Facebook/Instagram as well!
Check out the rest of the January SLR Lounge Apex Award winners here and the February award winners have just been announced as well; here's that link: SLR Lounge Awards February Winners. Don't forget to submit by the March 31 deadline to be considered for SLR Lounge's March 2018 awards competition. And, finally, remember that anyone can sign up for an SLR Lounge account for free and submit, but Premium Members are able to submit up to 3 photographs each month!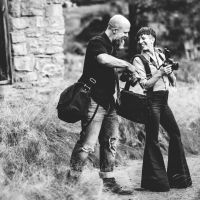 Amii & Andy Kauth
Amii & Andy are a wife and husband team of rad portrait and wedding photographers (Sunshine & Reign Photography) who absolutely love life and are generally just stoked! Yeah! When they aren't photographing or writing and teaching about photography, you'll find them off on a seriously legit adventure with their little ones, lifting weights in their garage, training jiu-jitsu, refining their archery skills, or surfing every chance they get. And on the rare chance they escape off on a "date night"? Yep! They'll find a wedding to crash (true fact). Website:
Sunshine & Reign Photography
Instagram:
@sunshineandreign