We're excited to bring you the next artist feature from the winners of the SLR Lounge Awards! These articles highlight some of the very best wedding photographers around the globe and are meant to give the photography community insight into how SLR Lounge's award winners created their business, grew their portfolio, and achieved excellence in the photography industry.
Featured here is Andy Casota of Cabo Photography, a wedding photographer based out of Bucharest, Romania. Andy entered his award-winning photograph into the wedding portraiture category in October and earned an Apex Award, a level reserved for those whose photographs are hand-picked by SLR Lounge's Curators from the top 1% of submissions. Here's a glimpse into Andy's world of photography.
How would you define your vision or approach to your photography?
My vision is centered around the couple and the emotions that they feel in their wedding day. It is one of the most important days in their lives so I want to be the best choice for their memories. I always speak with my clients before the wedding when we are doing the schedule, and on the big day we are always in contact so everybody knows what they want from one another.
How did You establish and define your style?
I started out four years ago, and I actually watched many of the SLR Lounge workshops, along with many others. Step-by-step I learned a lot of things from many photographers around the world, and it all combined into my style. After I learned the technical part of the photography, I've pushed forward to learn more and more about the creative part in the photography. The first people who caught my attention were Lee and Patrick from Fstoppers. In their tutorials, I heard about SLR Lounge and that brought me to Pye, who is an awesome teacher.
At the beginning of your career, what did You Do to get your business off the ground?
One of the most important things to get my business off the ground was good, and strong, marketing. I think online marketing is the main way to market.

All the platforms are really great and can get you to where you want. In particular, I think Facebook is a great platform for photography businesses. You can target the audience very exactly, and if you do it right you can only pay for the clicks that go to your website, which is great. So my advice for others is to invest smart in Facebook campaigns that, if they are done right, will not need your attention all the time so you have more time to focus on photography.
If you had to select only one lens to use on a wedding day, what would it be and why … And Do You Have Any Favorite Accessories?
I prefer my Nikon AF-S NIKKOR 35 mm f/1.4G Lens . You can use it in many situations, and I really like photographing with primes. I like the look it gives, and it's one of the most versatile primes. Other than that? I don't really have a preferred accessory. I tend to simply look for the moment and work to get the most out of it. That said, I did just purchase a MAGMOD MagGrid; I am excited about that!
How are you constantly evolving and pushing forward with your style and quality?
I am always reading all kinds of articles regarding photography, but I especially watch, and go to, workshops. You can never stop learning. One of my goals in the near future is to start networking more, because I think it can help you grow a lot! I have also developed a good workflow that works great for me. I usually work with the

SLR Lounge presets

, and, if it's needed, I will go into

Photoshop

. I developed a good workflow that works great for me.
You can see more of Andy's work on his website; check him out on Facebook and Instagram as well! You can view the latest SLR Lounge Award Winners here.  And don't forget to submit your images before November 30  to be considered for SLR Lounge's November 2017 awards competition.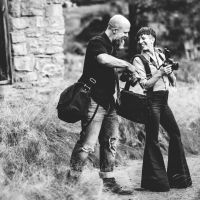 Amii & Andy Kauth
Amii & Andy are a wife and husband team of rad portrait and wedding photographers (Sunshine & Reign Photography) who absolutely love life and are generally just stoked! Yeah! When they aren't photographing or writing and teaching about photography, you'll find them off on a seriously legit adventure with their little ones, lifting weights in their garage, training jiu-jitsu, refining their archery skills, or surfing every chance they get. And on the rare chance they escape off on a "date night"? Yep! They'll find a wedding to crash (true fact). Website:
Sunshine & Reign Photography
Instagram:
@sunshineandreign