It might be time to fish out your original Canon camera straps from that dusty manufacturers box, especially for travel and landscape photographers. I know that most photographers usually buy a 2nd or 3rd party camera strap to displace the use of the black & red craftsmanship from Canon, but this trick might prove helpful to you.
The small rectangle of rubber was actually included as part of the strap to thwart light from entering into the viewfinder. In collaboration with DIY Photography, photographer Bassam Sabbagh displays its use in a short video.
Straight from the Canon 80D manual, we find that the "rubber thingy" that Bassam refers to is an eyepiece devised to keep stray light from entering "when using self-timer, bulb exposure, or a remote switch." The stray light that leaks through can cause the picture to look dark and therefore the rubber rectangle of magic is meant to act as a wall to block light from seeping in.
Although light leaks through the optical viewfinder isn't a common occurrence, for time-lapses and long exposures it can be a precautionary measure for low light conditions. It is important to note that "prism above the mirror that's used to redirect the image" makes it possible for light to leak through, even though the mirror retracts up when a photo is taken (DigitalTrends).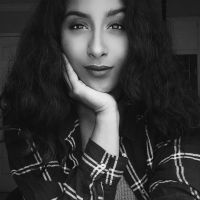 Shivani Reddy
Shivani wants to live in a world where laughter is the cure to pretty much everything. Since she can't claim "Serial Bingewatcher" as an occupation, she'll settle for wedding/portrait photographer at Lin and Jirsa & marketing coordinator here at SLR Lounge. For those rare moments when you won't find a camera in her hand, she will be dancing, eating a donut, or most likely watching Seinfeld. Follow her on Instagram:
@shivalry_inc