"Why mess with a good thing?", and "Don't fix what ain't broke" are both adages that apply when speaking about photographer Jessica Kobeissi. Something over a year ago now Jessica cracked onto the very public scene and found a niche with her photographer challenge videos, which have spawned a bit of a trend.
That trend continues in her content, but fortunately the formula hasn't, and the challenges haven't become some sort of absurd venture. The basic premise is getting a few photographers together and one model, then each photographer gets to choose an outfit and location for said model and everyone shoots in those conditions.
Her latest photographer challenge may be the best yet. With an all female crew, there's high energy, and a broad spectrum of looks.
Typically, each of photographers are relatively well known on social with a large following, and bring something unique to their shoot and style decisions. They also are generally (if not always) using available light without modifiers and so forth, and typically will choose one camera body and a single lens.
More often than not those are semi-pro to pro bodies, but certainly the gear is within the realm of the working photographer and enthusiast, and as such the videos serve to highlight just what can be done with one camera and one lens, without additional light. It provides perspective.
It also highlights just how much the photographer's vision matters in a shoot, and how truly it is the differentiator. Here are the participants in this video shoot:
Nikon D700 + Nikkor 50mm f/1.4
Canon 5D Mark III + Sigma 35mm f/1.4 ART
Canon 5D Mark III + 24-70mm f/2.8 L
Model: Zoe Elyse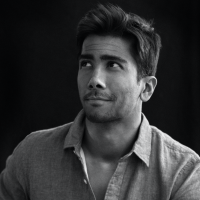 Kishore Sawh
A photographer and writer based in Miami, he can often be found at dog parks, and airports in London and Toronto. He is also a tremendous fan of flossing and the happiest guy around when the company's good.