A bomb exploded at Las Palmas airport in the Canary Islands March 27th, 1977. It was a message from a radical separatist group who wanted autonomy from Spain. All incoming flights as a consequence, were diverted to the alternate site in the islands, Los Rodeos. It was an airport never meant to handle traffic of that volume, or of that type of aircraft – the heavies.
A KLM 747 Jumbo was one of the redirected, and on the field sat right in front of a Pan Am Jumbo, The Clipper Vic (the first 747 to carry passengers), filled with American pensioners and vacationers taking the trip of a lifetime. As the airport became more crowded, a fog settled like a down blanket over the runway, bringing visibility to nought. Miscommunication, confusion, an overtaxed control tower, an impatient Dutch Captain worried about his flight hours, and minutes later there would be a death toll on the runway, the likes of which had never yet been seen in civil aviation, and not since.
583 souls were lost when the KLM Captain Jacob van Zanten prematurely brought his aircraft to take off and slammed his jumbo jet into the Captain Grubb's American. This is part of the Pan Am Legacy, but incredibly, and this is a testament to the airline, not what it will be remembered for. Pan Am, together with the vision of Juan Trippe to bring travel to the masses, and the ingenuity of Frank Whittle (who invented the jet engine), will be forever the company that turned this vast planet into a town. And it did so with élan.
Resurrecting PAN AM
It's arguable that there are two truly iconic airlines to ever have flown; Pan Am, and BOAC, now known as British Airways. Pan Am though, paved the way. Starting out in Key West, it grew from a tiny mail delivery service into the first international passenger airline, was the first to bring that industry into the jet age with the Boeing 707, and then brought us the most famous airliner, the 747 Jumbo. Pan Am boss, Juan Trippe, sold Boeing on the idea of the Jumbo as a transporter – hence the hump. The nose could be flipped up and large cargo loaded in. But he had something else in mind – luxury. He would use it as a lounge. He would use it to make Pan Am unforgettable.
That was all a background to the meat of this article because frankly, I hope it makes what you see here, that much more impressive and meaningful. Photographer Mike Kelley, a self professed aviation fan, managed to put together his dream shoot in the most complete, accurate, and astonishing recreation of a Pan Am 747 cabin ever. Anthony Toth, a name familiar to many in film and aviation, has meticulously, over the past 30 years, collected original panels, seats, uniforms of flight stewardesses, and every other detail you can and can't think of, and built an inch for inch replica of a 747-200 cabin.
[REWIND: Adding Vintage Edge Burn Easily In Photoshop]
Mike is primarily an accomplished architectural photographer, but this was a passion project. No doubt his technical knowledge and breadth of experience dealing with smaller dissimilar spaces proved entirely useful. It's a large airplane but the dimensions and angles are surely unusual, and provide challenges abound. Not that you'd know from the final product.
With an almost savant-like attention to detail, no expense was spared, and the results have garnered the attention, and affection, of the aviation community and Hollywood. Toth has become the point man for advising on many shows such as Mad Men, obviously Pan Am, and the set's been used for prestigious shoots for the likes of Playboy, etc. 

His knowledge is technical, but the feel is romantic. It's clearly an emotional endeavor for Toth, as he can recount the feelings of being on board Pan Am flights, can advise on how meals were served, how they looked, and what company prepared them.
All of this was captured by Kelley, Toth, and their team in a photographic marvel. This is a full production that took 3 days, professional gear, and was full of trials to overcome from reproducing light, handling such a large set, and ensuring all was true to form. This included giving the photos an overall vintage feel to the images in post.
Go along with Mike and Anthony as they create a shoot from a time when air travel was a metaphor of life – that the journey was just as important as the destination.  For all the photos,  full breakdown and brilliant story that's a peak into how a set of this caliber is set up. find them here. There's so much to gather and so much to take away.
Thoughts
I like aviation. Ok, that's a rather conservative way to put it. When I saw this shoot, saw this post, I was enamored. I'd grown up in a different age of aviation. My dad was a pilot and some of the guys he taught would let me sit up in the jump seat as a kid. Something you can't do now (especially looking how I do). I always have loved Pan Am with its unmistakable blue globe livery, and boldness. Pan Am's jumbos were mascots of an adventure, and what an adventure. British Airways, always my actual favorite, kept their British reserve where Jaun Trippe and Pan Am had none.
They saw the world aiming for supersonic flight and viewing aviation as a foray only for the wealthy, and flipped it on its head. Jumbo they said, not Concorde! No one sold the dream like they did. This shoot is a peek into that dream, if only now as a memory. What Toth created was a time machine, and what he and Mike and co. did together, was turn it on.
I would suggest taking the time to really read into the details. You can see women smoking, look at the hairstyles, the mannerisms of the passengers, the perfection of the food, the attire, and oh just everything. As a guy in love with aviation, it's easy to love this shoot. As a photographer, it's hard not to.
Gear List
Canon 5D Mark III
Camranger
Canon 24mm tilt shift
Canon 85mm f/1.2L
Manfrotto carbon fiber tripod + 410 jr geared head
iPad Mini
Lights:
Einsteins
White Lightnings
Profoto B1s
CREDITS: All photographs shared by Mike Kelley are copyrighted and have been used with permission for SLR Lounge. Do not copy, modify or re-post this article or images without express permission from SLR Lounge and the artist.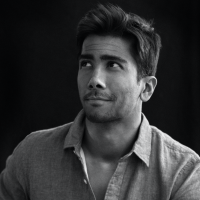 Kishore Sawh
A photographer and writer based in Miami, he can often be found at dog parks, and airports in London and Toronto. He is also a tremendous fan of flossing and the happiest guy around when the company's good.