When I was about 9 years old, my mom asked me to clean my room. Now this was a common occurrence, as I assume it is with most children under the age of adulthood. And as most children, I ignored her until one day I came home from school and there she sat, in the middle of my room, surrounded by big black full bags of my stuff, after having spent hours cleaning my room. Dealing with the fallout of that fiasco, including my discarded homework assignment (for me, that was the biggest loss which resulted in a lowered grade and no recess) taught me to be quick in discarding everything. In fact, I take pleasure in throwing things away. Lesson learned. All too well.
Sometimes I stop and pause at the alacrity of my need to discard stuff and wonder briefly where does all the trash go? I can imagine my trash compounded along with all of my neighbors' debris, and then the rest of the world. How is the world not overflowing with trash?
'Human Debris' is a commentary on what humans leave in the natural landscape.
Photographer Jeremy Underwoood has created this series to spotlight the devastated state of the waterways in Houston. He was visiting a local state beach and was shocked to see that trash covered the beach from end to end. "For the first time as a photographer, I felt that taking a picture simply wasn't enough. I began collecting debris from the beach and assembling these sculptures in hopes that others would take notice and see the appalling conditions of the waterways."
[REWIND:  ON THE 'BEACHES' OF ANTARCTICA: A THOUGHT PROVOKING PHOTO SERIES BY GRAY MALIN]
Each sculpture is site-specific and assembled out of the debris taken from the beach. In his artist statement, Jeremy states that "these objects are simply artifacts to support the work, photographed in interaction with the landscape, then left to be discovered.  This work challenges viewers to reflect upon our consumer culture, the relationship we have with our environment, and the pervasion of pollution."
If you look at the body of Jeremy's work, you would see that the relationship of culture and the environment is an underlying theme to his photography. With series on Chernobyl, mining areas, and the wilderness stewardship on a National Wildlife Area, Jeremy hopes to explore the world and our place within it as well as our effects to the landscape that many times are detrimental to the world around us.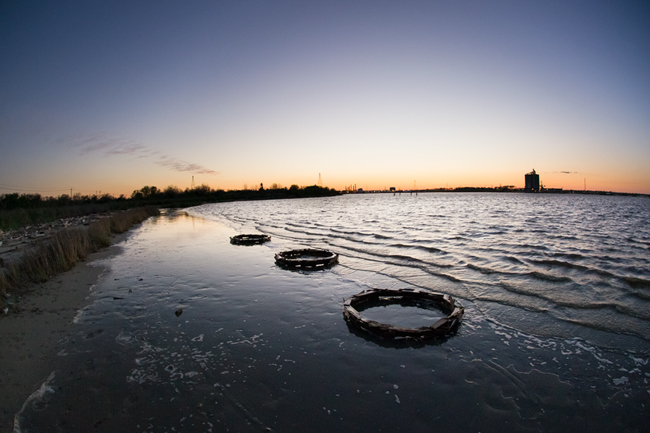 To see more of Jeremy's work, visit his WEBSITE.
[via Feature Shoot]
CREDITS: All photographs shared by Jeremy Underwood are copyrighted and have been used with permission for SLR Lounge. Do not copy, modify or re-post this article or images without express permission from SLR Lounge and the artist.
Hanssie
Hanssie is a Southern California-based writer and sometimes portrait and wedding photographer. In her free time, she homeschools, works out, rescues dogs and works in marketing for SLR Lounge. She also blogs about her adventures and about fitness when she's not sick of writing so much. Check out her work and her blog at
www.hanssie.com
. Follow her on
Instagram