If you're a Nikon shooter, 2018 was a very exciting year. Even though the D850 was launched in the fall of 2017, most of us couldn't get our hands on them until early 2018, followed by the launch of the Mirrorless Nikon Z6 & Z7 cameras.
As Matthew mentioned in his Z7 review, the Z system is a massive leap forward for Nikon. The mount is fully electronic in its communication compared to the mechanical aperture control systems, and it has one of the largest diameter mount systems on the market (for SLR systems), allowing Nikon to expand in two directions with the large "exotic" 58mm f/0.95 and the compact 14-30mm f/4.
I'll be fair and fully disclose that I fell in absolute love with this camera during the process of testing it out. I was looking for a new camera body and decided pretty quickly that it was the body for me. I have been mostly shooting live events and studio/lifestyle-based portraits for the last two years, so that's what I focused on with my time with the camera. I did manage to sneak in a few landscape shots here and there. You can thank the rare snow-day in Las Vegas for that!
For the review, I had the Z6 body with 24-70mm f/4 lens and the FTZ Adapter kit, and I tested all of my existing lenses on that adapter, including the following:
All of the above lenses worked incredibly well, except for my old Sigma 70-200mm. It was hard to tell if it was my lens just being old and kinda broken (it has been pretty beaten up over the years) or if it wasn't quite supported by the FTZ mount. Either way, that was basically the only lens I didn't use throughout my testing.
Technical Specifications For The Nikon Z6 ($1,996.95)
24.5MP FX-Format BSI CMOS Sensor
EXPEED 6 Image Processing Engine
UHD 4K30 Video; N-Log & 10-Bit HDMI Out
273-Point Phase-Detect AF System
Built-In 5-Axis Vibration Reduction
0.80x 3.6m-Dot EVF with NIKKOR Optics
3.2″ 2.1m-Dot Tilting Touchscreen LCD
3.69M-dot OLED viewfinder
12 fps Shooting; ISO 100-51200
Top-Panel Dot-Matrix OLED; XQD Card Slot
UHD 4K capture up to 30p
10-bit 4:2:2 N-Log output over HDMI
Up to 100Mbps H.264 8-bit internal video capture
SnapBridge Wi-Fi system with Bluetooth
FTZ Mount Adapter
Nikon Z6 vs The Nikon Z7 – WHat's The Difference?
Megapixels
First, we should talk about the elephant in the room. What's the difference between the Nikon Z6 and the Z7? The simplest and most significant difference is simply the megapixel size. The Z6 has 24 Megapixels whereas the Z7 has nearly double that at 45.7 Megapixels and no AA Filter for additional sharpness & detail rendering. So if you're a pixel junkie, this may be the thing that makes you choose the 7 over the 6. For me, it wasn't a big deal as I already have a larger sensored D800, so If i need the extra pixels, it's an easy swap.
ISO
Next, we have the ISO sensitivity. The lower MP count on the Z6 allows it to hit higher ISO settings. Starting from 100 going up to 51,200 with "extended" options ranging from ISO 50 to ISO 204,800!
The Z7 starts with a native ISO of 64 and goes up to 25,600 with "extended" options ranging from ISO 32 to ISO 102,400. So, if you're shooting more low light based work, now it's looking like the Z6 is more your target.
This was a killer feature for me. I have been covering a lot of events in low and terrible lighting, and while the autofocus (we'll talk about that later) can be a bit wonky on the Z6 in low light, its performance overall is absolutely amazing. While some other reviews talk about the banding seen in low light images, I wasn't able to replicate this in any of my "real-world" testing. In fact, everything I pushed through seemed to outperform and exceed my expectations on the high ISO front.
Considering I am coming from working with the D800, this is a MASSIVE improvement in high ISO range that was just not achievable for me previously. From my research, it is pretty much on par with the D850's capabilities, which is again impressive in its own right since the Z6 is half the price.
Autofocus
Both systems features the new Hybrid Autofocus system with contrast & phase detection that covers 90% of the sensors surface. Now here's where they get different. The Z6 has 273-phase detection areas where the Z7 has 493 points.
Both cameras have a variety of AF modes including face detection, subject tracking, and according to the roadmap, the firmware release scheduled for May will include support for eye-detection! I personally enjoyed the AF system and not having to focus and recompose my shot. I love my D800, but it does drive me crazy sometimes having to centerframe my shots to focus when I'm in a rush. This isn't an issue at all on the Z6.
4k Video
Both cameras can record 4k video, but the larger sensor on the Z7 means it does full pixel readout in DX mode (APS-C) and line-skipping in full frame mode. This means you get less sharpness and more noise at high ISOs with the latter.
The Z6 can deliver the highest quality in FX/Full frame mode.
Continuous Shooting
Normally, I'm all about the high megapixels, but here's where the Z6 really shines. It can shoot up to 12fps in burst mode, whereas the larger sensor Z7 peaks at 9fps. The Z6 can capture up to about 32 lossless compressed RAW files at 12 or 14-bit before you start to hit the end of the buffer.
8K Time-Lapse
Both cameras have a built in time-lapse feature; the difference between them is the Z6 records a maximum 4k resolution, whereas the Z7 can record 8K time-lapse files just like its DSLR counterpart, the D850. You'll have to use third-party software for this on your computer, but you can still do it.
Battery Life
The "official" ratings from Nikon state the Z6 and Z7 are pretty close at 310 and 330 shots respectively. Now this doesn't seem like much considering the DSLR counterparts can easily get over 1000 frames on a battery charge. I can't speak to the Z7 (as I've not tested it), but I can confirm I've gotten well over 600-700 shots on a single charge of the Z6 battery. While it's not as great as the DSLR counterparts, it's pretty well known that the EVF's on Mirrorless cameras will drain batteries much faster than the DSLR versions.
A nice feature is on the new EN-EL 15b batteries where you can charge the cameras via USB-C and you can even still use the older EN-EL 15 & EN-EL 15a batteries. With those, however, you can't charge via the USB.
Z6 vs Z7 Price
Finally, we have what everyone really wants to know, the price points. The Z6 (body only) is $1996.95 and the Z7 (body only) is $3,396.95. It's a pretty steep jump from the Z6 to the Z7, and for me, since I didn't need the extra Megapixels, the 6 was the perfect choice.
NIKON Z6 Pros
Rich Colors that match previous generations of the Nikon brand and enhance them.
Ergonomic improvement over the D800 and older DSLRS (D500 & D850's are similar in form to the Z series).

I found the grip to be a perfect size for my hand and probably the most comfortable camera I've held.
For a more detailed look at the ergonomics, check out this Nikon Z7 Review, since the bodies are practically identical.

Intuitive controls.

The system took away a lot of the normal buttons a Nikon user would be used to and placed them into a pretty-easy-to-navigate  menu (if you're familiar with Nikon), which is quickly customizable and accessible from the touch screen system.

In-Body Stabilization.

I shot with this camera in pretty much every environment I could think of and I found—with still shots—the stabilization worked better than any other system I've been hands-on with.

Fast & responsive touch screen.

Being able to pinch, zoom, and pan on an image review was pretty incredible to me. You quite literally see what you get on the back of this system in incredibly rich and detailed color. This makes it easy to tell if you need to retake your shot for any reasons.

Lightweight system.

This! So much this! By far the lightest camera I've ever owned. Hiking and working with this strapped to my body was an admitted relief compared to dual-wielding DSLR's for a long day at a wedding or event.

120p video includes sound and full sensor, giving you much more creative control in post.
Silent Shutter means less intrusive image taking during events and important moments.
USB charging AND the ability to use older batteries (without USB charging).

You can even plug a battery pack into this while using it to extend your day!

High ISO outperformed everything I had worked with in the past (except the D850), which blew my mind.
Autofocus.

The Autofocus on the Z6 was one of the fastest and most accurate I've ever worked with (except in those low/back-lit scenarios), made even better because you can use the touch screen display on the back to tap->focus->shoot!

Easy to use Intervalometer and Time-Lapse movie recording built in.

No need for a remote or external adapters for this one. You can program pretty much everything in camera now.

Touch Screen Monitor

Easily access nearly every single setting on your camera, including using the touch screen to focus and shoot your images.

Wireless Connectivity & Bluetooth

This is both a Pro and a Con, as in my opinion, the Nikon Snapbridge app has been improved, but it still needs a LOT of work to make it great. Currently, the process for connecting via wifi or bluetooth can be a bit frustrating and clunky, especially if you area already connected to wifi or in an area with a lot of wifi options. That being said, after getting the device connected wirelessly, I could control my camera entirely through the app, get a live view with a snappy response time (compared to Fuji at least), and as I shoot I can sync images directly to my phone for immediate editing or sharing on social media.
NIKON Z6 Cons
When using the FTZ adapter and tripod mounting, the adapter isn't as "tall" as other mounts such as Metabones or Vello. This means that when you want to change lenses, there's a good chance you'll have to take the camera off the tripod and plate first, and then swap the lens, making it a slower process. It's by no means a deal breaker, but I'm trying to be as objective as possible and explain everything I found to be an inconvenience.
Poor autofocus performance in low light or back-lit settings for both video and stills.

I've not experienced anything as bad as what the initial reviewers had stated during the launch, but I did have a lot of missed shots in the similar low light or back-lit settings as described above. While it's frustrating, it's still a LOT better than what I've had on my D800 and D810, so I'm quite happy still.

Specialized/New (EXPENSIVE) memory card.

This isn't necessarily a bad thing, but it was a "con" that I had to invest in a new memory card to fully review this system, as well as order a specialized card reader.

Single memory card slot.

Like the previous bullet, this one isn't a deal breaker, but it is worrisome. When shooting weddings and important projects, it's always better off to be safe and shoot in excess than not have enough and/or actually have a corrupt/stolen/damaged memory card and lose everything.
If you've read any of my posts on backups or know me at all, you'll know I'm pretty hardcore about backing up and ensuring I have duplicates of all my work in case of catastrophe. One thing I'd very much like to see improved upon in future generations for this line is an additional card slot, perhaps for an SD card.

Odd exposure and white balance behavior in mixed light settings with auto ISO, auto white balance, and silent shutter enabled.

This is an insanely unique scenario, but it's apparently common in the mirrorless world. When shooting with all of those auto-settings enabled along with the silent shutter in an environment with mixed lighting (i.e., tungsten and daylight), you'll notice some very significant shifts in white balance from image to image, even with the same setting. Simply disabling the silent shutter or any of the other settings seems to eliminate this problem, but be aware that it's there.

Rolling shutter and warp in video when stabilization is enabled.

Effectively, the stabilization feature is a tad aggressive when used in video. A simple pan motion or walking may cause the footage to be basically unusable.
I have a LOT of video showing this strange behavior; however, it's all under NDA with client work, meaning, I can't share it. That said, if you look up a few other reviews (including that from the ambassadors who were at the launch event), you'll see what I mean.
Of everything that I encountered on this camera that could be considered a "con," this is the only one that was honestly a breaker for me. Granted, you can simply disable the stabilization on the video and never have that problem, but for a feature so adamantly advertised, I had much greater expectations for it than what was delivered.

Function buttons are both located on the front of the body, making them feel a bit awkward to use.
As mentioned in the last pro above, the wireless app is kinda great to have, but a bit of a pain to get setup and use on the regular.
Sensor is unprotected when you swap lenses.

As noted in our Nikon Z7 review, one thing that threw me off when I first opened the camera up was seeing the sensor exposed to the universe and all its dust! In future iterations, I'd love to see the ability to close the shutter when the camera is turned off to help protect the sensor from the elements. Maybe this will be addressed in a future firmware update, but for now, just remember to really pay attention to your surroundings when you have to change your lenses out.
Nikon Z6 Review Conclusion
So, what's my final thought? Well, I already mentioned above that I fell in love with this camera and actually ordered one for myself. So you can gather even with its "cons," I still highly recommend it for pretty much every avenue of photography (unless you need a much higher megapixel setup, then I'd recommend you go with the Z7 or the D850). The Nikon Z6 body excels for portraiture in an outdoor and studio setting, and is also pretty amazing as an event/wedding/nightlife camera body as well. Even with its occasionally random autofocus, the camera absolutely shines in low light settings.
Nikon really took their time breaking into the mirrorless world. Because of this, they were able to hit the market with a pretty stellar product that meets or beats the competition, and often on a better price point.
If you have a selection of Nikon lenses already in your bags, the Z6 with the FTZ adapter is an absolutely perfect choice to expand your gear collection. If you've never used Nikon before or are new to the photography market, this is also a fantastic starting point for you. Jumping into a full frame sensor system, let alone mirrorless, at the price point of $1,996.95, you just can't go wrong.
As with everything camera-related though, I always recommend trying before you buy. Be sure to hit up your local camera store or rental companies like Borrowlenses & Lensrentals to give it a spin and see for yourself.
What are your thoughts? Have you tested the Nikon Z6 and Z7 bodies yet? Did you buy one already? Let us know in the comments below.
Pros
Consistent & Rich Colors
Ergonomic Improvements from the D800 and previous DSLRs
Intuitive Controls with Fast programmable custom buttons
In-Body Stabilization
Fast & Responsive Touch Screen
Bluetooth & Wifi Connectivity
Lightweight
Massively improved autofocus
Easy to use internal time-lapse controls
High ISO performance
USB Charging
Silent Shutter
Cons
FTZ mount gets in the way of fast lens changes when on a tripod
Poor AF in low light situations / backlit situations (Upcoming Firmware is supposed to address this)
New & Expensive Memory Card
Single Memory Card Slot
Odd exposure & white balance behavior in mixed light scenarios & silent shutter enabled
Rolling shutter warp in video with stabilization enabled
Function buttons are in an odd location
Wireless app is great, but clunky to use
Sensor is unprotected when changing lenses
Final Verdict
The Nikon Z6 body excels for portraiture in an outdoor and studio setting, and is also pretty amazing as an event/wedding/nightlife camera body as well. Even with its occasionally random autofocus, the camera absolutely shines in low light settings and is definitely worth adding to your gear collection. I was so impressed I actually ordered one before I was even finished with the review!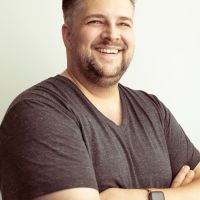 David J. Crewe
David J. Crewe is a full-time commercial photographer and Senior Editor with SLR Lounge. Based out of both Southern California & Las Vegas, Nevada. View his work and blog:
DavidJCrewe.com
Follow his Instagram:
@DavidJCrewe